03 September 2019
Ladies Competition – Medal & Putting
A-Division
Place
Name
Score
Prize
1st
Annemie Du Toit
73
R110.00
2nd
Sandra Clift
73
R80.00
3rd
Linda Smit
75
R60.00
B-Division
Place
Name
Score
Prize
1st
Ingrid Meter
69
R110.00
2nd
Janie Du Plessis
71
R80.00
3rd
Idelette Koegelenberg
71
R60.00
04 September 2019
Wednesday Competition – 4-BBB Medal
Old Course
Place
Name
Score
Prize
1st
Charl Goosen
Leon Cronje
65
R230.00
2nd
Rolf Moschinsky
Chris Grove
65
R170.00
3rd
Jacques Mouton
Louis Lourens
67
R115.00
4th
Buks Rossouw
Dawie Malan
68
R60.00
06 September 2019
Friday Afternoon Sundowner – Individual Stableford
| | | |
| --- | --- | --- |
| Place | Name | Score |
| 1st | P Schoeman | 24 |
| 2nd | G Damon | 19 |
| 3rd | W Minnies | 17 |
07 September 2019
Saturday Competition – Monthly Medal
Old Course
Place
Name
Score
Prize
1st
Anton Van der Spek
67
R260.00
2nd
David Maughan
67
R220.00
3rd
Danie Olivier
69
R180.00
4th
Gareth Weston
70
R120.00
Winelands
Place
Name
Score
Prize
1st
Fred Bowles
69
R260.00
2nd
Dawid Malan
70
R220.00
3rd
Riefaat Meyer
70
R180.00
4th
Anton van Lierop
71
R120.00
Boschenmeer
Place
Name
Score
Prize
1st
Gavin Blignaut
69
R260.00
2nd
Maggie Minnie
70
R220.00
3rd
Torben Martens
71
R180.00
4th
Paul Kretzel
72
R120.00
Click here
 for the week's full results.
Brodie 2 League Team makes us proud
On a mission to success
On Saturday 7 September, our Brodie 2 side played their semi-final match against Caledon at Robertson Golf Club and was triumphant beating Caledon 4/2. With great leadership from their Captain Irvin Kellerman, the team pulled together to beat a very good side.
They will play their finals match against Swellendam at Worcester Golf Club. Paarl Golf Club would like to wish them the best of luck for their finals. Make us proud team!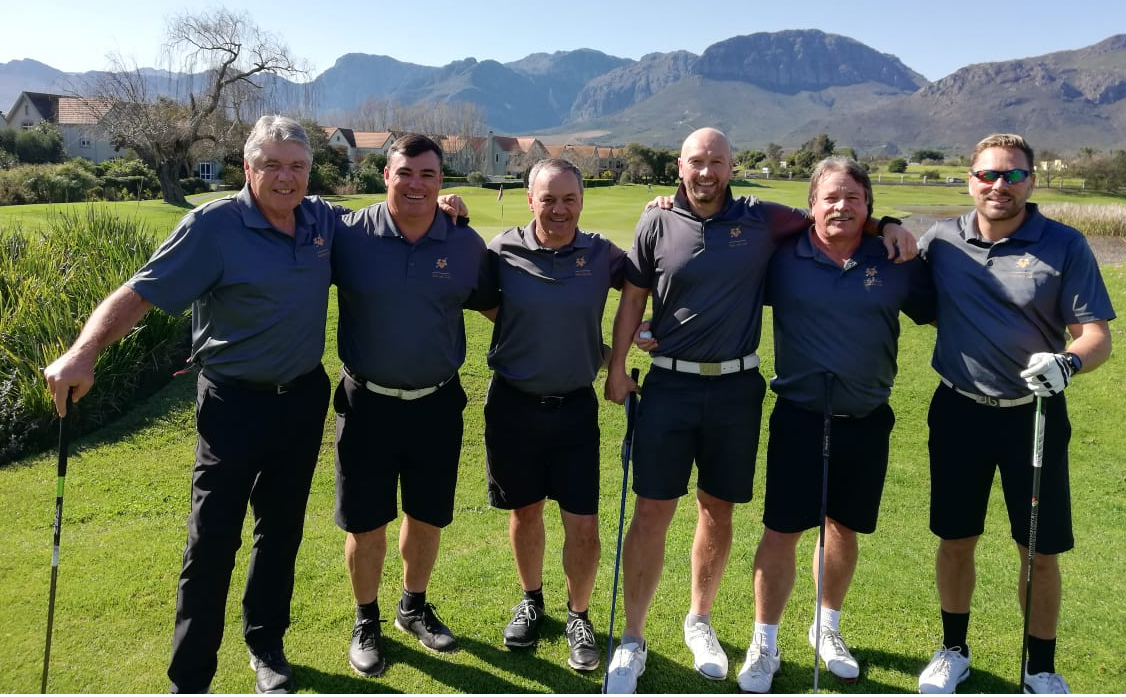 From Left: Hennie Hamer, Renso Nel, Irvin Kellerman, Gert Kuhn, Frans Theron, Marius de Bruyn
SA vs NZ 21 SeptemberA round of golf followed by the world's biggest international rugby derby (including a burger and beer special). You couldn't plan a better Saturday!
Porterville Pa & Seun Golfdag
Die appel val nie ver van die boom af nie
Datum: 5 Oktober 2019
Plek: Porterville Gholfklub
Inksrywings: R275/ Speler
Formaat: Better Ball Stableford
Beperkingsreël: Pa & seun met amptelike klubvoorgee kan meeding vir – trofee/ pryse
Afslaanstyd: Vanaf 10H30
Ons bied die 17de Pa & Seun Golfdag aan; ons nooi Pa & Seuns om deel te neem aan die dag; daar word meegeding vir n wisseltrofee; pryse op die spel en die aand word afgesluit met n steakbraai
Kom geniet die plattelandse omgewing deur ons in die golfdag te ondersteun.
Versprei ook onder u vriende om die saamwees geleentheid onder almal bekend te stel. Hoop om almal daar te sien.
Kontak persoon:
Paul Viljoen: 078 342 7598/ 022 931 8173 (W)/ pdviljoen@telkomsa.net
Erika Viljoen: 083 286 3375/ eviljoen@kaapagri.co.zaOornag Fasiliteite
Porterville Hotel: 022 931 2178
Rendezvous Gastehuis: 0722191211
Laatson/Waterval: 082 878 1358
Villa Chocolate: O22 931 3877
Akkediskis Gastekamers: 0835643018
For the Ladies
A personal invitation from Hermanus Golf Club 
Date: Saturday 2nd November 2019
Entry Fee: R640.00 p.p.
includes Green Fees, Competition Fees,
Early Morning Breakfast, Snack-Lunch and Evening Dinner.
Find more information and entry form here.
R&A Level 2 Golf Rules Seminars
Know your Rules
facilitated by Golf RSA
GolfRSA has been facilitating a series of two-day Level 2 Rules Seminars in order to educate everyone involved in golf administration about the latest changes to the Rules of Golf.
Find more information and entry form here.
The next Seminar is scheduled to be held at King David Mowbray Golf Club in Cape Town on the 14th-15th October 2019.
https://paarlgolfclub.co.za/wp-content/uploads/2021/05/Boschenmeer-Golf-Estate-Logo-2021-REPRO-PNG-300x167.png
0
0
admin
https://paarlgolfclub.co.za/wp-content/uploads/2021/05/Boschenmeer-Golf-Estate-Logo-2021-REPRO-PNG-300x167.png
admin
2019-09-10 07:43:03
2019-09-10 07:47:21
Your weekly upcoming events and results