Lockdown – Please keep up your monthly payments, we need it
In these uncertain times many members might feel that they should rather stop their monthly payments to the club. We have a lot of sympathy for that rationalization, but please realize that we as a club are very dependent on that income seeing that it is our only income currently. The Board and management team of Paarl Golf Club therefore urge members to continue with the diligent payment of their monthly subscriptions and unlimited golf fees.
A financial forecast has been prepared indicating that the Club should have enough reserves to stay liquid, should the lock down be enforced until the end of July 2020. This is however reliant on the members paying their monthly fees.
The fixed running cost of the Club is around R1 million per month, which includes the current emergency maintenance of the course, while no golfing income is earned.
As a further update to the discussions with the minister of sport on the possible opening up of golf courses earlier than level 1, I can report that the Club Managers Association of South Africa (CMASA) together with Golf RSA and the PGA have been invited to a meeting this afternoon, Thursday 30 April 2020, with the minister. We sincerely hope that this meeting will bring positive results for us in the golfing environment. Due to this meeting, it is almost a certainty that we will not be able to open the golf course for play on Friday the 1st of May. As soon as we have feedback from this meeting we will address our tee time booking schedule accordingly. I cannot see that we will open for restricted play before the middle of May 2020.
In the meantime I thought it a good idea to give you a view of the volunteer maintenance team driving out for their morning tasks. Again a huge thanks to all of them for doing this. I can assure you that the golf course will be ready for play when ever we get the green light from the minister. See the video here!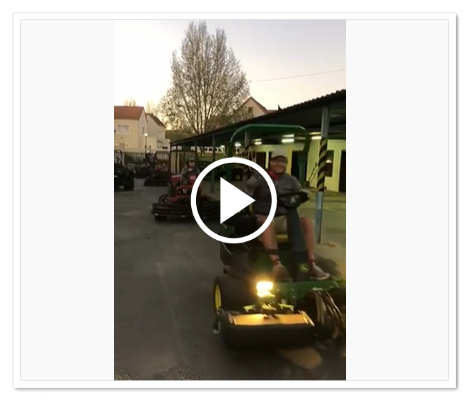 We anticipate another two weeks at least of total lockdown before we would be able to play some restricted golf. This means that our Covid-19 Disaster fund will need some replenishment if we would like to continue our payment to our caddies and those personnel reliant on a fully functional golf course.
Should any member wish to further contribute to this fund please feel free to use the following bank account with the reference Covid-19 and your name. We will ensure that full transparency allows anybody insight into the eventual distribution of these funds.
Banking details
Bank: Nedbank
Branch code: 198765
Account number: 1470120097
Reference: Covid-19 and name
    Please respect the lockdown rules
on the golf course
We are still finding golf balls and divots on the fairways and even pitch marks on certain greens which indicate that there are still people hitting balls on the golf course.
Please realise that if we were to be seen as ignoring the lockdown rules, the police have the right to come and shut us down. Many police vehicles are driving past our estate daily and it only takes one of them seeing somebody playing golf or just even hitting a few balls that can end everything for all of us.
Please note that we have eyes and ears all over the course so if you are going to ignore this warning, we will find you and issue you with a fine of a non-affiliated visitor which amounts to R695 based on our approved cancellation policy.
Thanks to Francois Viljoen who identified two of the three gentlemen on the photo below.
On the left is Wilhelm van der Merwe who was at Stellenbosch University with Francois and also shared residency in the Dagbreek residence. In the middle is his older brother, Karel van der Merwe, who was a winemaker at the McGregor Cellar and later on started farming on his own in the Vredendal area. They were very good golfers according to Francois and won many a golf day here at Paarl, as well as Robertson Golf Club. Maybe somebody can help out with the man on the right.
I sincerely hope that I would receive some feedback on who the gentlemen on the photograph are. Please e-mail me at manager@paarlgc.co.za if you recognise the gentlemen on the photo.
Know your birdies from your eagles
        African Hoopoe (Hoephoep)
  
Description
The African hoopoe is 25-28 centimeters (10-11 inches) in length and weighs 40-60 grams (1.4-2.1 ounces). It has a long, decurved bill, with cinnamon, black and white plumage and a long crest that raises when the bird is alarmed. Its wings are broad and rounded. The female is slightly duller than the male with less white in the secondary feathers. The juvenile has dull buff underparts with a shorter bill and buff tinge to the white wing bars.
Behaviour, feeding and breeding
The African hoopoe can be found in the Southern hemisphere of the entire Africa continent. It inhabits broadleaf forests and savannah. Hoopoes dart around at ground level collecting insects, small reptiles like lizards which they find in the ground and in animal faecal matter. They disrupt and turn over fallen leaves and plant matter and probe the ground for insects and food and then use their sharp bills for locating their prey.
They will also consume small amounts of seeds and occasionally berries, but not in large amounts, preferring insects and beetles etc.
The Hoopoe is a cavity nester (in tree holes, either natural or made by barbets or woodpeckers) or will happily use a hollow in a pile of boulders or cavities in buildings, always chosen and protected by the male. They lay from four to seven eggs over a period of a few days (sometimes taking a day's break in-between).
Once she has finished laying all her eggs, the female alone will incubate the eggs for 14 – 16 days. Once hatched, the male does the hunting for the chicks for the first week of their lives and then the female gets involved in the feeding of her young.
https://paarlgolfclub.co.za/wp-content/uploads/2021/05/Boschenmeer-Golf-Estate-Logo-2021-REPRO-PNG-300x167.png
0
0
admin
https://paarlgolfclub.co.za/wp-content/uploads/2021/05/Boschenmeer-Golf-Estate-Logo-2021-REPRO-PNG-300x167.png
admin
2020-04-30 11:27:54
2020-04-30 11:27:54
Your Club needs you