What's happening on the golf course?
Paarl British Open Betterball Results 2019 – Royal Portrush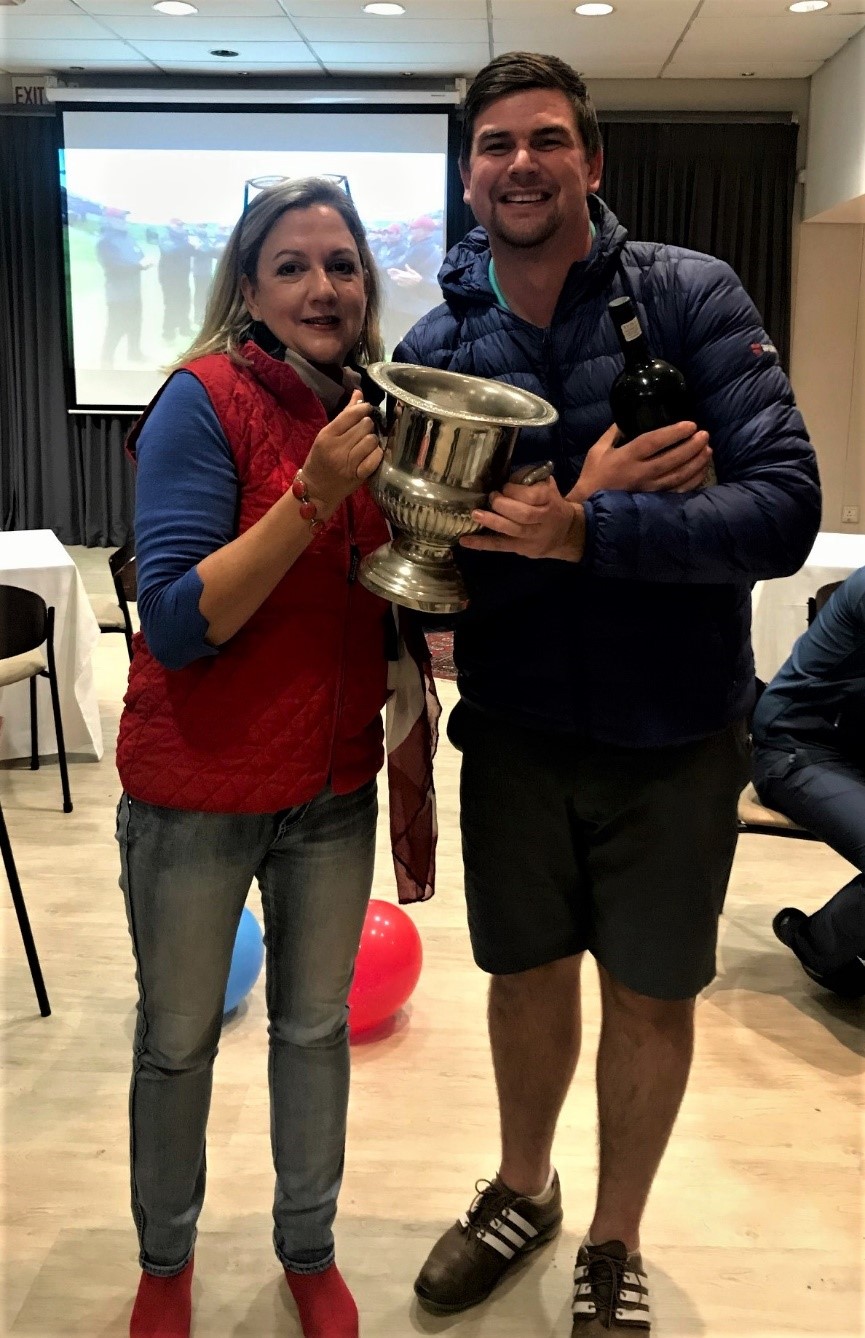 Paarl Golf Club ladies captain with the winner of the Paarl British Open, Gert Uys, who together with professional Sang Hung Park, managed to score 46 Betterball Stableford points.
The fourth Paarl British Open was held on Sunday 21st of July 2019.
This Paarl Ladies Golf initiative is slowly but surely becoming an iconic event on the Paarl Golf Club calendar. The format is clearly a success where local members (all dressed for the occasion in blue, red and white) team up in a betterball format with a professional playing their last round of the British Open somewhere in the UK. It was therefore quite a critical moment when each "local" player had to draw their professional for their betterball partner. With a lot of "oh no's" and some "that's my man's", partners were selected.
Throughout the afternoon you could see players checking their professional partner's progress (on their cell phones) over the difficult Royal Portrush course and where the professionals slipped, the locals tried their best to make up for it on the challenging Paarl Old Course.
It was therefore no surprise after the last shots were played by the professionals that "struggling professionals" suddenly emerged as "winners" at Paarl after their local team mates played them into the prizes. Winner for the day was Gert Uys shooting a 42 stableford points on his own to make Sang Hyun Park a winner in "our" British Open. As a "team" they scored 46 stableford points. We are planning to make this one of that must-attend occasions and has already started with our planning for next year's Paarl British Open.
Click here for a full summary of the results for the day.

Who's been winning at the Club?
16 July 2019
Ladies Competition – Better Ball Stableford
Old Course
Place
Name
Member #
Score
1st
Maggie Minnie
Ingrid Meter
2020
6440
41
2nd
Martine Strasheim
Barbara Hughes
6372
2386
41
3rd
Marie Kilian
Nicolene  Mans
2541
1121
38
17 July 2019
Pro Shop Day – 4BBB
Old Course
Place
Name
Score
1st
Ben Fouchee
Pieter vd Merwe
66
2nd
Linky Malan
Elmien Jacobs
66
3rd
Butch Strassheim
Dick Knight
67
Click here for the full results.
19 July 2019
Sundowner
| | | |
| --- | --- | --- |
| Place | Name | Score |
| 1st | Wayne Minnies | 17 |
 
Jacques Olivier
Club Captain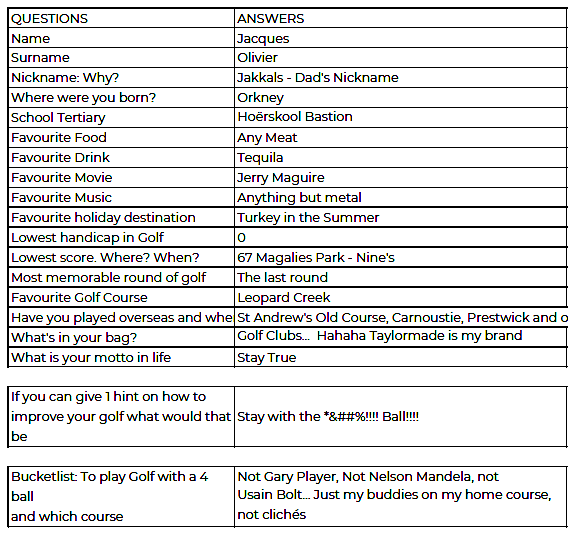 During winter we regularly come across bunkers on the course filled or partially filled with water.
I was informed that that players treat these bunkers as abnormal ground conditions and take free relief outside the bunker.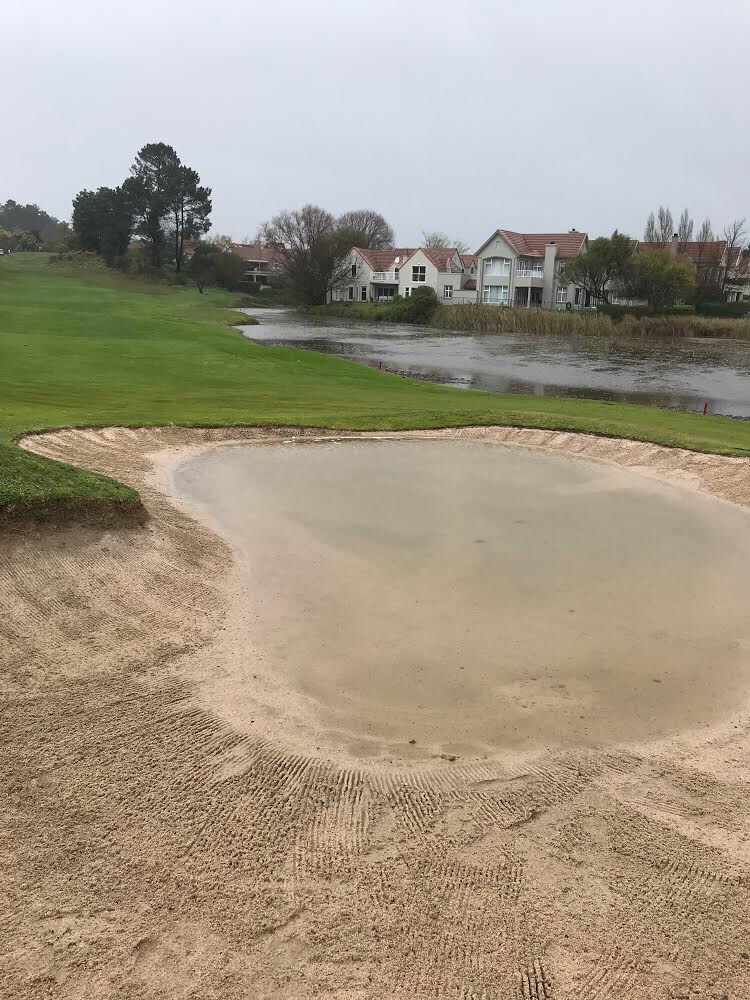 This is incorrect and I will explain this.
RULE 16.1c is applicable
Relief for Ball in Bunker
If a player's ball is in a bunker and there is interference by an abnormal course condition (in this case temporary water), the player may take either free relief under (1) or penalty relief under (2):
(1) Free relief:  Playing from bunker.  The player may take free relief under 16.1b,except that:
• The nearest point of complete relief and the relief area must be in the bunker.
• If there is no such nearest point of complete relief in the bunker, the player may take relief by using the point of maximum available relief in the bunker as the reference point
(2) Penalty relief:  Playing from Outside Bunker (Back-on-Line Relief).  For one penalty stroke, the player may drop the original or another ball in a relief area that is based on a reference line going straight back from the hole through the spot of the original ball:
• Reference Point:  A point on the course chosen by the player that is on the reference line and is farther from the hole than the original spot (with no limit on how far back on the line)
• In choosing this reference point the player should indicate the point using an object (such as a tee).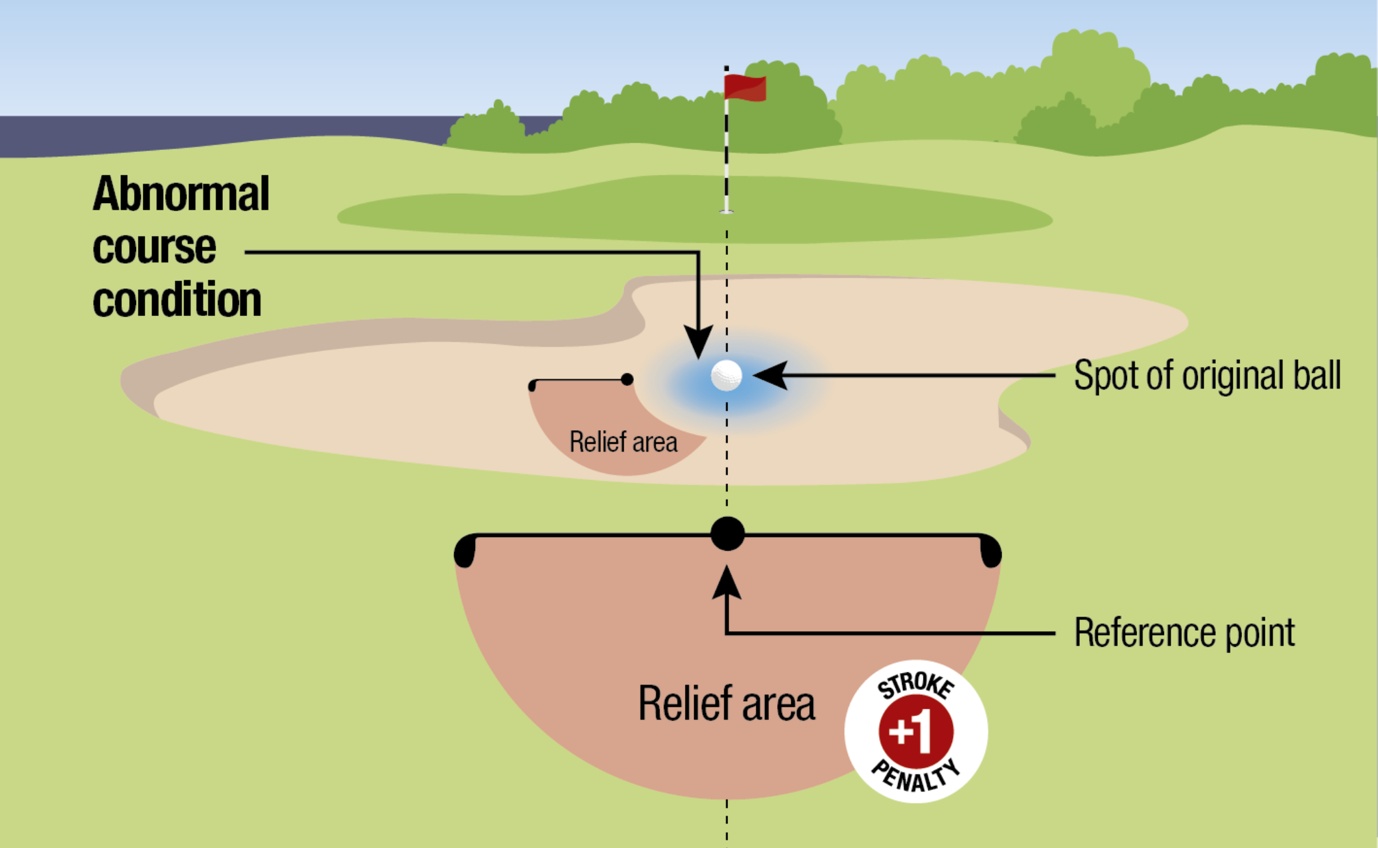 Remember if you drop the ball in the bunker you must have complete relief from the interference (temporary water) otherwise you will have to play the ball as it lies or drop outside the bunker for a penalty.
Do not confuse this with the Rule 19.3b (ball unplayable in bunker) where a player can get an extra option to drop outside the bunker for a total of two penalty strokes.
If you have any questions, please contact me at paarlmrrules@gmail.com
Enjoy your golf,
Mr R
Know your birdies from your eagles
Guinea Fowl (Tarentaal)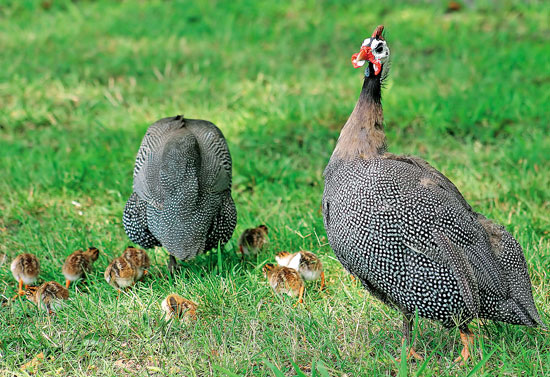 Origin
Guinea fowl are birds within the order of Galliformes, which also includes such birds as turkey, grouse, chickens, quail and pheasant, along with a few others. They are native to Africa and the most common of the Guinea fowl, the "helmeted Guinea fowl" have been introduced in many other countries around the world including the US. In the US, the helmeted Guinea fowl can be found in many of the warmer states of the central and southern regions. Some people raise Guinea fowl for food or for their eggs, but others keep them as their farm "watch birds".
Description
The helmeted Guinea fowl is about the size of a large chicken. They have a round body and a small head for their size. Their head is featherless with a crest on the top and bright red "waddles" around its beak. It has dark grey or black plumage with obvious white spots. If you can overlook their rather ugly head, they are really rather beautiful birds.
Personality
Guinea fowl seem to have a personality all their own. They can be quite comical at times and love to watch their own reflection. They have been known to spend hours watching themselves in the reflection from glass patio doors. Some people put mirrors near where they keep their guineas and love to watch them "watch themselves"!
Guinea fowl are known to be territorial birds and don't take well to visitors of any kind. They are very noisy birds with a loud chirping and screeching sound and will "alarm" when anything out of the ordinary comes around. They are useful in scaring off snakes and many times will group together catch, kill and eat snakes.
Please send us your photographs of birds that you find on the course.

Winelands Golf Festival 2019
5 – 12 October
Cape of Good Hope Wine Series
Wine not?
3rd August 2019
Here's your chance to win big!
https://paarlgolfclub.co.za/wp-content/uploads/2021/05/Boschenmeer-Golf-Estate-Logo-2021-REPRO-PNG-300x167.png
0
0
admin
https://paarlgolfclub.co.za/wp-content/uploads/2021/05/Boschenmeer-Golf-Estate-Logo-2021-REPRO-PNG-300x167.png
admin
2019-08-07 06:20:41
2019-08-07 06:20:41
What do Gert Uys and Shane Lowry have in common?