Please adhere to the Covid protocols
Members might feel by now that Covid protocols are just not worth it anymore. Unfortunately can we not relax on the protocols just yet. We are monitored not only by GolfRSA but also by members and visitors using our facilities. I therefore plead that we adhere to the protocols especially the wearing of masks while we are in close contact with other people.
When we have our drinks after the game please remember to wear your mask when ordering your drink at the bar. I do realise that to drink and wear a mask is a very difficult thing so we all understand that you will have to remove the mask to get contact with your drink. Thanks to all those that still keep up to the demands of Covid protocols. I really appreciate that.
  First "views" of the planned restaurant and bar upgrading project
Members would be aware of the constant "noise" from the "old" bar area but I can assure all of you that what is busy happening will benefit all those that will use that facility in the future. I had a quick glimpse of the planned interior decorating of the area and share some of it with pride with all our members. If everything goes according to plan we will "open" this new area by the beginning of December 2020.
Refrigerated cool waterpoints now active
Members will see that we have at last installed the three refrigerated waterpoints at the 4th hole, the 14th hole and the 23rd hole. The reservoirs of these cooling units are not that big so please understand if a fourball of players want to fill all their waterbottles at once that it might take a bit of time.
Your feedback on their functionality will be appreciated.
A big word of thanks must go out to the three "sponsors" for these waterpoints. This really was a team effort from the word go.
Hole 4 was sponsored by the Sattar group who regularly plays their Poise Cup games here at PGC. Zafer Sattar is also a longstanding member of PGC. The elctricity is "sponsored" by the BMHOA.
Hole 14 was sponsored by our Chairman of the Board, Christian van Schalkwyk. He also provides the electricity to this unit.
Hole 23 was sponsored by Mike and Aletta Ling with Brian Lawrie helping with the electricity supply to the point.
Nameplates will be manufactured and attached soon.
Club Draw first draw results – 16 October 2020
The Club Draw had it's first draw on Friday 16 October. Congratulations to the first winners of this draw. See the video of the actual draw.
As expected, did we get a number of requests for possible "late" entries. The decision was made that those who do not have a ticket for the draw can still get one but the buy-in remains the same at R1200. If you want to do it by debit order you now will have to arrange with our financial section to determine the correct amount according to the date that you want to start. This means everybody can still buy-in so please let us do that because it is for a good cause helping the captains committee to create funds for projects on the course
Entries still open and the 2nd Draw draw takes place on Friday the 20th of November.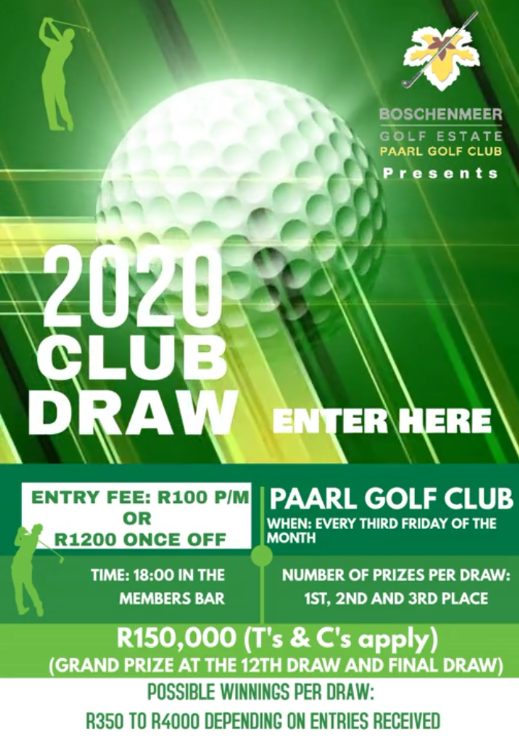 We have 79 entries!

Please note that we are back to "normal" providing towels to the those that would like to wash off their bad round… or maybe even good ones.
Spotlight Social registration
Win the wine of the month!
We are currently on 333 members so please put in some effort to register on the app. Number 400 next in line for a bottle of wine.
| | | | |
| --- | --- | --- | --- |
| | We are now on 333! | | For your efforts you can be next in line to win a bottle of wine with compliments from the "Wine of the Month". Thank you to the members that have registered so far. See how to win here. |
| | | |
| --- | --- | --- |
| | | |
| | | This week we get to know Martine Strasheim. Making a hole in one is a great memory to hang onto. We wish you many more enjoyable rounds here at Paarl Golf Club. |
If you would like to be part of our wonderful PGC community, let us know so that we can get to know you a bit more. How will anyone know what exotic drink to buy you otherwise?
Provisional ball holed
This week's question was: If you hole out with your provisional ball, can you abandon your original?

Player (A) hits his/her third shot over the green and it is likely lost in the love grass at the back of hole no 22.
Know your rules >
  27 Hole Championship Pairs – 15th November 2020
The very first 27 Hole Championship Pairs is taking place on the 15th of November 2020. You can register as a 2Ball or 4Ball. Limited space available so book now. All you need to do is click on the poster which will take you to the entry form.
Playing golf at PGC during Level 1 lockdown
I know this might be boring by now but please realise that we are still under Level 1 lockdown rules, which have not changed since their inception.
Thanks to those members (and visitors) who makes our work easier by adhering to the regulations and rules. We appreciate your continues support and help. To the few that alway need to push the boundaries please realise that your actions might cause the club to close, and many other golf courses for that matter. It is not that difficult…
We still need your help to identify the people below. I sincerely hope that I will receive some feedback on who the people in the photograph are.
| | | |
| --- | --- | --- |
| | | Here is the photograph from this week's treasure chest. Please e-mail me at manager@paarlgc.co.za if you recognise anyone. |
Know your birdies from your eagles
Hartlaub's Gull (Hartlaub's Meeu)
If you have a favourite bird or would like to know more about a particular species flying around PGC, please let us knowso that we can do some research and showcase it in next week's Gazette.
Know your birdies >
https://paarlgolfclub.co.za/wp-content/uploads/2021/05/Boschenmeer-Golf-Estate-Logo-2021-REPRO-PNG-300x167.png
0
0
admin
https://paarlgolfclub.co.za/wp-content/uploads/2021/05/Boschenmeer-Golf-Estate-Logo-2021-REPRO-PNG-300x167.png
admin
2020-10-29 12:17:03
2020-10-29 12:17:03
We've installed something to help you beat the heat this summer