We were all looking forward to the 2019 Rugby World Cup in Japan. What we did not anticipate during the month of October was that the booking sheets did not fill up as expected. Especially Saturdays and the days when the Springboks did their thing on the rugby field. After investigation, we realised that a number of members migrated to Japan to be part of the Rugby World Cup.
I know of Wikus Minnie and Johan Minnie, who went to Japan to see the first few South African games, as well as two Namibian games before they came back. Then on Sunday, we witnessed Renso Nel on World television supporting the Boks against Japan.
Please let us know who else had the time and money to be part of Rugby World Cup 2019.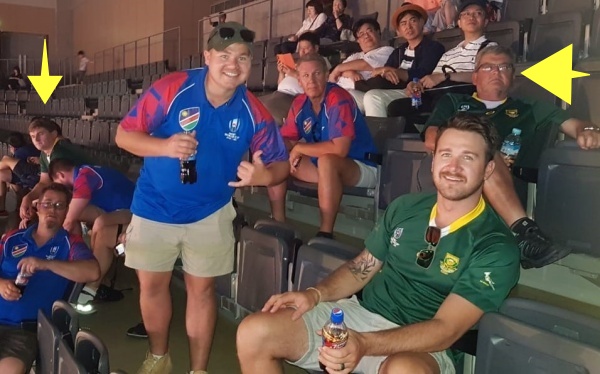 A very happy group of South Africans (and Namibians) in Japan. Johan Minnie on the left and Wikus Minnie on the right.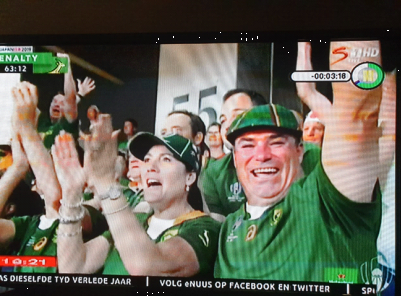 Just when Renso thought he slipped under the radar, the TV camera picked him up and exposed another Paarlite in Japan.
Last week's three were identified as: FLTR Andy van Wyk, Rudy Maree and Iaan Bent (non-member). The lady again remains a mystery. Thanks to Kevin Maree, Anneline du Plessis and Jan Hanekom who identified them for us.
I sincerely hope that I would receive some feedback on who the people on the photograph are. Please e-mail me at 
manager@paarlgc.co.za
 if you recognise any of the individuals on the photographs.
In conversation with our Members
Do you want to see your picture on the wall?
Please hand in this form at registration or admin if you want to be featured in our next newsletter.
Email your photo to administration@paarlgc.co.za or we can take a photo.
Know your birdies from your eagles
Reed Cormorant (Rietduiker)
Description
This is a small cormorant at 50–55 cm length and a 85 cm wingspan. In the breeding season, the bird is mainly black and glossed green. The wing coverts are a silvery colour. It has a longish tail, a short head crest and a red or yellow face patch. The bill is yellow.
Sexes are similar, but non-breeding adults and juveniles are browner in colour, with a white belly. Some southern races retain the crest all year round.
Behaviour
The reed cormorant can dive to considerable depths, but usually feeds in shallow water. It frequently brings prey to the surface and catches a wide variety of fish. It prefers small slow-moving fish, and those with long and tapering shapes, such as mormyrids, catfishes, and cichlids.
Two to four eggs are laid in a nest in a tree or on the ground, normally hidden from view by long grass.
Habitat
This is a common and widespread species and is not considered to be threatened. It breeds on freshwater wetlands or quiet coasts.
https://paarlgolfclub.co.za/wp-content/uploads/2021/05/Boschenmeer-Golf-Estate-Logo-2021-REPRO-PNG-300x167.png
0
0
admin
https://paarlgolfclub.co.za/wp-content/uploads/2021/05/Boschenmeer-Golf-Estate-Logo-2021-REPRO-PNG-300x167.png
admin
2019-10-23 07:23:52
2019-10-23 07:23:52
We're big in Japan