Paarl Golf Club needs every member to help us become the club of the year!
Show your support by completing a member's survey currently run by CMASA (Club Management Association of South Africa), who are currently in the process of evaluating our application towards club of the year. Before 17:00 on the 19th of November 2019 we need at least 465 members to complete the survey. This will make the 40% reaction minimum to be reached in order to get through to the next level of adjudication.
We know we don't have to be worried, but just to make it worth your while, there is a fantastic bottle of Tullamore Dew Irish Whiskey up for grabs in a lucky draw from all the surveys received.
Please complete the survey here.
Happy Birthday Mr. Player
Thursday 31st of October 2019 was quite a special day for Paarl Golf Club. We had the honour of Mr Gary Player playing nine holes of golf with three fortunate members. George Bezuidenhout, president of Boland Golf Union, played with Gary at Pearl Valley earlier that morning. After the game, George told Gary of how Paarl Golf Club has overcome the drought and in what a fantastic condition the golf course was. Gary accepted the invitation there and then to come and play nine holes at our course.
Hurriedly a fourball was created to join George and Gary. Our captain, Jacques Olivier and I got the call up and we were excitedly ready at the first tee when they arrived. After a few welcomes and Gary showing a few youngsters how to hold two drivers between the point and middle finger as well as a few photographs with eager golfers, we finally got to play this memorable nine holes.
It was a fantastic experience to see Gary on the day before his 84th birthday still hitting the ball as well as ever. He did test our bunker sand at the second and when he missed his first ball, he proceeded to hit the fifth ball from the bunker into the hole. It just proofed that he still is one of the world's best bunker players ever. We wish Gary a fantastic 85th year of his life and hope to see him at Paarl Golf club again.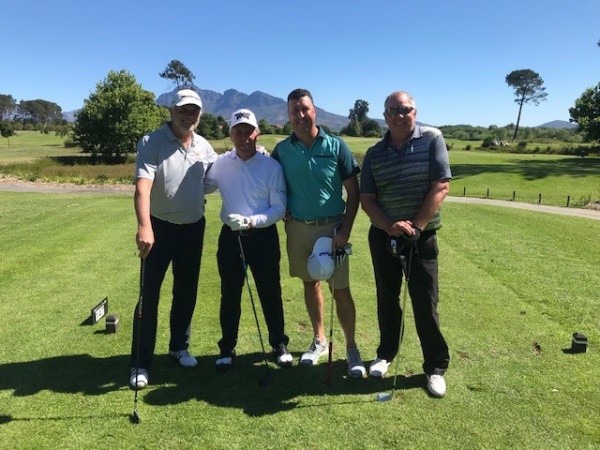 On the fourth tee box.
From left to right: Willem Pretorius, Gary Player, Jacques Olivier and George Bezuidenhout
| | |
| --- | --- |
| | |
| Gary Player on the ninth of PGC with George Bezuidenhout and Jacques Olivier | Our Chef Philip Pretorius with Gary Player after the game |
Member Privileges Explained
It is the season of Corporate Days again and I thought it would be a good idea to explain Member Privileges and Corporate Days to clear up any confusion. Below is an extract from the membership contract that explains the situation in detail:
I sincerely hope that this will clear up the fact that Member Privileges only apply to competitions that forms part of the normal golf calendar of the Golf Club (That is Wednesday competitions, Saturday Club Competitions and Club Championships). It is therefore not possible to receive Member Privileges for Corporate Days, special competition days organised by either a Member of the club or groups. Therefore, special Fundraising Golf Days organised by the Ladies Section (such as the British Open, Xmas Mix, President's Day etc), the Winelands Tournament and days where we try to raise funds for other entities, such as Rusoord Old Age Home and the Burger Xmas Fund Day, are not seen as unrestricted and therefore members privileges do not apply.
If you have any questions, please get in touch.
It has come to my attention that there are certain dietary preferences that are not readily available at times in the Halfway House and the restaurant. We would like to ensure that we at least set arrangements in place to overcome this problem as soon as possible.
I had a chat with the Golfing Goat's team, and they are fully willing to provide special dietary preferences, but will need some notification to make preparations for. I think it is fair to request any members with specific dietary preferences to just arrange with Golfing Goat 48 hours in advance.
I sincerely hope that through this arrangement, we are able to accommodate all Members with special dietary preferences. Contact us for further enquiries.
From the golfing Goat's mouth…
Fairview's goats have long been legendary animals of the Cape Winelands, but what do we really know about these goats? Where did they come from, why do they roam, why are they so darn mischievous and why on earth have we named our world class Clubhouse Restaurant and Halfway House after them? We had a chat to Fairview and Spice Route owner Charles Back, to get to the bottom of the story….
"When my late father was first looking to bring goats to the farm, he wanted above all to make sure that he brought only the most interesting line he could possibly find. His research led him to a particularly obscure family of goats from Ethiopia"
"As the legend goes, in the 9th century, an Ethiopian goat herder was having trouble with the sleeping patterns of his goat herd. Although they were out all day and free to roam the grassy hills of the Ethiopian countryside, they returned during the evenings with more energy than before and kept him up all night! One day he decided to follow the herd. He discovered that the goats were eating berries from a specific bush and were uninterested in grazing on the grass. These berries turned out to be Arabica coffee beans and thus coffee as we know it today was born."
"These coffee discovering goats became a hot commodity as it was said their years of ingesting coffee beans had changed the genetic makeup of their milk and gave it a distinct cappuccino-esque flavour. Before long the herd was disbanded and sold to slavers all across the Middle East where after descendants of these goats were spread all across the world. Notable descendants of the famed Ethiopian Coffee Goats include the Three Billy Goats Gruff of Norwegian Folklore; Nanny and Nanko who were Abraham Lincoln, the 16th President of the United States of America's pair of goats, whom resided with him in the White House and our very own goats here at Fairview who's escapades of running loose and eating grapes led to our famed Goats do Roam range of wines."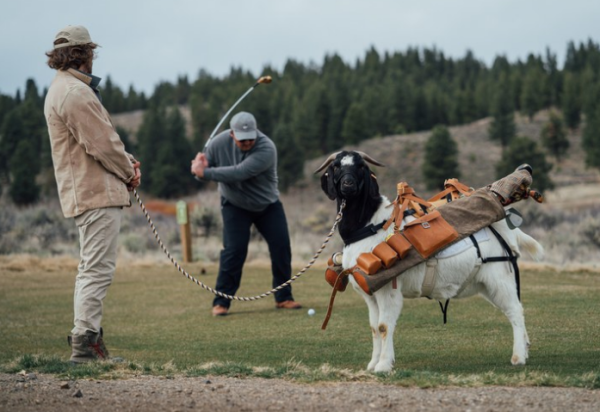 Bruce the famous goat caddie
"Lincoln's goats were the first of the line to be introduced to America but by 2018 there were descendants in just about every state including Oregon where at the Silvies Valley Ranch and Golf Course, a goat named Bruce became the world's first Goat Caddie. News of Bruce's endeavors travelled fast via G(oat)Mail and soon the word had reached our herd at Fairview. Our goats were inspired by their distant cousin's success, especially once they heard Bruce was receiving all the organic peanuts he could ever hope for after every 9 holes. They now dream of following in Bruce's footsteps but have been met with much resistance. The local caddies feel threatened by the fact that these goats are willing to work for peanuts. This has brought about the formation of the Goat Caddie Union of South Africa who is leading the charge for integration in the caddie industry. A worthy cause I'm sure you'll agree."

"Whilst we await South Africa's very first goat caddie, we've decided to honour the struggle these goats are facing by naming our brand-new Clubhouse Restaurant and Halfway House after these brave goats. Introducing the Golfing Goat. A place for good food, good drink and having a laugh."

"This story and many of the facts in this story are entirely fictional. No goats were harmed or sold into slavery in the making of this story."
Mercedes Benz Paarl Order 0f Merit 2019
During the year, every last Saturday of the month the Individual Stableford Competition has been sponsored by Mercedes Benz Paarl. Prize winners not only wins prizes on the day, but also gets allocated points for the place they finish on that day: i.e. 1st Place = 10pts, 2nd Place = 9pts and so forth. We keep track of all the points and then have placings for the final event that will be held on Saturday 30 November at Paarl Golf Club.
Below are the standings of the top 10 players leading the order of merit and they will compete for the grand prize. There will still be prizes for players who have not qualified, so please book your tee time as soon as possible to avoid disappointment.
1. Maggie Minnie – 21
2. Butch Strasheim – 20
3. Danie Janse van Rensburg – 17
4. Karl Lutzeler – 17
5. Riaan Kritzinger – 17
6. Jannie van Breda – 16
7. Craig Hawkins – 13
8. Ganief Daniels – 13
9. Guillaume Brink – 13
10. Joseph Williams – 12
We would like to take this opportunity to thank Estienne Cronje and Mercedes Benz Paarl for their continued sponsorship and support during the year.
See you on the fairways.
In conversation with our Members
Do you want to see your picture on the wall?
Please hand in this form at registration or admin if you want to be featured in our next newsletter.
Email your photo to administration@paarlgc.co.za or we can take a photo.
Know your birdies from your eagles
Peacock (Pou)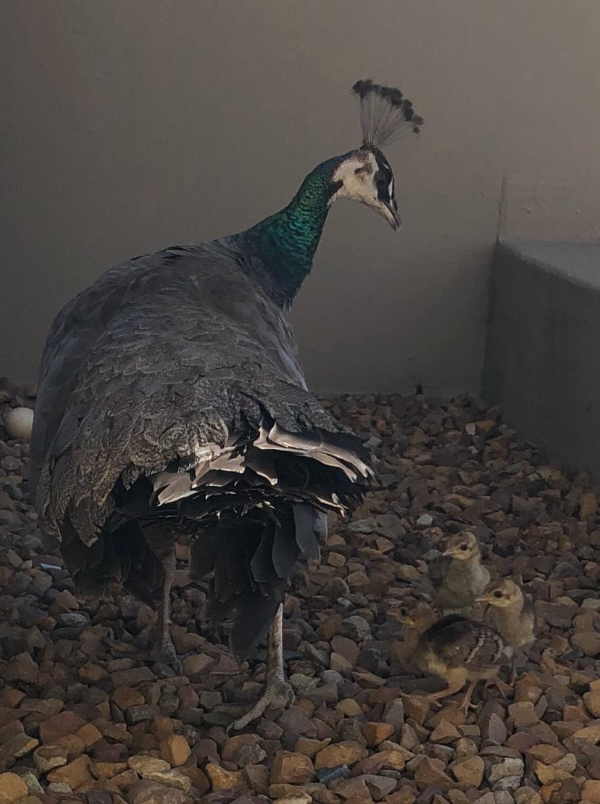 Our own resident Peacock with two new "members" of the peacock family
Description
Peafowl is a common name for three species of birds in the genera Pavo and Afropavo of the Phasianidae family, the pheasants and their allies. Male peafowl are referred to as peacocks, and female peafowl as peahens, though peafowl of either sex are often referred to colloquially as "peacocks." Male peafowl are known for their piercing calls and their extravagant plumage. The latter is especially prominent in the Asiatic species, which have an eye-spotted "tail" or "train" of covert feathers, which they display as part of a courtship ritual.
Diet
Peafowl are omnivores and eat mostly plant parts, flower petals, seed heads, insects and other arthropods, reptiles, and amphibians. Wild peafowl look for their food, scratching around in leaf litter either early in the morning or at dusk. They retreat to the shade and security of the woods for the hottest portion of the day. These birds are not picky and will eat almost anything they can fit in their beak and digest. They actively hunt insects like ants, crickets and termites; millipedes; and other arthropods and small mammals.
https://paarlgolfclub.co.za/wp-content/uploads/2021/05/Boschenmeer-Golf-Estate-Logo-2021-REPRO-PNG-300x167.png
0
0
admin
https://paarlgolfclub.co.za/wp-content/uploads/2021/05/Boschenmeer-Golf-Estate-Logo-2021-REPRO-PNG-300x167.png
admin
2019-11-13 15:23:35
2019-11-13 15:23:35
We were honoured to have the Black Night walk our fairways