1 September 2020 – Spring Day
Apparently spring should have arrived but I think Covid got hold of her as well. Spring Day saw a few daring ladies play their usual Tuesday game of golf but the "Michelin Man" outfits confirmed that temperature and weather did not play along to make it a memorable day.
Now we wait. We have completed our hollowtining process and even done the reseeding of most of the old course greens in preparation for sunny dry weather. As soon as the sun gets a chance to shine again, on the greens in particular, it will show if our efforts over the last three weeks were worth our wile. Watch this space.
"Augusta" getting back to it's normal splendor
Inter seeding taking place on the practice putting green
The size of those seeds!
  Payment of membership fees due end of August 2020
According to the MOI of Paarl Golf Club, all annual membership fees must be settled within one month of the invoice date which was the 1st of August 2020. Should the membership be unpaid by the 31st of August 2020, membership rights will be revoked and the membership will be defaulted until the subscriptions have been settled.
Some members may have received an email reminding them that we have not yet received their annual subscription payment. For those of you who have settled the amount, please forward the proof of payment to Junaid Ahmed at debtors@paarlgc.co.za in order for us to reactivate your account to play golf again.
A soft block will be put on those accounts not settled which will prohibit you from booking a tee time, and for that matter from playing golf as well. Please feel free to contact our financial department if there are reasons that make payment at once difficult to see if we can somehow accommodate you.
  Interim bar created in the Winelands Hall
And so Wednesday the 2nd of September 2020 arrived and we were as ready as can be in our "new" interim bar in the Winelands hall. We even lit the fireplace for the cold weather, but at time of print we still haven't had any takers at the bar. I will have to just go and have my normal gin and dry lemon to officially open the bar and test if everything is fully functional. We look forward to many hours of good camaraderie and (responsible) drinking.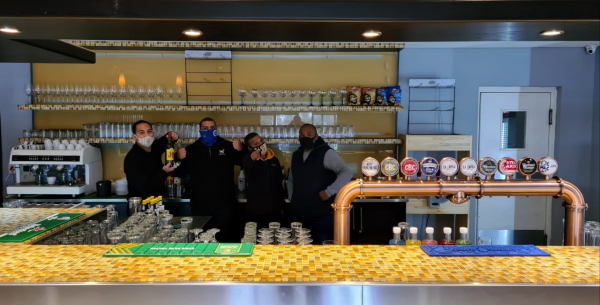 We are ready, are you?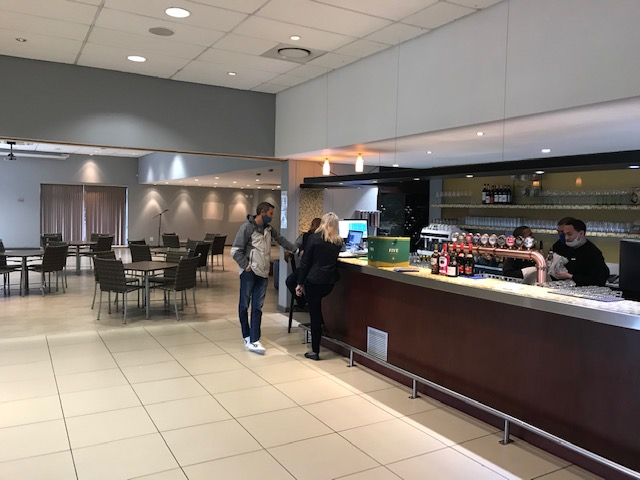 See you soon!
  Club Championships open for bookings
Only 4 spots left!
Members please note that the club championships will be hosted on Saturday the 31st of October and Sunday the 1st of November 2020.
Since we will have certain divisions playing 27 holes per day, we will only be able to accommodate 120 players in the field. We are currently standing on 116 players. Please make sure that if you haven't booked as yet and you want to play to get hose last 4 spots still open.
Just click on the advert below to electronically enter for the championships.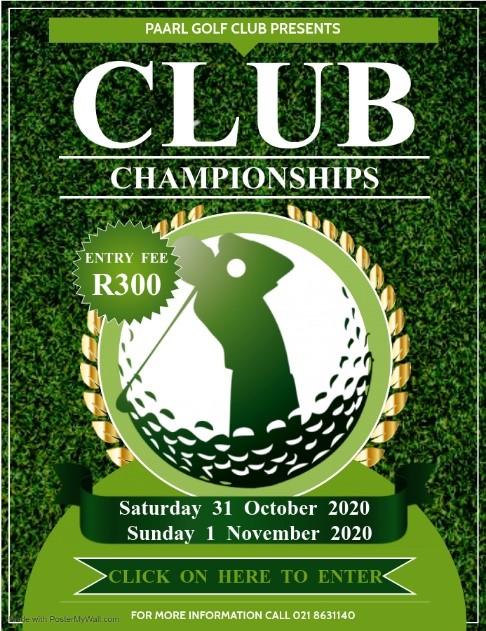 We have 116 entries already.
Only 4 spots left!
  Club Draw has started – Get your lucky number in the draw!
The Club Draw, which will have its first draw on Friday 16 October 2020, is in full swing. Please make sure that you do not lose out on having a number in that draw. Remember you cannot enter after the closing date which is the 30th of September 2020.
The draw will be for members only and entries can be done through the poster below. Click on the poster to enter. The cost is R100 per month via debit order or R1200 once off for the year, and payment information will be sent through once the entry has been received. Members must commit to a one year entry and cannot select which months they want to enter for.
Entries close 30 September 2020 and the first Draw will be done on Friday 16 October 2020.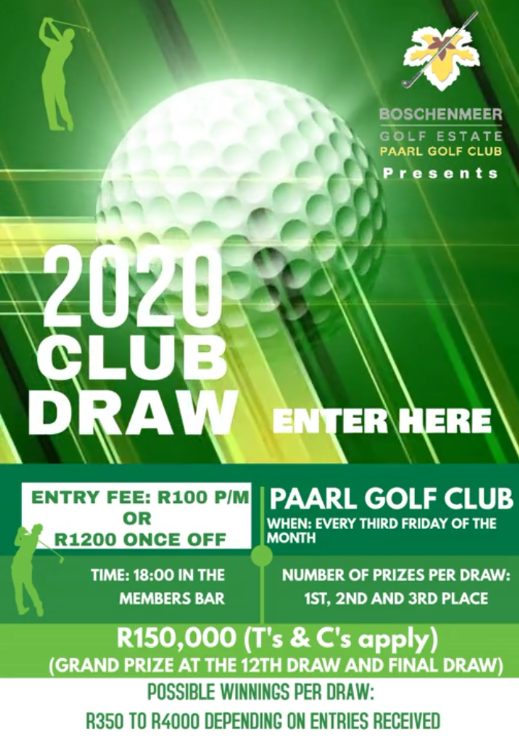 We have 29 entries already!
Spotlight Social registration
We are currently on 295 members so please register on the app. Remember number 300 will receive a bottle of wine of the month.



We are now on 295!

How do you stand a chance to win a bottle of the wine?

The App needs to be loaded on to your smart phone or tablet. All you need to do is follow the instructions below:

1. Please click here or search for Spotlight Social in your App Store
2. You then download the app
3. You will be guided to create your profile using your [email address], as it is pre-linked to the Paarl Golf Club
4. Remember to insert your profile picture.

And that's it – you are good to go!
This week we get to know one of our members, Danie Malan. Thanks, Danie, for always being a sport and completing the questionnaire. From our side, thanks for what your enthusiasm means to Paarl Golf Club. We wish you many years of happy golfing here in Paarl. We both dream about Mt. Everest, but I start to think that will be one mountain too high for me at this stage.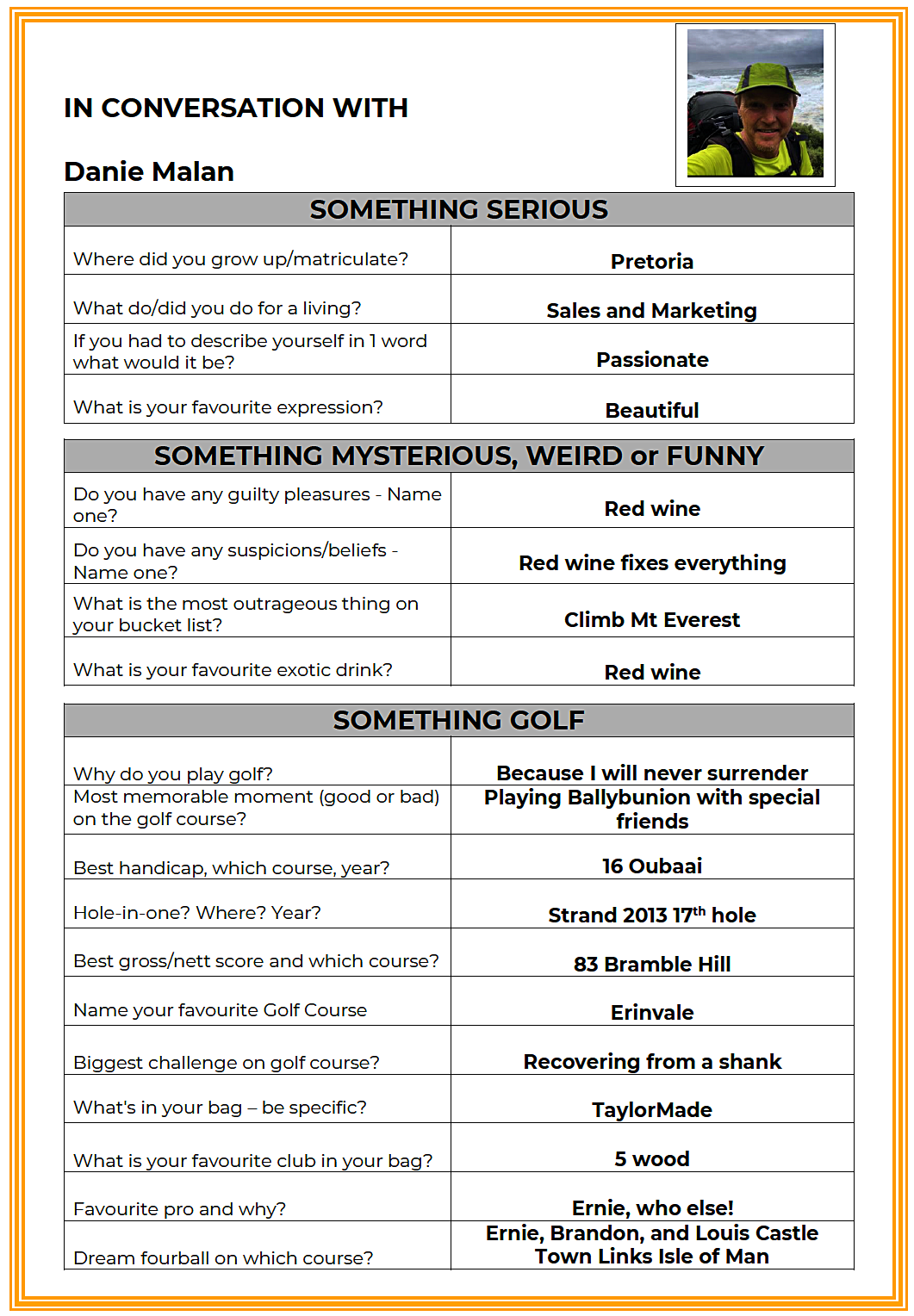 If you would like to be part of our wonderful PGC community, let us know so that we can get to know you a bit more. How will anyone know which exotic drink to buy you otherwise?
Nine-hole scores
Nine-hole competitions and nine-hole rounds are becoming increasingly popular globally. This is mainly due to the time it takes to play 18 holes, but also due to personal preferences. As such, 9-hole scores are an important part of the handicap calculation.
What you need to do when playing nine holes and you want to enter your score:
• Look up your 9-hole course handicap, which is what you will play off for the nine you select to play.
• This can be done on the handicap terminal, the Club system, HNA phone app or a course handicap chart at the course
• When entering your score, use your 9-hole course handicap to adjust your maximum score on any hole that you blow out on and enter this adjusted gross score for nine holes.
• The system will automatically convert it in to an 18-hole differential on your handicap score history by adding par plus your remaining handicap strokes for the second nine, plus 1 extra shot.
• Note that if you are not sure about what to enter for your handicap score, you can enter your hole-by-hole scores on the app, terminal, or HNA website. The system will then adjust your scores for the maximum allowed on a hole according to your course handicap, and enter your adjusted gross score for you.
• Take note that you can score exceptionally on a nine-hole round!
When can you NOT enter a nine-hole score?
• When the score cannot be ratified by a playing partner or competitor
• When the types or number of clubs were limited (as in a competition in which only iron clubs were allowed)
• When the round played included the use of "Mulligans"
• When more than one ball was used at a time
• When the course played is not officially rated including when a course is set up much longer or shorter than the Average Playing Length when the rating of the course was determined
• When the player used non-conforming clubs, balls or tees, or with respect to Rule 14-3 (Rules of Golf) where an artificial device was used in the execution of stroke or when equipment was used in an unusual manner during the execution of a stroke.
If you have any questions, please contact me at paarlmrrules@gmail.com
Enjoy your golf,
Mr R
What you should remember when playing golf at PGC during level 2 lockdown
I know this might be boring by now but please realise that we are still under level 3 lockdown rules, which did not change since inception. I see a lot of members and visitors who seem to forget that there are specific rules that we need to adhere to. Various golf courses have been visited by the police over the last three weeks and we don't want Paarl Golf Club to be the reason why golf was stopped in the Western Cape. So please stick to the rules and ensure that everybody can play the game we love.
Last week's photograph did not get any reaction, so just to be fair I will let it run another week. Please members ,help me out on these four individuals below.
Click here
if you recognise the gentlemen on the photo.
The photograph this week from the treasure chest is the one below. I sincerely hope that I would receive some feedback on who the people on the photograph are.
Click here
if you recognise the lindividuals in the photo.
Know your birdies from your eagles
        Barn (European) Swallow (Europese Swael)
 
Description
There are six subspecies of barn swallow, which breed across the Northern Hemisphere. Four are strongly migratory, and their wintering grounds cover much of the Southern Hemisphere as far south as central Argentina, the Cape Province of South Africa, and northern Australia. Its huge range means that the barn swallow is not endangered, although there may be local population declines due to specific threats.
The barn swallow is a bird of open country that normally uses man-made structures to breed and consequently has spread with human expansion. It builds a cup nest from mud pellets in barns or similar structures and feeds on insects caught in flight. This species lives in close association with humans, and its insect-eating habits mean that it is tolerated by humans; this acceptance was reinforced in the past by superstitions regarding the bird and its nest. There are frequent cultural references to the barn swallow in literary and religious works due to both its living in close proximity to humans and its annual migration. The barn swallow is the national bird of Austria and Estonia
The adult male barn swallow of the nominate subspecies H. r. rustica is 17–19 cm (6.7–7.5 in) long including 2–7 cm (0.79–2.76 in) of elongated outer tail feathers. It has a wingspan of 32–34.5 cm (12.6–13.6 in) and weighs 16–22 g (0.56–0.78 oz). It has steel blue upperparts and a rufous forehead, chin and throat, which are separated from the off-white underparts by a broad dark blue breast band. The outer tail feathers are elongated, giving the distinctive deeply forked "swallow tail". There is a line of white spots across the outer end of the upper tail. The female is similar in appearance to the male, but the tail streamers are shorter, the blue of the upperparts and breast band is less glossy, and the underparts paler. The juvenile is browner and has a paler rufous face and whiter underparts. It also lacks the long tail streamers of the adult.
Behaviour, feeding and breeding
The preferred habitat of the barn swallow is open country with low vegetation, such as pasture, meadows and farmland, preferably with nearby water. This swallow avoids heavily wooded or precipitous areas and densely built-up locations. The presence of accessible open structures such as barns, stables, or culverts to provide nesting sites, and exposed locations such as wires, roof ridges or bare branches for perching, are also important in the bird's selection of its breeding range.
The barn swallow is similar in its habits to other aerial insectivores, including other swallow species and the unrelated swifts. It is not a particularly fast flier, with a speed estimated at about 11 metres per second (25 mph), up to 20 metres per second (45 mph) and a wing beat rate of approximately 5, up to 7–9 times each second.
The barn swallow typically feeds in open areas 7–8 m (23–26 ft) above shallow water or the ground often following animals, humans or farm machinery to catch disturbed insects, but it will occasionally pick prey items from the water surface, walls and plants.
The barn swallow drinks by skimming low over lakes or rivers and scooping up water with its open mouth. This bird bathes in a similar fashion, dipping into the water for an instant while in flight
The male barn swallow returns to the breeding grounds before the females and selects a nest site, which is then advertised to females with a circling flight and song. Plumage may be used to advertise: the breeding success of the male is related to the length of the tail streamers, with longer streamers being more attractive to the female. Males with longer tail feathers are generally longer-lived and more disease resistant, females thus gaining an indirect fitness benefit from this form of selection, since longer tail feathers indicate a genetically stronger individual which will produce offspring with enhanced vitality.
The breeding season of the barn swallow is variable; in the southern part of the range, the breeding season usually is from February or March to early to mid September, although some late second and third broods finish in October.
Both sexes defend the nest, but the male is particularly aggressive and territorial. Once established, pairs stay together to breed for life, but extra-pair copulation is common, making this species genetically polygamous, despite being socially monogamous.
As its name implies, the barn swallow typically nests inside accessible buildings such as barns and stables, or under bridges and wharves. Before man-made sites became common, it nested on cliff faces or in caves, but this is now rare. The neat cup-shaped nest is placed on a beam or against a suitable vertical projection. It is constructed by both sexes, although more often by the female, with mud pellets collected in their beaks and lined with grasses, feathers, algae or other soft materials. The nest building ability of the male is also sexually selected; females will lay more eggs and at an earlier date with males who are better at nest construction, with the opposite being true with males that are not.
There are normally two broods, with the original nest being reused for the second brood and being repaired and reused in subsequent years. The female lays two to seven, but typically four or five, reddish-spotted white eggs.
Hatching success is 90% and the fledging survival rate is 70–90%. Average mortality is 70–80% in the first year and 40–70% for the adult. Although the record age is more than 11 years, most survive less than four years.
If you have a favourite bird or would like to know more about a particular species flying around PGC, please let us know so that we can do some research and showcase it in next week's Gazette.
https://paarlgolfclub.co.za/wp-content/uploads/2021/05/Boschenmeer-Golf-Estate-Logo-2021-REPRO-PNG-300x167.png
0
0
admin
https://paarlgolfclub.co.za/wp-content/uploads/2021/05/Boschenmeer-Golf-Estate-Logo-2021-REPRO-PNG-300x167.png
admin
2020-09-03 07:50:22
2020-09-03 07:50:22
We are ready and waiting for you in the Winelands Hall