Fly your country's colours at PGC
We would like to invite those members that were born in other countries to feel free to supply the PGC with a flag from their country so that we can share that with our other members. It will also be good to see what nationalities we do have here at PGC.
Thanks to Ad Hemmes who started this idea of representing their birth country by providing us with a flag from the Netherlands. We are in the process of making new PGC flags as well to ensure that our flagpoles are doing what we expect from them. The size of the flags should be 1800mm by 1200mm at least. We are looking forward to seeing which countries will be represented on our flagpoles.
   Feedback on the moss situation on our greens
Members have been very interested as to what we were doing to the moss on the greens. After the extensive hollowtining and verticutting and with the interseeding now starting to show results with the warmer weather we can look forward to some good rolls on all our greens. We are now in the phase where we physically remove and patch those areas of moss still active after all these actions. We have also started again with applying fungicide to reduce spores on our greens.
Members that do repair their pitchmarks would have realized that the greens are definitely firmer and harder due to the fact that we are now getting good drainage of water to the lower levels of the greens and that the "healthy environment for moss" created by water that could not drain away will eventually ensure that the moss will no longer have "support" to exist
| | |
| --- | --- |
| On the right is an example on the practice pitching green where a pitchmark was not repaired and after the rains the moss used the damming up of water in the pitchmark to settle and start growing. | |
Please repair those pitchmarks and help us with the fight against the moss.
Bunker sand to get attention
Members will see that we are busy loosening up the bunker sand in order to get a softer bunker to play from. We will concentrate first on the green surrounding bunkers and get them more playable. It will not be possible to replace all the sand in the bunkers as eventually thought before the Club Championships, but we will ensure that the greenside bunkers will be softer than they currently are.
In order to replace the bunker sand we will have to remove all the contaminated bunker sand and refill them physically. We will however replenish them with new bunker sand where there is not too much mud-contaminated bunker sand.
We often see members hitting drivers in our warm-up nets. The force of a driver shot onto the netting is unfortunately very severe and reduces the lifespan of our warm-up nets. May we please request that our members refrain from hitting woods into the warm-up nets. Thank you for your understanding.
We got the go-ahead to open up our showers again but with one proviso: whoever wants to shower must bring along their own towel. This is part of the Level 1 Covid regulations, particulary for gyms, that we need to adhere to. From the 1st of October the showers will be ready for those golfers bringing their own towels. Again thank you for understanding and enjoy your shower!
  Club Championships fully booked
Members please note that the Club Championships will be hosted on Saturday the 31st of October and Sunday the 1st of November 2020. Since we will have certain divisions playing 27 holes per day, we will only be able to accommodate 120 players in the field.
We are FULLY BOOKED, but there is a waiting list just in case we have withdrawals.
Club Draw draws to a close – 30 September 2020
The Club Draw has reached the closing date of 30th of September 2020. We have 61 entries and will have to decide if it will be worth our while to continue with the draw. The anticipated numbers unfortunately never materialised and therefore we will have to make a call on the future of the draw. We will inform you as soon as the decision has been made.
Entries close 30 September 2020 and the first Draw will take place on Friday 16 October 2020.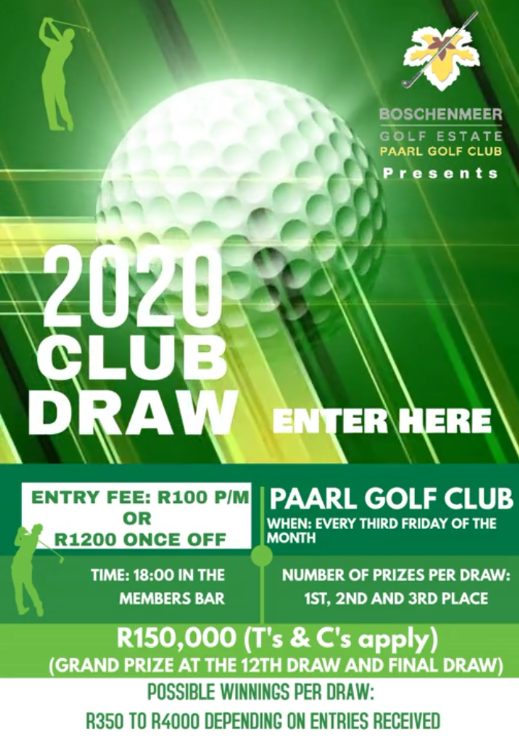 We have 61 entries!
Spotlight Social registration
We are now on 322!

Win the wine of the month!

We are currently on 322 members so please put in some effort to register on the app. Number 400 will be next in line for a bottle of wine.See how to win here.
| | | |
| --- | --- | --- |
| | | |
| | | This week we get to know one of the Golfing Goat's management in Le Roux Conradie. He is the friendly face that everybody sees around the bar most of the time (and he doesn't even drink!). |
If you would like to be part of our wonderful PGC community,
let us know
so that we can get to know you a bit more. How will anyone know what exotic drink to buy you otherwise?
Dangerous situation on the golf course
| | | |
| --- | --- | --- |
| I received this very interesting video and was asked to answer and clarify a few questions based on the clip. | | |
Playing golf at PGC during Level 1 lockdown
I know this might be boring by now but please realise that we are still under Level 1 lockdown rules, which have not changed since their inception.
Thanks to those members (and visitors) who makes our work easier by adhering to the regulations and rules. We appreciate your continues support and help. To the few that alway need to push the boundaries please realise that your actions might cause the club to close, and many other golf courses for that matter. It is not that difficult…
Thanks to Anville van Wyk who identified the man on the right as Johan Loubser. I did not get any takers on identifying the other two people so I will give it another week. Please help.
| | | |
| --- | --- | --- |
| | | |
| The photograph this week from the treasure chest is the one pictured to the right. I sincerely hope that I receive some feedback on who the people in the photograph are. | | |
| | | |
| --- | --- | --- |
| | | Before Anville sends me his regular email identifying all the players, I will confess that I identified Jan Hanekom on the left, and Anville van Wyk on the right. Do you know the two gentlemen in the middle? |
Know your birdies from your eagles
Familiar Chat (Gewone Spekvreter)
| | | |
| --- | --- | --- |
| | | If you have a favourite bird or would like to know more about a particular species flying around PGC, please let us know so that we can do some research and showcase it in next week's Gazette. |
https://paarlgolfclub.co.za/wp-content/uploads/2021/05/Boschenmeer-Golf-Estate-Logo-2021-REPRO-PNG-300x167.png
0
0
admin
https://paarlgolfclub.co.za/wp-content/uploads/2021/05/Boschenmeer-Golf-Estate-Logo-2021-REPRO-PNG-300x167.png
admin
2020-10-06 07:09:31
2020-10-09 07:10:02
We are proud of our international community here at PGC