We had positive feedback from Eugene Booysen as well as Nols Heunis on last week's photo. On the left is André Streicher and the right, Johan (Johnny Wild) Wiid. They both think that the two gentlemen were members of Stellenbosch GC. The lady remains a mystery.
The photograph for this week from that treasure chest is the one below. I sincerely hope that I would receive some feedback on who the people on the photograph are. Please e-mail me at
manager@paarlgc.co.za
if you recognise any of the individuals on the photographs.
Know your Birdies from your Eagles
Pied Kingfisher (Bontvisvanger)
| | |
| --- | --- |
| | |
DescriptionThis is a medium-sized kingfisher, about 25 cm (9.8 in) long with a white with a black mask, a white supercilium and black breast bands. The crest is neat, and the upperparts are barred in black. Males have a narrow second breast band while females have a single broken breast band.
Behaviour
When perched, the pied kingfisher often bobs its heads up and down and will sometimes raise its tail and flick it downwards. It calls often with sharp "chirruk chirruk" notes.  Unlike some kingfishers, it is quite gregarious, and forms large roosts at night.
Feeding
This kingfisher feeds mainly on fish, although it will take crustaceans and large aquatic insects such as dragonfly larvae.  It usually hunts by hovering over the water to detect prey and diving vertically bill-first to capture fish. When not foraging, it has a straight rapid flight and has been observed flying at nearly 50 km/h.
It can deal with prey without returning to a perch, often swallowing small prey in flight, and so can hunt over large water bodies or in estuaries that lack perches that are required by other kingfishers.
Breeding
The breeding season is February to April. Its nest is a hole excavated in a vertical mud bank about five feet above water. The nest tunnel is four to five feet deep and ends in a chamber. Several birds may nest in the same vicinity. The usual clutch is three to six white eggs.  The pied kingfisher sometimes reproduces cooperatively, with young non-breeding birds from an earlier brood assisting parents or even unrelated older birds.
Congratulations to Paarl Golf Club member, Vanessa Smith, for her selection to represent the Boland Ladies at the IPT Championships at the Riviera on Vaal course in Gauteng. Boland ended in the fourth spot with Ekurhuleni winning, Western Province second and Gauteng third. Vanessa, we knew you could do it!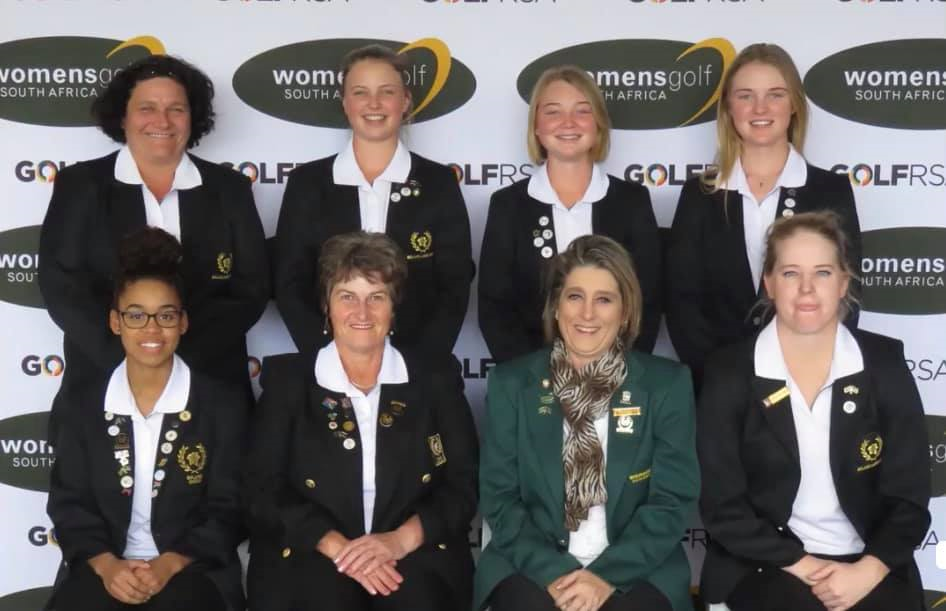 Back row from left to right: Vanessa Smith from Paarl Golf Club, Megan Streicher, Ineke Brynard, Shani Brynard.
Front row from left to right: Chrystal Beukes (Captain), Annerie Coetzee (Manager), Tarryn Borsutzky (President), Bianca Wernich.
The Golfing Goat opens their doors!
And there he was! The Golfing Goat opened his doors officially last night with a fantastic evening of wine tasting and matching thingies to rattle the taste buds. A huge gathering of golfing members, as well as Boschenmeer homeowners, came to witness this occasion.  It was good to see the interaction between all attending the opening function. As customary by now, the Golfing Goat pulled out all the stops to make this a memorable moment for all attending. We wish him (I think the golfing goat is a he) a long and fruitful stay here at Paarl Golf Club. Please support him in his endeavours to provide an excellent halfway house to the golfers, but also a well-used convenient shop for the Boschenmeer residents.
https://paarlgolfclub.co.za/wp-content/uploads/2021/05/Boschenmeer-Golf-Estate-Logo-2021-REPRO-PNG-300x167.png
0
0
admin
https://paarlgolfclub.co.za/wp-content/uploads/2021/05/Boschenmeer-Golf-Estate-Logo-2021-REPRO-PNG-300x167.png
admin
2019-10-07 13:33:40
2019-10-07 13:41:07
Vanessa Smith represents Boland Ladies at IPT Championships