AGM to be held on 25th of November 2020
Members please note that we will hold our AGM on Wednesday the 25th of November 2020. Please diarise this date and the time of 18:30 for you to come and be part of Paarl Golf Club. Official notices were sent out on the 11th of November 2020. The nominations for office bearers were placed on the noticeboard on Wednesday the 18th of November 2020. Should you have any need for information please feel free to contact me at
manager@paarlgc.co.za.
       % of Handicap to be used in Betterball and Alliance Competitions
The concept of using a percentage of your handicap when playing in a betterball or alliance competition format has been with us now for two weeks. A lot of questions have reached us during this period.
Let me try to explain it a bit more. Firstly, it is not just Paarl Golf Club that is implementing this. Secondly, the recommended Competition Handicap Allowances from the World Handicap System (WHS) will eventually be implemented at all golf clubs worldwide. The main principle behind this is to give golfers of all abilities and handicap levels a fair chance of winning in betterball and alliance competitions.
Why is this necessary?
With the recent change of the world handicapping system, golfers are allowed to enter a maximum score of net 2 over par, meaning that golfers with a handicap stroke on a hole can enter a maximum score of 3 over par, while those with two handicap strokes on a hole can enter a 4 over par score.
This created a situation where high handicapped players could build up an even higher handicap than before. Statisticians from the major golf-playing countries in the world have modelled millions of competition scores and have, as a result, recommended that competition organisers implement Handicap Allowances for betterball and alliance competitions. This will give all golfers a fair chance of winning in these kinds of competitions.
The table below provides the recommended Handicap Allowances for our most common competitions.
Please note that you do not apply the percentage to your handicap index but to your course handicap for the course you are playing. We will provide the marshals with already prepared sheets for easy-determining of your "new" handicap.
Should you need any further detail, please visit the HNA and WHS web pages and also feel free to contact our own Mr Rules, Steph Lotz, who will be able to explain the reasoning behind this and why the Captain's Committee as well as management of the club decided to implement this immediately.
  Handing in of scorecards after a round
Members should please help our scorers at the end of a competition to hand in their scorecards as soon as they are finished with their rounds. Should you decide not to hand in a scorecard, please notify our registration office so that they do not wait for that scorecard to still come in.
Please also make sure that you use the correct handicap for the competition that you are playing. Note, that should the competition format be betterball or alliance, a percentage of your handicap will be deducted. You therefore cannot use your handicap without the percentage taken off and only apply that after the round.
If you are a 10 handicap and you play in a betterball or alliance format where you have to use 85% of your handicap, you will then have to play on a 9 handicap for the day. It means that at stroke 10 you will not get a shot as you would have gotten when you played individual format on your 10 handicap. Note that when the percentage gives a decimal of .5 and more, you round up to the higher handicap and when the percentage gives a decimal below .5 you round down to the lower handicap.
Get festive with us on Tuesday 24th November for our Xmas Mix.
Golfing Goat Restaurant Launch
Join us on Friday 4th December for the official launch of the new Golfing Goat Restaurant.
Parking for private golf carts available
I am glad to report that we have succeeded in making space for at least six golf cartsin our golf cart storage garage. I have been asked by a few members if that could be possible. We only have six spaces available for now.
The rental cost, inclusive of your under roof safe parking spot and your electricity for the charging of your cart with your own charger will only cost you R300 per month. All that we ask is that you understand that these six carts will be parked behind each other and will need to be shifted from time to time to allow the use of a particular cart.
Next Club Draw – 27 November 2020
Please note that the November Club Draw has been shifted to Friday 27th of November 2020 due to the Burger Kersfonds Golf Day this coming Friday the 20th of November.
You can still get your entry into the Cub Draw! A decision was made that those who did not have a ticket for the draw can still get one but the buy-in remains the same at R1200. If you want to do it by debit order you now will have to arrange with our financial department to determine the correct amount according to the date that you want to start. This means everybody can still buy in so please let us do that because it is for a good cause helping the Captain's Committee to create funds for projects on the course.
Entries are still open and the 2nd Draw takes place on Friday the 27th of November.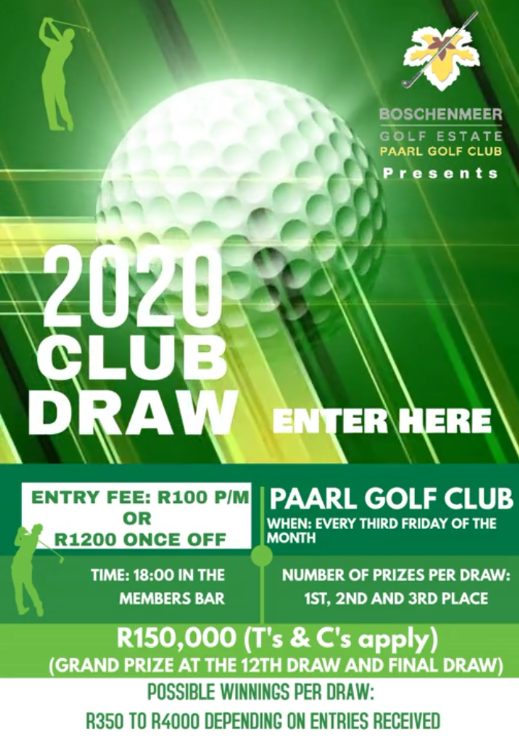 We have 83 entries!
Spotlight Social registration
Win the wine of the month!
We are currently on 335 members so please put in some effort to register on the app. Number 400 is next in line for a bottle of wine.
| | | | |
| --- | --- | --- | --- |
| | We are now on 335! | | For your efforts you can be next in line to win a bottle of wine with compliments from the "Wine of the Month". Thank you to the members that have registered so far. See how to win here. |
| | | |
| --- | --- | --- |
| | | |
| | | This week we get to know our new ladies Club Champion, Bianca Lohbauer. She is one of our stars ladies members. We will watch the progress of your golf career with enthusiasm and wish you a very successful career on the world golfing circuit. |
If you would like to be part of our wonderful PGC community, let us know so that we can get to know you a bit more. How will anyone know what exotic drink to buy you otherwise?
Ball stopped by outside influence (hosepipe)
I was asked what to do if your approach shot lands on the green and it is stopped by the hosepipe a worker is using to cool the greens during the hot summer months.
Know your rules >
Playing golf at PGC during Level 1 lockdown
I know this might be boring by now but please realise that we are still under Level 1 lockdown rules, which have not changed since their inception.
Thanks to those members (and visitors) who makes our work easier by adhering to the regulations and rules. We appreciate your continues support and help. To the few that alway need to push the boundaries please realise that your actions might cause the club to close, and many other golf courses for that matter. It is not that difficult…
I did not get any takers last week so I will try for a last time this week.
| | | |
| --- | --- | --- |
| | | |
| | | Here is the photograph from this week's treasure chest. Please e-mail me at manager@paarlgc.co.za if you recognise anyone. |
Know your birdies from your eagles
     Malachite Sunbird (Jangroentjie)
| | | | |
| --- | --- | --- | --- |
| | | | If you have a favourite bird or would like to know more about a particular species flying around PGC, please let us know so that we can do some research and showcase it in next week's Gazette. |
| | | | |
https://paarlgolfclub.co.za/wp-content/uploads/2021/05/Boschenmeer-Golf-Estate-Logo-2021-REPRO-PNG-300x167.png
0
0
admin
https://paarlgolfclub.co.za/wp-content/uploads/2021/05/Boschenmeer-Golf-Estate-Logo-2021-REPRO-PNG-300x167.png
admin
2020-11-19 13:47:12
2020-11-19 13:47:12
Time to mix it up. Xmas has come early | 24 November