Renovation of dining facilities
Those members that did not attend the AGM might not be familiar with the fact that the Board of PGC has approved the planned renovations of the bar-restaurant and veranda area.
The idea is to combine the bar, the restaurant and the veranda in front of the bar under one roof space. The captain Jacques Olivier has been the driving force behind this idea and got the ball rolling with some conceptual ideas and input from a few experts. We would like to thank him for this initiative and hope that we will be able to get construction going when we start the April hollowtining process.
Below is an architect's vision of the look and feel of this area:
We are going to celebrate Louis Oosthuizen's Open win from 10 years ago by auctioning some very special Louis Oosthuizen memorabilia. The best part is that you can bid for the auction electronically. The link to use is
https://forms.gle/zQs6sLXwWYoiAtzR9
There are three different auction items and they will also have a reserve price connected to them. The first item is The Duke Handmade in St. Andrews Scotland Hickory Putter all the way from the course where Louis won the 2010 Open.
The second item is a very special bottle of wine. The label is signed by Louis himself and has a picture of him kissing the famous Claret Jug.
This bottle, together with a photograph of Louis taken during that particular Open, is framed in a once-in-a-lifetime memory of this momentous occasion.
The third item is a magnum bottle of Roodeberg Collector's Edition wine. You may ask "What does that have to do with Louis who has his own brand of wine?" It is actually very simple. It is the one wine that has got two 'o's in its name, as in Oosthuizen.
Lift, clean and drop on fairways
Just to confirm to all members (and visitors) that due to the heat and minimum rain we are experiencing, there are some areas on the fairways that might not be conducive to the rule "play it as it lies."
We therefore have made a local rule that when you do land up in such an area on the fairway you may lift, clean and drop the ball within one club length not nearer to the hole.
We sincerely hope that this would ease the pressure there is on the greenkeeping staff to maintain perfect fairways under trying conditions. These areas also don't have to be marked anymore because the decision lies with the golfer if their lie is, or is not acceptable.
Droogtehulp financial feedback
Members would recall that we held a Droogte Hulp Golf Day on the 31st of January 2020. Paarl Golf Club offered the course for free to the organisers and Golfing Goat also pitched in with supplying the food for the day on their account.
We anticipated to get R250 000 in for the day but the final figures came as a big surprise totalling at R315 000. This amount was made up as follows:
| | |
| --- | --- |
| Income from 4 ball teams: | R116 250.00 |
| Raffle: | R3 950.00 |
| Mulligans: | R8 850.00 |
| Putting: | R500.00 |
| Main Auction: | R139 500.00 |
| Quiet Auction: | R45 951.00 |
| Total: | R315 001.00 |
Thanks to everybody that contributed to make this day a success. A big word of thanks also came from the Britstown Farmers who benefitted from this day.
New board members and portfolios
During the Annual General Meeting we bid farewell to a few board members and welcomed two new ones. Three board members reached the end of their term, namely Leon Cronje, Andre Moller and Amanda Williams. We thank them for their efforts during their term. A special word of thanks to Leon who kept the finances healthy and transparent.
We also had to say goodbye to our President, Christie Viviers, who always were there to help when it was needed. A new President in Joep Joubert was elected and we look forward to seeing what Joep is going to leave as his presidential legacy.
We also welcome two new board members in Ganief Daniels and Kobus Sieberhagen. At the first board meeting we also placed these board members in the new structure of the board. A few portfolios were created that coincide with the different sections within the PGC.
The following portfolios were created:
| | |
| --- | --- |
| • Chairman | Christian van Schalkwyk |
| • Managing Director | Willem Pretorius |
| • Finance and Business Development | Carel Goosen |
| • Golf Operations and Marketing | Kobus Sieberhagen |
| • Captains' and Course Committees | Jacques Olivier |
| • Ladies and Fundraising | Helaine Strydom |
| • Water Affairs and HOA Liaison | Des O Reilly (Vice Chairman) |
| combined with Infrastructure | together with Ganief Daniels |
| and Ancillary Revenue | |
We welcome Maria Kirton to the PGC team!
Maria was appointed in the position of Golf Experience Coordinator who will be responsible for various facets of the golfing experience at PGC with her immediate challenge to optimise the registration desk at PGC. She will also be involved with the coordination of the group bookings from a golfing experience point of view as well as the new members interaction with the club and how they experience PGC as a new member.
We look forward to what Maria's energy and passion for the game of golf would bring to PGC.
Members might have noticed that there is another new face at registration desk.
Tiaan van Niekerk was appointed on a temporary basis to help at registration during the peak season. He is also evaluating the interaction between the financial system, Jonas, and the tee time booking system, Golfscape, that is used by registration. He will help out till the end of the peak season that comes to an end before we hollowtine our greens from 19 April 2020.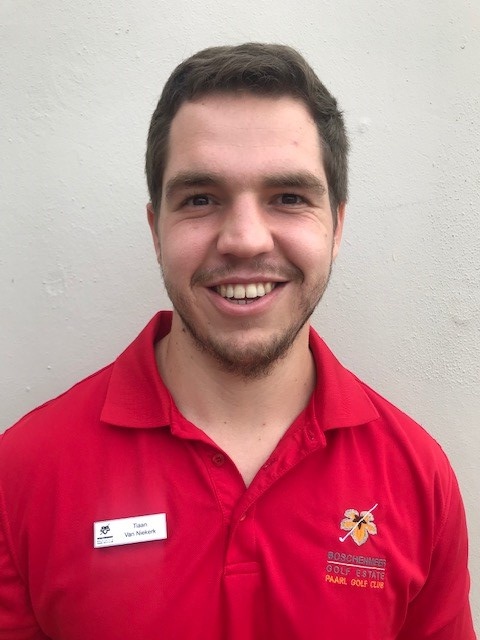 Welcome, Tiaan!
Marketing and Public Relations Officer
Click to enlarge
The photograph of last week bowled everybody out. I had no feedback on any of these gentlemen pictured below. Maybe it was just missed so I sincerely hope that somebody out there might recognise some of them.
The photograph this week from the treasure chest is the one below. I sincerely hope that I would receive some feedback on who the gentlemen on the photograph are. Please e-mail me at
manager@paarlgc.co.za
if you recognise the gentlemen on the photo.
In conversation with our Members
Do you want to see your picture on the wall?
Please hand in this form at registration or admin if you want to be featured in our next newsletter.
Email your photo to administration@paarlgc.co.za or we can take a photo.
Know your birdies from your eagles
Speckeled Pigeon (Kransduif)
Description
The speckled pigeon (Columba guinea), or (African) rock pigeon, is a pigeon that is a resident breeding bird in much of Africa south of the Sahara. It is a common and widespread species in open habitats over much of its range, although there are sizable gaps in its distribution. It is sometimes referred to as a Guinea Pigeon due to its similar colouring to some species of guineafowl.
This is a large pigeon at 41 cm in length. Its back and wings are rufous, the latter heavily speckled with white spots. The rest of the upperparts and underparts are blue-grey, and the head is grey with red patches around the eye. The neck is brownish, streaked with white, and the legs are red. The call is a loud doo-doo-doo.
Behaviour and feeding
Its flight is quick, with regular beats and an occasional sharp flick of the wings that are characteristic of pigeons in general.
The speckled pigeon is frequently seen around human habitation and cultivation. Most of its food is vegetable, and it gathers in large numbers where grain or groundnuts are available.
Breeding
This species builds a large stick nest on protected rocky outcrops and in urban areas often atop covered pergola pillars and on flat roofs under deep eaves and lays two white eggs.
https://paarlgolfclub.co.za/wp-content/uploads/2021/05/Boschenmeer-Golf-Estate-Logo-2021-REPRO-PNG-300x167.png
0
0
admin
https://paarlgolfclub.co.za/wp-content/uploads/2021/05/Boschenmeer-Golf-Estate-Logo-2021-REPRO-PNG-300x167.png
admin
2020-03-11 09:28:33
2020-03-11 09:28:33
The PGC team is growing stronger than ever before!