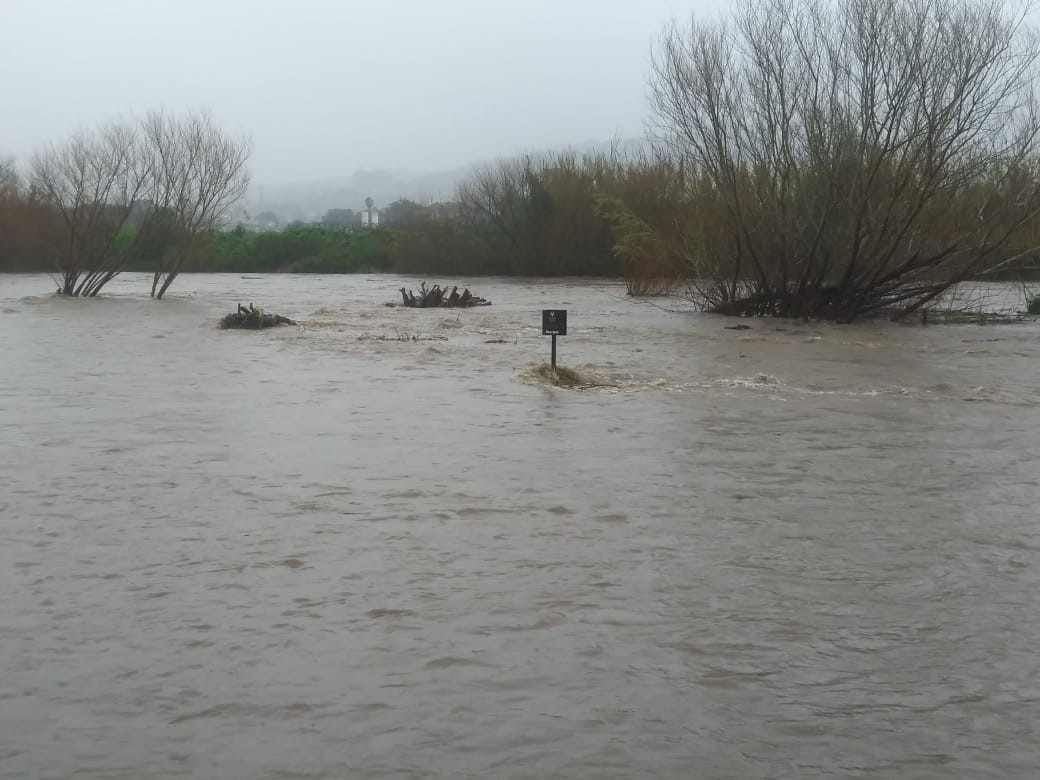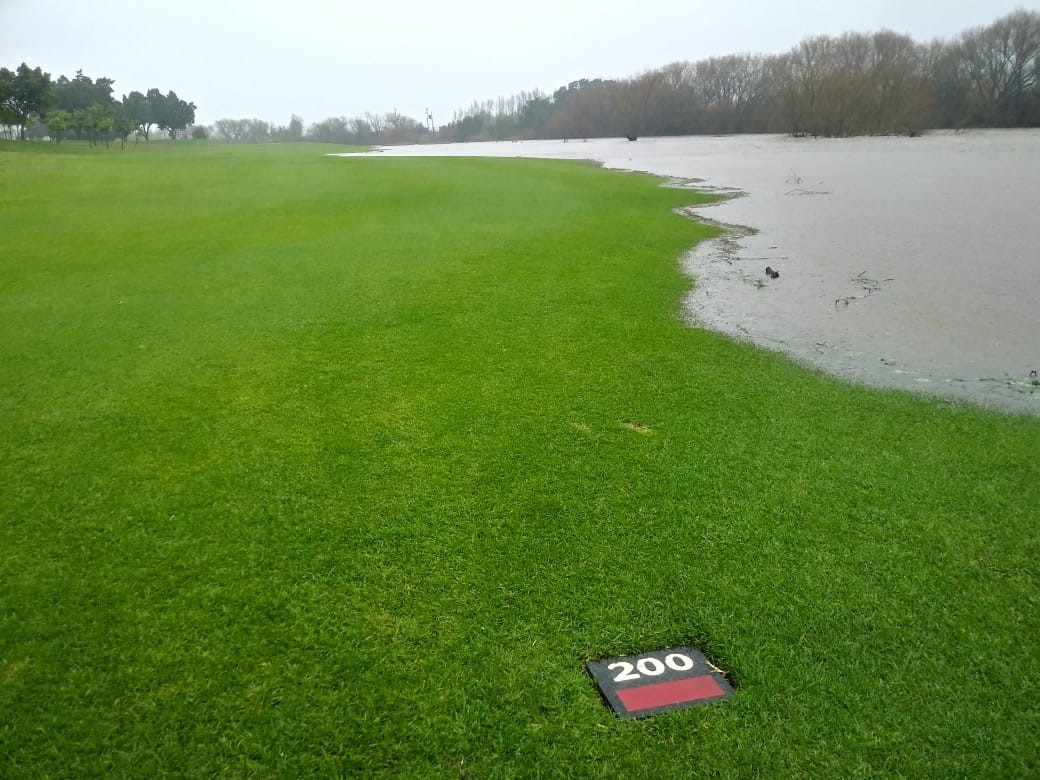 The 5th hole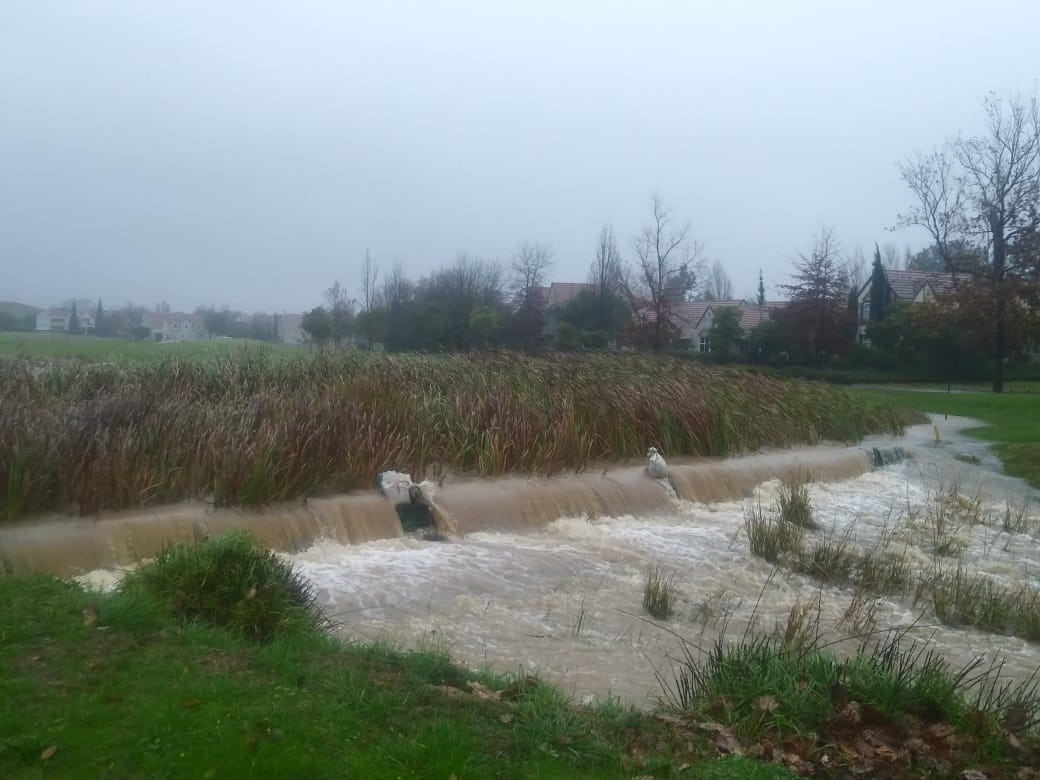 The 11th hole
Wet and wild!
Members would remember that it was just over a year ago that we were amid a severe drought. Various plans and actions were taken to be better prepared should the Berg river ever stop flowing again. But last week saw a fantastic rainy week with lots of water flowing from the mountains down through the Berg river.
Luckily we did not get any damage to the course but we are alert seeing that the Bergriver dam is now 100% full and overflowing which means that every high intensity rainfall in the dam area will flow directly out without any buffering to the Bergriver. We are monitoring the rainfall predictions as well as trying to create space in some of our dams to at least take up some water before it all flows into the river.
The high flows of the river also allowed the otters to come upstream into our dams on the course. A family of six was seen early Saturday on the banks of the irrigation dam between 11th and 21st tee boxes. We hope they enjoy their visit but need to find their way back to the river quickly. Below is also the standing of the dams in our area where it can be seen that we are now better off than all previous four years indicated as well. Important for PGC is Wemmershoek dam's level due to the fact that Paarl gets its water from that particular dam.
Click to enlarge


1.

2.

This week I will clarify a situation that occurred on the first hole.  A player hit his ball into the penalty area on the right-hand side of the fairway.

The penalty area was only partially filled with water

and he found his ball in the penalty area.

3.

4.

He was contemplating if he should play the ball as it lies but he decided against it because his stance would have been in the water.

He then informed his marker that he would treat his ball as unplayable and take a penalty relief (Rule 19.1)

His used the back -on-the-line relief option (Rule19.2b) and dropped his ball in the penalty area and played from there.

This is where the player transgressed as Rule 19.1 clearly states that the player is the only person who may decide to treat his or her ball as unplayable by taking penalty relief except in a penalty area. If a ball is unplayable in a penalty area the player's only option is to take penalty relief under Rule 17 (penalty areas).

When he played the dropped ball from the penalty area he played from a wrong place and gets the general penalty( 2 shot penalty or match play loss of hole).
If the player gained a significant advantage by playing from the wrong place compared to where he should have played from this would be treated as a serious breach and is therefore disqualified, unless he corrected his mistake before playing from the next tee or for the final hole before returning his scorecard.
To decide if there was a serious breach, the factors to be taken into account include:
•    The difficulty of the stroke
•    The distance of the ball from the hole
•    The effect of obstacles on the line of play
•    The conditions affecting the stroke
In this case the player was not disqualified as his ball crossed the edge of the penalty are very close to where his ball was lying.
If you have any questions, please contact me at paarlmrrules@gmail.com
Enjoy your golf.
Mr R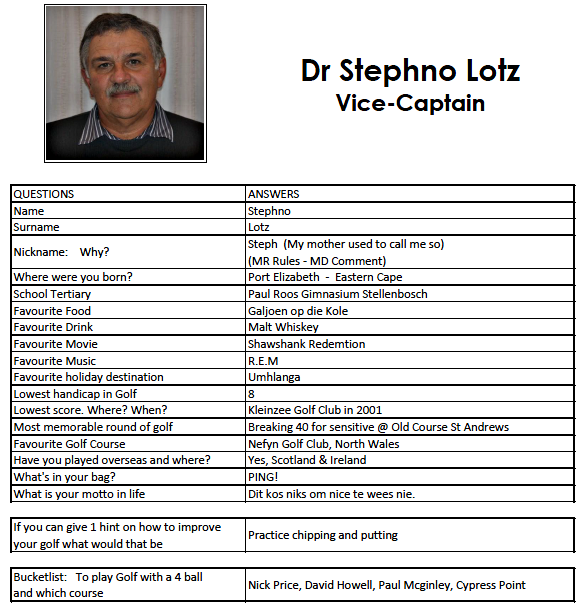 Know your birdies from your eagles
Mallard (Groenkop Eend)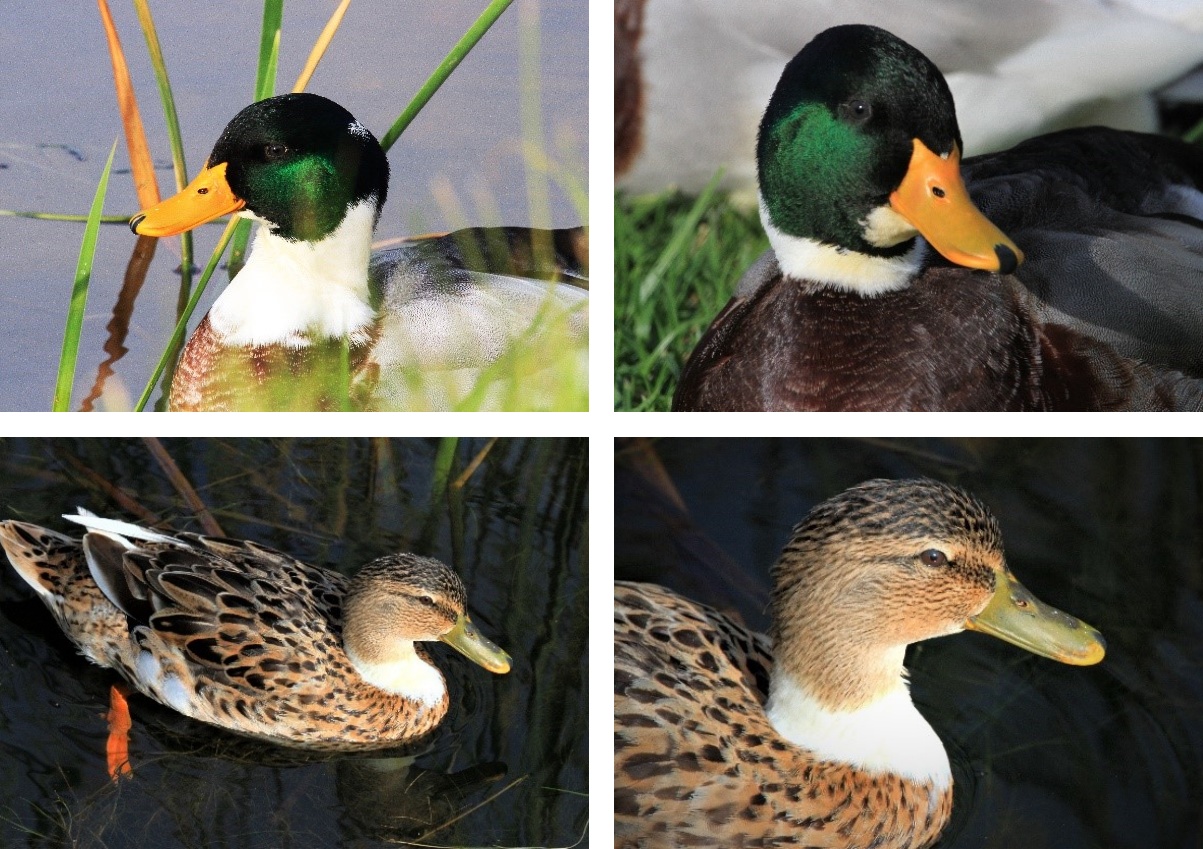 Photo courtesy:   Alida Kotzee
Date:  28 June 2019
Where to look for them:  11th Green
The mallard (/'mæl??rd/ or /'mæl?rd/) (Anas platyrhynchos) is a dabbling duck that has been introduced to South Africa. This duck belongs to the subfamily Anatinae of the waterfowl family Anatidae. The male birds (drakes) have a glossy green head and are grey on their wings and belly, while the females (hens or ducks) have mainly brown-speckled plumage. Both sexes have an area of white-bordered black or iridescent blue feathers called a speculum on their wings; males especially tend to have blue speculum feathers.
The mallard is 50–65 cm (20–26 in) long, of which the body makes up around two-thirds the length. The wingspan is 81–98 cm (32–39 in) and the bill is 4.4 to 6.1 cm (1.7 to 2.4 in) long. It is often slightly heavier than most other dabbling ducks, weighing 0.72–1.58 kg (1.6–3.5 lb). Mallards live in wetlands, eat water plants and small animals, and are social animals preferring to congregate in groups or flocks of varying sizes. This species is the main ancestor of most breeds of domesticated ducks.
The female lays eight to 13 creamy white to greenish-buff spotless eggs, on alternate days. Incubation takes 27 to 28 days and fledging takes 50 to 60 days. The ducklings are precocial and fully capable of swimming as soon as they hatch.
Please note the following when "feeding" the Mallards on the course:
•    Bread can equal a death sentence – While many people believe that it is harmless to toss breadcrumbs to ducks, this can actually be incredibly detrimental to their health. Bread has very poor nutritional value, and fills up the duck, keeping it from foraging for healthy foods. Eating too much bread can cause angel wing in ducks, which causes the bones to twist during growth, and inhibits flight. Instead of feeding bread, feed duck's lettuce, corn, peas, or birdseed.
Please send us your photographs of birds that you find on the course.

Paarl Ladies decided to bring their charity closer to home in 2019
The Paarl Ladies golf section became aware of the Paarl Stimulation Centre for disabled children in New Orleans through Carmen Baxter, our friendly PGC registration lady. This centre provides daily care to 33 disabled children.
On request from the PGC Ladies they received a list of the centre's needs and the ladies immediately set about as to aid those needs. With the cold of winter and shortage of blankets to cover the children who are mostly wheelchair bound, the ladies donated/collected close to 60 blankets on the 16th of July and it was delivered to the centre on Mandela Day on the 18th of July.
Barney Liebenberg, a local building contractor from Boschenmeer Estate, is busy compiling a quotation to repair the highest priority items such as water leaks, dysfunctional bathrooms and toilets, kitchen cupboards, fitting a stove and some paint work. Barney offered his personal support and supervision free of charge and the PGC Ladies will only need to pay for labour and materials. We hope to start with the repairs on the building by the end of July 2019.
A huge need was also to get the centre's stove replaced and once again one of our members, Ingrid Meter, came to the rescue and donated a gas top stove with electrical oven to the centre. A huge thanks to Ingrid for this generous donation. The ladies undertook to install this stove and provide a gas bottle and to keep it filled through their charity drives and collection on an ongoing basis.
There is also a very great need for specific educational toys and materials as well as CD players and TV's. The PGC Ladies will work very closely with the centre's staff to determine what will be the correct learning materials to acquire as we collect and receive funding.
Any member or parties are therefore invited to donate into the ladies' section charity account for learning materials, food supplies and maintenance materials required for the centre. It will be highly appreciated if you can help our charity provide this much needed service to the disabled children in our community
Please contact Helaine Strydom, the lady captain in this regard at helainestrydom@gmail.com or on her cell +27 84 549 8439.

Paarl Ladies "bag" another successful wine pairing evening at Back's
The ultimate pairing
Wine and the Paarl Ladies golf section go hand-in-hand and they once again succeeded in getting the two parties involved to party. The second wine pairing initiative from them, to give tribute to their sponsors, happened at Back's Restaurant on Thursday evening, 25th of July. The evening started off with a wonderful cheese and wine pairing masterly performed by the man himself, Charles Back. Each wine and cheese had a story to tell and Charles as well as the PGC ladies and their companions enjoyed every story on its own. It was wonderful to experience Charles' passion for wine in general and we all went back home knowing a lot more about the topic than before. Interesting fact that Charles pointed out was the fact that the oldest wine-making country (some 8000 years ago) was Georgia in the old Russia.

A wonderful magnum wine bottle was then auctioned by Charles himself and the successful bidder was Morkel Pieters from Kropman Paints. Helaine Strydom, our ladies captain, decided that her gift from Charles (another magnum) also needed to go on auction and our men's captain, Jacques Olivier, decided that he should have that bottle. All the others tried bravely to secure that bottle but he fought each bid off gallantly to walk away with the winnings.
Well done ladies for yet a wonderful initiative from all of you!
https://paarlgolfclub.co.za/wp-content/uploads/2019/08/asccas985.jpg
634
985
admin
https://paarlgolfclub.co.za/wp-content/uploads/2021/05/Boschenmeer-Golf-Estate-Logo-2021-REPRO-PNG-300x167.png
admin
2019-08-07 08:27:31
2019-08-07 08:27:31
The Paarl ladies are making us proud