Interesting information from the HNA database
Golf bounces back
With golf clubs having been closed for business for a total of 77 days during the nationwide lockdown, the number of rounds played in 2020 has understandably taken quite a hit. However, in October HNA recorded a record high number of monthly rounds on the handicap system, with no fewer than 383 458 scores being entered. The previous high of 371 667 was recorded back in December 2018.
The number of active golfers has also increased, with a total of 86 285 golfers having submitted scores on the HNA system in October 2020 – a 7,2% increase on the same period last year.
Despite the lengthy lockdown period, there are still 101 keen golfers who have managed to play more than 100 rounds of golf in 2020.
At Paarl Golf Club, Fred Bowles did manage to get the most rounds (183) in to date. As an unlimited member he therefore averaged R34,60 per round. Indeed, very affordable golf!
The lockdown did seem to create a fair bit of rustiness in our golfers, though. In June of this year, only 11% of recorded rounds were equal to or better than the player's Handicap Index, whereas that figure increased to 19% in October of this year.
The average handicaps for men and women have stayed stable over the course of the year. For men, the average Handicap Index is 13.62, while for women it is 20.21.
Once again the clubs with two courses dominate the 'most rounds' category, led by Country Club Johannesburg with 35 386 scores entered so far this year. In second place is Randpark, with Mount Edgecombe in third. The 18-hole club with the most scores entered this year is Westlake, ranked fourth on the list.
Paarl Golf Club managed to get 38 532 rounds registered on our system. Please note this includes corporates and groups as well as unaffiliated members and international players that would not all enter their scores on the HNA system.
Fancourt tops the list when it comes to visitor rounds, ahead of Royal Durban. Then follows a long list of Gauteng clubs, including Wingate Park, Royal Johannesburg & Kensington, Kyalami, Irene, Glendower, Randpark, Waterkloof, Eagle Canyon, The Els Club, Reading, Ruimsig and Huddle Park. The first Cape course, De Zalze, comes in 15th spot on what is a bunched list.
Festive Season Golf Program
It's been a tough year and you've all earned a well-deserved holiday. So, we've come up with a jam-packed Festive Season Program to ensure that you end the year on a high note.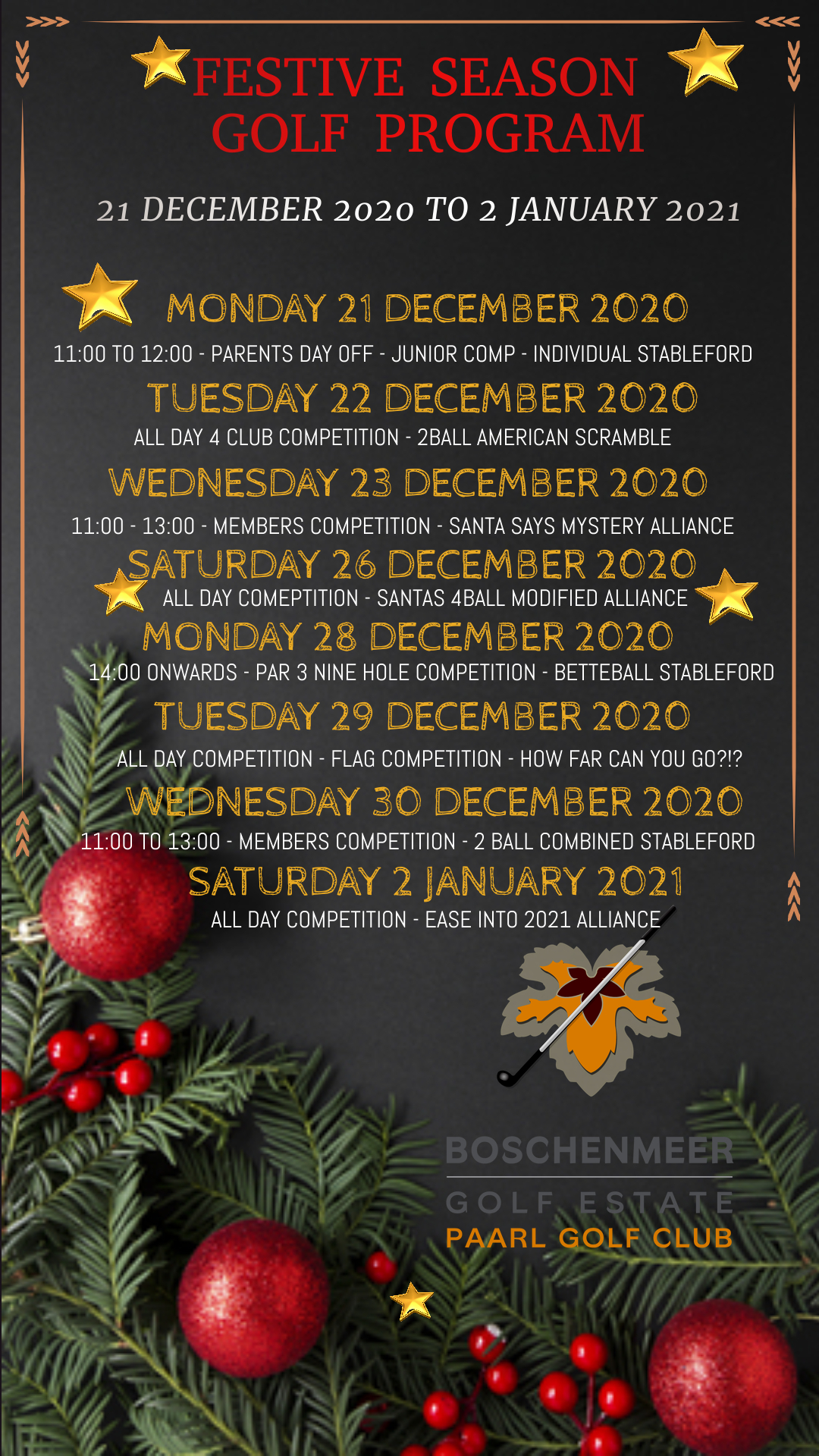 Join us for a day that promises to be fun for the whole family! Putt for Dough will take place on Friday 11 December.
Next Club Draw – 11 December 2020
Please note that the December Club Draw will take place on Friday the 11th of December 2020. It will coincide with the Putt for Dough initiative that will take place that afternoon before the draw.
November's draw had the following three members winning some well-timed cash:
David Eisenstein – R1 000
John Tully – R600
Louis Minitzer – R300
You can still get your entry into the Club Draw! A decision was made that those who did not have a ticket for the draw can still get one but the buy-in remains the same at R1200. If you want to do it by debit order you now will have to arrange with our financial department to determine the correct amount according to the date that you want to start. This means that everybody can still buy-in so please let us do that because it is for a good cause helping the captains committee to create funds for projects on the course
Entries are still open and the 3rd Draw will take place on Friday 11 December 2020.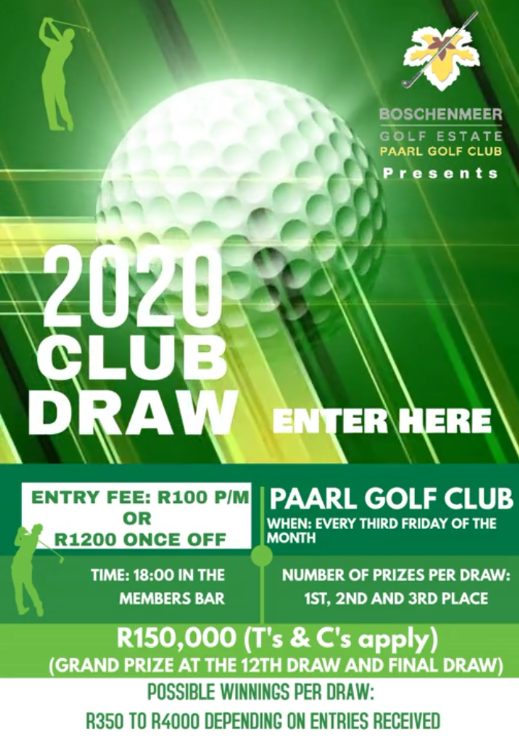 We have 83 entries!
Spotlight Social registration
Win the wine of the month!
We are currently on 349 members so please put in some effort to register on the app. Number 400 is next in line for a bottle of wine.
| | | | |
| --- | --- | --- | --- |
| | We are now on 349! | | For your efforts you can be next in line to win a bottle of wine with compliments from the "Wine of the Month". Thank you to the members that have registered so far. See how to win here. |
| | | |
| --- | --- | --- |
| | | |
| | | This week we get to know one of our new members, Koos Loots. Thanks Koos, for being a sport and completing the questionnaire. We hope that you enjoy your golf here at PGC and that you keep on playing the golf that made you win the Gary Player Club Championships! |
If you would like to be part of our wonderful PGC community, let us know so that we can get to know you a bit more. How will anyone know what exotic drink to buy you otherwise?
The term 'birdie'
This week we will discuss where the term 'birdie' originated from. The answer stems from a golf match at Atlantic Country Club USA in the early part of the twentieth century (1903).
There are several variations as how, where and when the first birdie was scored. But there is agreement that it was during a game at the club with money waged on it. Some histories say it was a foursomes match; others that it was a three ball.
It is believed that brothers AB and William P. Smith were playing a round of golf with George A Crump, who later went on to build Pine Valley. They were playing the par 4 2nd hole at the country club. Ab Smith's second shot went within inches of the hole and he proclaimed, "That was a bird of a shot." ( in American slang "bird" meant something wonderful). He proclaimed that with a score of one under par he should be paid double for such a feat. It was agreed upon and from that day forward we call that a "birdie".
There are still some variations on the story and on which hole it occurred. Some believed that it happened on the 12th hole. Either way, the club commemorated the event with a stone plaque at the 12th hole, although this is now the site of the chipping green.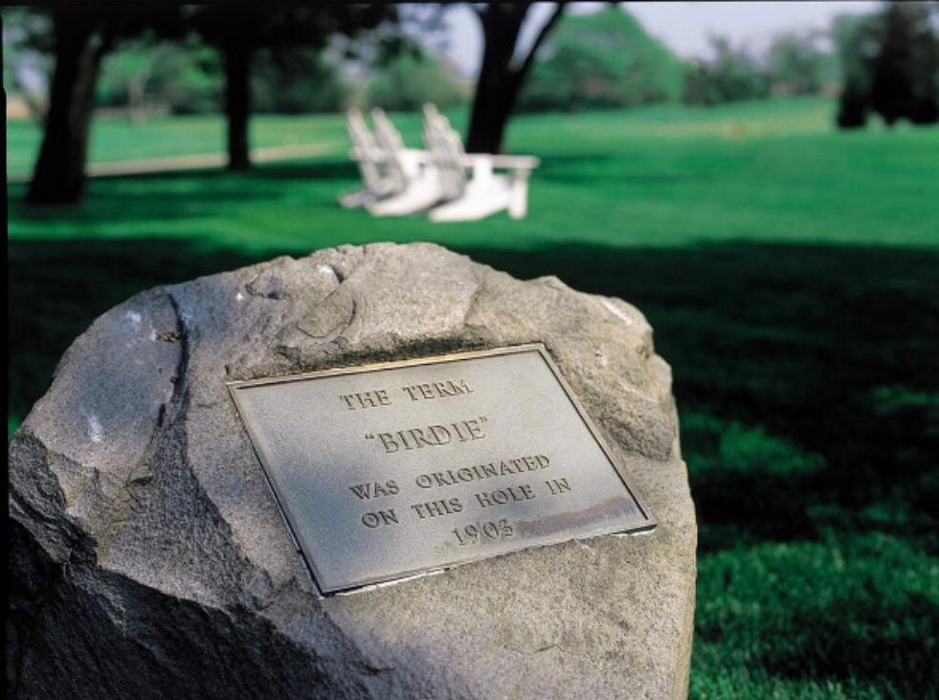 Playing golf at PGC during Level 1 lockdown
I know this might be boring by now but please realise that we are still under Level 1 lockdown rules, which have not changed since their inception.
Thanks to those members (and visitors) who makes our work easier by adhering to the regulations and rules. We appreciate your continues support and help. To the few that alway need to push the boundaries please realise that your actions might cause the club to close, and many other golf courses for that matter. It is not that difficult…
Here is the photograph from this week's treasure chest. I had no takers last week so I'll run this one for another week. Please e-mail me at manager@paarlgc.co.za
if you recognise anyone.
Know your birdies from your eagles
Cape Canary (Kaapse Kanarie)
| | | | |
| --- | --- | --- | --- |
| | | | If you have a favourite bird or would like to know more about a particular species flying around PGC, please let us know so that we can do some research and showcase it in next week's Gazette. |
| | | | |
https://paarlgolfclub.co.za/wp-content/uploads/2021/05/Boschenmeer-Golf-Estate-Logo-2021-REPRO-PNG-300x167.png
0
0
admin
https://paarlgolfclub.co.za/wp-content/uploads/2021/05/Boschenmeer-Golf-Estate-Logo-2021-REPRO-PNG-300x167.png
admin
2020-12-02 12:59:34
2020-12-02 12:59:34
The facts are in: it's been a crazy good year for golf