Paarl Golf Club needs every member to help us become the club of the year!
Show your support by completing a member's survey currently run by CMASA (Club Management Association of South Africa), who are currently in the process of evaluating our application towards club of the year. Before 17:00 on the 19th of November 2019 we need at least 465 members to complete the survey. This will make the 40% reaction minimum to be reached in order to get through to the next level of adjudication.
We know we don't have to be worried, but just to make it worth your while, there is a fantastic bottle of Tullamore Dew Irish Whiskey up for grabs in a lucky draw from all the surveys received.
Please complete the survey here.
Why am I not receiving my newsletter?
Now that our newsletter is talked about, I find more and more members saying that they do not receive our newsletter. There can be a few reasons why.
The first issue is that we might not have your latest email address on our members database. We provide RetailTribe (our service providers who send out the newsletter) on a weekly basis with our latest distribution list of emails from the members database. Please make sure that we have your active email address on our members database. Please feel free to contact the office if you are not sure about that and we will quickly help you.
The second reason you might not receive the newsletter is because the newsletter email is stuck in your spam folder. Please have a look in your spam folder to "open" the pathway of the newsletter to your inbox.
The third problem we have is that members who have unsubscribed from our newsletter in the past are automatically ignored when a new newsletter is sent out. Please fee free to contact our office to rectify this and re-subscribe to our newsletter.
The fourth issue is a bit more complicated. Each email address gets a sending score. The higher the score, the more chance it has of being delivered to the recipient. When the score is low, it takes more precautions in sending it to the recipient because it sees the email as a threat to your sending score. For example, if an email bounces multiple times, it will be suppressed or removed in case it is a spam trap. A spam trap can blacklist you and reduce the deliverability of your entire database. This is best practice in email marketing.
We want you all to get the newsletter so please help us in overcoming these issues mentioned above to ensure effective delivery of the newsletter to your email inbox. Get in touch for further inquiries.
Approved Audited Annual Financial Statements
We are glad to report that our annual audit has been completed and the board has approved the audited annual financial statements.
I am pleased to inform you that the club received a clean audit once again this year.
A copy of the annual financial statements can be obtained on request from Heidi Strydom on 021 863 1140 or accounts@paarlgc.co.za.
Thank you so much for the emails received to identify the group photo of last week. We still need a few names. Thank you to Susan Hattingh, who identified four individuals out of the group photo.
She also shared many amazing memories with me and paid me a visit in my office to hand over her Paarl Golf Club 1908 – 2008 book as a contribution to the Club, filled with lots of memories and historical moments.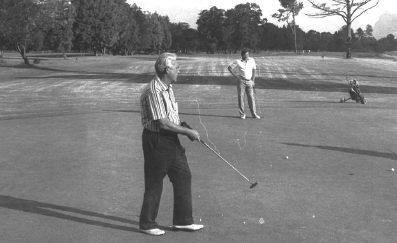 We received another email from Albertus Smit:
Frans Party one day said: "Ek was nou
so dors ek het amper water gedrink'.
Very interesting article and photo also received from Susan Hatting.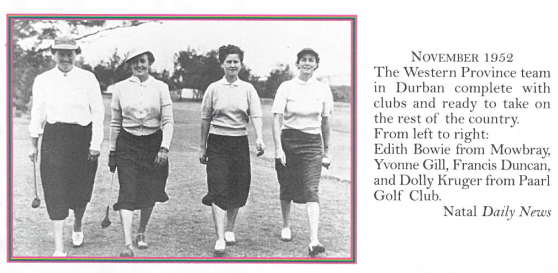 The Western Province Team. On the far right is Dolly Kruger from Paarl Golf Club.
I sincerely hope that I would receive some feedback on who the people on the photograph are. Please e-mail me at manager@paarlgc.co.za if you recognise any of the individuals on the photographs.
In conversation with our Members
Elnarie Lategan
Employee and Member of PGC
| | |
| --- | --- |
| QUESTIONS | ANSWERS |
| Name? | Elnarie |
| Surname? | Lategan |
| Nickname: Why? | Ella |
| Where were you born? | Paarl |
| School: Tertiary? | New Orleans Senior Secondary School |
| Favourite Food? | Pastas – all types of pastas |
| Favourite Drink? | Gin and Dry Lemon |
| Favourite Movie? | A Walk to Remember |
| Favourite Music? | 90s R&B |
| Favourite holiday destination? | Swakopmund |
| Lowest handicap in golf? | 31 |
| Lowest score. Where? When? | 99 – Paarl Golf Club – Vineyards Golf Day |
| Most memorable round of golf? | At De Zalze |
| Favourite golf course? | Paarl Golf Club |
| Have you played overseas and where? | No |
| What's in your bag? | TaylorMade – Irons, Putter and Driver |
| What is your motto in life? | Never give up! |
| If you can give 1 hint on how to improve your golf what would that be? | Focus on short-game distance over direction. |
| Bucketlist: To play golf with which 4 ball and which course? | Leopard Creek Country Club – Gary Player, Louis Oosthuizen and Dave Gleeson. |
Do you want to see your picture on the wall?
Please hand in this form at registration or admin if you want to be featured in our next newsletter.
Email your photo to administration@paarlgc.co.za or we can take a photo.
Know your birdies from your eagles
Black-Headed Heron (Swartkopreier)
Description
This black-headed heron is a large, elegant member of the Ardeidae family. Although it looks very much like its grey-headed relative, it can be distinguished by the black-on-white strip on its head. The black-headed heron's bill, legs, head and throat are all black, against which the yellow eyes and brown back are quite striking. The white underwing coverts can be seen during flight.
Diet
The majority of the black-headed heron's diet comprises of land insects, but it is also known to dine on reptiles, small birds and mammals. These include beetles, scorpions, skinks, centipedes, mole-rats, vlei rats, laughing doves, and cattle egret chicks and eggs, when available. The heron stalks its prey by moving slowly and deliberately through the grasses and reeds, swaying its head from side to side. Once it sees a potential victim, it stands dead-still before striking it powerfully with its bill and impaling or seizing it.
Habitat
The black-headed heron prefers habitats that are rich in grassy plains and open savannahs. Since it feeds in shallow waters, it is also found in reedy marshes, coastal creeks, next to rivers and lakes, or around temporary pools. They are not strictly migratory, but will move in response to the availability of food.
Currently we are not playing preferred lies (placing). I was asked if a player is entitled to get relief when his/her golf ball is lying on the fringe of a green and a sprinkler is directly between the ball and the flagpole (see pictures below).
Unfortunately, no free relief is allowed, and the player will have to play the ball as it lies or take a penalty drop. The player may only take relief if the sprinkler interferes with his stance or swing.
If you have any queries, please contact me at paarlmrrules@gmail.com.
Enjoy your golf and mind the bugs.
Mr R
https://paarlgolfclub.co.za/wp-content/uploads/2021/05/Boschenmeer-Golf-Estate-Logo-2021-REPRO-PNG-300x167.png
0
0
admin
https://paarlgolfclub.co.za/wp-content/uploads/2021/05/Boschenmeer-Golf-Estate-Logo-2021-REPRO-PNG-300x167.png
admin
2019-11-06 07:50:10
2019-11-06 07:50:10
Tell us why you love PGC