Paarl Golf Club closes down earlier
due to State of Disaster Lockdown
We were all hoping that this day would not come but due to the total lockdown as part of the Covid-19 isolation project we unfortunately also have to close down operations as a golf course. Although only planned to start lock down on Thursday 26th of March 2020 we had to start lock down earlier due to the fact that one of our golf operations personnel tested positively for the Covid-19 virus and due to protocols that need to be followed we had no other choice than to close the Golf Club with immediate effect.
We will resume operations on Friday the 17th of April 2020. Essential golf course maintenance will be done by a skeleton staff team residing on the Estate. Should any member staying on the estate like to help please be in contact with me via manager@paarlgc.co.za or 082 373 4455.
No golf will be allowed during this period and that includes practicing on the course as well as on the driving range. Should any scouts see us ignoring the lockdown they can close the golf course down and also fine the club based on the State of Disaster Act. Please members and residents on Boschenmeer estate, help us not to get into such trouble. Booking sheets will be opened for the 17th of April onwards so please use the web page or the Golfscape app to book your rounds in advance.
As an added support to our residents the Golfing Goat Halfway House Deli will remain open for business during this lockdown period. They have developed a "lockdown menu" of fantastic meals that can be delivered to the residents free of charge should the order be R50 or more. Please make use of this generous hospitality to ensure that you get the essential stuff without having to leave the estate.
Click here to read the statement from the Golfing Goat team.
A big word of thanks needs to go out to quite a number of members who decided together to create a Covid-19 Disaster Fund for Paarl Golf Club. These funds will be used to ensure that people who were reliant on the golf club to be fully functional can have some "income" during the lockdown period. These are the caddies, the waiters and barmen at Golfing Goat. Should any other member wish to contribute to this fund, please feel free to donate to the following bank account with the reference Covid-19 and your name.
Banking details
Bank: Nedbank
Branch code: 198765
Account number: 1470120097
Reference: Covid-19 and name
We are going to celebrate Louis Oosthuizen's Open win from 10 years ago by auctioning some very special Louis Oosthuizen memorabilia. The best part is that you can bid for the auction electronically. The link to use is
https://forms.gle/zQs6sLXwWYoiAtzR9
There are three different auction items and they will also have a reserve price connected to them. The first item is The Duke Handmade in St. Andrews Scotland Hickory Putter all the way from the course where Louis won the 2010 Open.
The second item is a very special bottle of wine. The label is signed by Louis himself and has a picture of him kissing the famous Claret Jug.
This bottle, together with a photograph of Louis taken during that particular Open, is framed in a once-in-a-lifetime memory of this momentous occasion.
The third item is a magnum bottle of Roodeberg Collector's Edition wine. You may ask "What does that have to do with Louis who has his own brand of wine?" It is actually very simple. It is the one wine that has got two 'o's in its name, as in Oosthuizen.
Make a bid >
Thanks to Anville van Wyk and Graham Retief who together managed to identify two of the gentlemen in the photo below.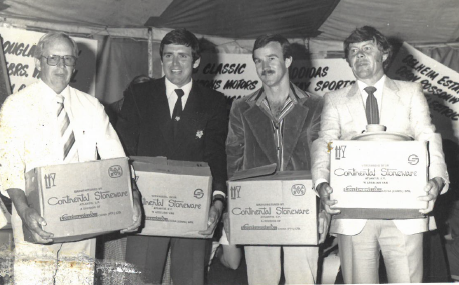 Unknown, Alistair Brown (twice captain and president), unknown and on the right Kobus Loubser
The photograph this week from the treasure chest is the one below. I sincerely hope that I would receive some feedback on who the gentlemen on the photograph are. Please e-mail me at manager@paarlgc.co.za if you recognise the gentlemen on the photo.
In conversation with our Members
Do you want to see your picture on the wall?
Please hand in this form at registration or admin if you want to be featured in our next newsletter.
Email your photo to administration@paarlgc.co.za or we can take a photo.
Know your birdies from your eagles
    Cape Turtle Dove (Tortelduif)
 
Description
The ring-necked dove (Streptopelia capicola), also known as the Cape turtle dove or half-collared dove, is a widespread and often abundant dove species in East and southern Africa. It is a mostly sedentary bird, found in a variety of open habitats. Within range, its penetrating and rhythmic, three-syllabled crooning is a familiar sound at any time of the year. Its name is derived from the semi-collar of black feathers on the lower nape, a feature shared with a number of Streptopelia species. Like all doves they depend on surface water. They congregate in large flocks at waterholes in dry regions to drink and bathe.
Their body feathers are darkest on the upper side, where they are coloured in dull tones of grey and brown, with shades of lavender on the nape. It is paler below, where a tint of pinkish lavender is usually present. The lower belly and crissum (the undertail coverts surrounding the cloaca) is white. As with related species, they have white fringes and conspicuous white tips to the otherwise slate grey tail feathers. The tail pattern is particularly noticeable during the display flight.
Individual plumage variation is high, with some light and others almost sooty. Males and females look alike, although the males are slightly bigger. They measure 25–26.5 cm (9.8–10.4 in) in length and weigh 92–188 g (3.2–6.6 oz). The eyes are almost black, the bill is black and the feet are dark purple.
An immature is duller[10] and lacks the semi-collar of an adult. It also has buff edges to all the upper part and wing covert feathers, while the plumage below is broadly edged greyish-white.
Behaviour and feeding
It occupies a diverse range of habitat types, including semi-desert scrub, Boscia and Acacia savannah, a variety of woodland types, farmlands, open plantations and alien acacia thickets. Only closed forest or plantations, or the extensive waterless dune fields and gravel plains of the Namib are unsuited to their requirements. In southern Africa they are most commonly observed in fynbos regions, miombo and mopane woodlands, besides any grassland types from moist to dry regions. Their presence in the latter areas has been facilitated by the planting of trees in groves, for instance around farm homesteads.
They are vulnerable at exposed waterholes or in plantations where they are preyed on by lanner falcons and black sparrowhawks respectively. In addition they are preyed on by reptiles, wild cats, jackals, genets, herons, storks, eagles and barn owls. Nests are vulnerable to birds, snakes and locally, grey squirrel.
They feed mainly on seeds (of grasses, cereal grains, lupins, milkweeds, alien acacias and pines), but also on broken fruit and berries (of oaks, gums, currants and Lantana), and insects on occasion (earthworms, termites, weevils and other). Other recorded food items include small sedge bulbs, fleshy succulent leaves, aloe nectar and sugary aphid secretions
Breeding
They are monogamous, territorial nesters. Males display by flapping up a steep gradient before spiraling down with wings and tail spread out. From a perch or on the ground the male will engage in a bowing display, synchronized with a rolling crooning, "uk-carrroooo, …", while the throat is inflated. A pair will give a double coo with a long second syllable when selecting a nest site. The female takes two to three days to construct the flimsy, platform nest. It is made of twigs and leaf petioles that are carefully selected by the male (as in other dove species), and delivered to her at the nest site. The nest is placed 2 to 10 meters above ground, on a horizontal branch fork. Quite often an old nest of another species may be used. Two to four pure white eggs are laid, and both sexes participate in the incubation that takes around two weeks. Chicks are fed regurgitated food by both parents and fledge after about 16 days.[ Several broods (up to 5) may be raised in a season.
https://paarlgolfclub.co.za/wp-content/uploads/2021/05/Boschenmeer-Golf-Estate-Logo-2021-REPRO-PNG-300x167.png
0
0
admin
https://paarlgolfclub.co.za/wp-content/uploads/2021/05/Boschenmeer-Golf-Estate-Logo-2021-REPRO-PNG-300x167.png
admin
2020-03-25 11:42:05
2020-03-25 11:42:05
Support your PGC staff through the Covid-19 Disaster Fund