Our caddies are blossoming
Spring is with us and together with all the flowers and trees blossoming, it was also time to let our caddies blossom with new outfits. A big word of thanks must go out to Gerd Born, who individually gathered R30 000 through the help of Sunfare, Zestfruit and Paarlberg BMW. Our caddies were issued with new shirts, caps, trousers, belts, fleece tops, jackets and shoes. We sincerely hope that these outfits would help them to perform their important task professionally.
     Watch out for exciting news about the
Winelands Venue
Please be on the lookout for exciting things that are planned for the Winelands venue. "After" covid, many artists and musicians are eager to entertain live crowds again. This is where Golfing Goat and Blixem Productions saw a huge gap in the Paarl live entertainment arena and created a very exciting programme at the Winelands venue.
Go to The Winelands on Facebook, like it and see what is planned for this venue over the next few months. I know I don't even have to ask our members to support this initiative because I know this is what Paarl was waiting for.
All I can say is watch this space!
  Lost and found table this Saturday
This Saturday we will again have a table with all the old lost and found equipment that stayed with us for longer than 3 months. We do not have enough space to keep these items and would rather give another golfer the opportunity to get much needed equipment.
These items will not be for sale, but donations will be appreciated.
The table will also work on a first come first served basis.
  Halfway house involved in shady business
Members would see that our Golfing Goat team has been hard at work to create more shade for you as member when using the halfway house. Thanks to a financial team effort between them, Paarl Golf Club and Lew Geffin Sotheby's, our local estate agents. They managed to also go "glamping". We hope that the tent in front of the halfway house will become a cool haven for the golfers in years to come.
  Clubhouse renovations started
The fact that the bar, bistro and veranda area is cordonned off is not because of covid, but to safely create working space for the construction team that is busy with the renovations to the three facilities. Members would remember that we introduced the concept at the AGM, where we would be creating one big open space area through the removal of the walls between the veranda and the bar and the bistro.
This will ensure that we will be able to hold our prize givings in an area that everybody attending could firstly sit in comfort but also feel part of the entire club. It will also help to overcome the constant sound problem between the different areas. I will weekly report on the progress of this project. Watch this space!
  Club Championships fully booked
Members please note that the Club Championships will be hosted on Saturday the 31st of October and Sunday the 1st of November 2020. Since we will have certain divisions playing 27 holes per day, we will only be able to accommodate 120 players in the field.
We are FULLY BOOKED, but there is a waiting list just in case we have withdrawals.
Club Draw has started – get your lucky number and support
The Club Draw is in full swing and the first draw will happen on Friday 16 October 2020. Please make sure that you do not lose out on having a number in that draw.
Remember you cannot enter after the closing date which is the 30th of September 2020. The draw will be for members only and entries can be done through the poster below. Click on the poster to enter. The cost is R100 per month via debit order or R1200 once off for the year, and payment information will be sent through once the entry has been received. Members must commit to a 1 (one) year entry and cannot select which months they want to enter for.
Entries close 30 September 2020 and the first Draw will take place on Friday 16 October 2020.
Click on the poster to get your number in the draw.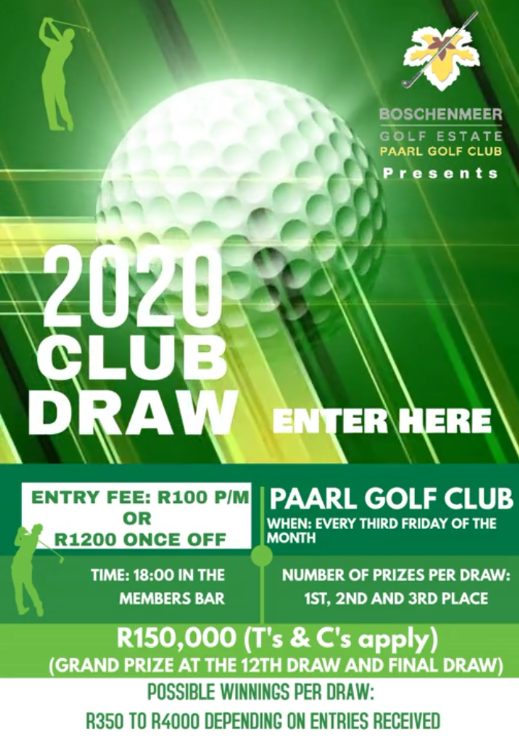 We have 55 entries already!
Spotlight Social registration
We are now on 321!

Win the wine of the month!

We are currently on 321 members so please put in some effort to register on the app. Number 400 will be next in line for a bottle of wine.
Win with Cape Business Centre
Stand a chance to win a weekend getaway for 4 in the V&A Waterfront self-catering penthouse suite. Remember what happens in the penthouse, stays in the penthouse. Click on the poster to enter and good luck…
| | | |
| --- | --- | --- |
| | | This week we get to know one of our lady members, Yvette Theron. Thanks Yvette for always being a sport to complete the questionnaire. May you enjoy your golf here at Paarl Golf Club and keep on smiling the way you do. |
If you would like to be part of our wonderful PGC community,
let us know
so that we can get to know you a bit more. How will anyone know what exotic drink to buy you otherwise?
Windblown towel
| | | |
| --- | --- | --- |
| | | |
| What do I do when my wind-blown towel stops my ball on the green? | | |
Playing golf at PGC during level 2 lockdown
I know this might be boring by now but please realise that we are still under Level 2 lockdown rules, which have not changed since their inception.
Thanks to those members (and visitors) who makes our work easier by adhering to the regulations and rules. We appreciate your continues support and help. To the few that alway need to push the boundaries please realise that your actions might cause the club to close, and many other golf courses for that matter. It is not that difficult…
I did not get any takers on identifying these three people so I will give it another week. Please help us identify the individuals.
| | | |
| --- | --- | --- |
| | | |
| The photograph this week from the treasure chest is the one pictured to the right. I sincerely hope that I receive some feedback on who the people on the photograph are. | | |
Know your birdies from your eagles
Fiscal Flycatcher (Fiskaal Vlieevanger)
| | | |
| --- | --- | --- |
| | | If you have a favourite bird or would like to know more about a particular species flying around PGC, please let us know so that we can do some research and showcase it in next week's Gazette. |
https://paarlgolfclub.co.za/wp-content/uploads/2021/05/Boschenmeer-Golf-Estate-Logo-2021-REPRO-PNG-300x167.png
0
0
admin
https://paarlgolfclub.co.za/wp-content/uploads/2021/05/Boschenmeer-Golf-Estate-Logo-2021-REPRO-PNG-300x167.png
admin
2020-09-23 09:55:31
2020-09-23 09:55:31
Spring has most certainly sprung at PGC