There is light in the tunnel
You might recall me saying last week that Covid had a very negative effect on everybody's golf. However, playing a few rounds over the last week, I realized that we just needed some time to adjust to the new normal of playing under different circumstances. Your mind is constantly occupied by trying not to touch anything else except your golf clubs and that little round white thing they call a golf ball. It is actually amazing how the human mind can "recover" from something like the Covid lockdown, to the point where we now go through the motions as if it never changed. Thanks to especially our members who continuous to play their part in keeping everybody safe.
I have been asked by many a golfer when our restaurant and possible sit-down halfway house will open. You will see that the picnic tables are back in front of the halfway house, but I really have to request that we use it in a safe manner and not gather there during as well as after rounds. We just can't let an inspector see something like that and give them reason to close us down. Your support and understanding in this matter will be appreciated.
We are hoping that the regulations with regards to alcohol use at restaurants will be changed. With the current limitation on alcohol use and times of sales, as well as the limited space available in our dedicated restaurant to apply safe distancing, we will not open before the regulations are changed.
We treasure our fairways

Our sand bottle project drew lots of interest and quite a few members reserved their bottle through the email supplied last week. We hope to get the sand bottles during this week. We will sell them at R50 a bottle and it will be available at our golf operations office. Please support this "We treasure our fairways" initiative and let us get those divots filled.
Booking and paying a round
through the app and the website
We are aware of the Golfscape system errors and are constantly in contact with the service providers and developers to have these issues fixed. We apologise for the inconvenience and will endeavour to have this resolved as soon as possible. Should you experience issues with bookings, cancelations and refunds or modifications of bookings, please contact Werner on 021 863 1140 or golfoperations@paarlgc.co.za.
Thank you for your understanding.
It is with much sadness that we have learned of the passing of a PGC legend, Malcolm Novos. Malcolm was a very active member of our club and he will be dearly missed by all.
Below is a team photo of the Brodie League team he was a part of in 1988, who managed to win the league. We will have more information for you in next week's newsletter.
Rest peacefully, Malcolm.
Verti-draining of the greens
Thank you to all the members for accepting the greens as they are while we are doing some verti-draining.
This is very necessary for the wet season ahead of us to ensure the greens drains well to keep the moss at bay. We trust that the greens will be back to their usual pristine condition very soon and thank you again for your understanding and patience.
Spotlight Social registration – we have a winner!
You might recall that I promised a bottle of wine of the month to the member who activated as the 200th member on Spotlight Social. That lucky member is Deon Breedt. Congratulations Deon and enjoy wine(s) of the month which are Laborie and Antonij Rupert.
We are monitoring the registration process and will offer of a bottle of wine of the month to the 250th, 300th and from there onwards every next 100th member that register. So please get those fingers working and register. There might be a bottle of wine up for grabs
 

We are now on 208!

How do you stand a chance to win a bottle of the wine?

The App needs to be loaded on to your smart phone or tablet. All you need to do is follow the instructions below:

1. Please click here or search for Spotlight Social in your App Store
2. You then download the app
3. You will be guided to create your profile using your [email address], as it is pre-linked to the Paarl Golf Club
4. Remember to insert your profile picture.

And that's it – you are good to go!
Jayson Abrams, our latest hole-in-one member, hit the perfect shot on the 28th of June 2020 using a pitching wedge from 103m on the 14th. Well done Jayson!
Interim Covid Rules
Bunkers
When a player's ball lies in a bunker, the player may take free relief once, by placing the original ball or another ball and playing from the relief area.
Reference point: Spot of original ball
Size of relief area: One club length, but must not be closer to the hole and must remain in the bunker.
Flagstick
Golfers are required to not touch the flag stick with their bare hands. It is a matter for the committee to decide whether it establishes this policy by way of a code of conduct or local rule and whether it provides a penalty under the code of conduct or for the breach of the local rule. At PGC we just want to keep all our golfers safe.
Special rule is that you now can centre the flagstick as well as to keep it steady in strong winds by holding it upright with another club.
If you have any questions please contact me at paarlmrrules@gmail.com
What you should remember when playing golf at PGC during level 3 lockdown
Click here for the rules regarding entering the Club.
I received one possible identification for the person on the left to be Dave Love. The man in the middle was identified by one of our oldest members, Vernon Els, to be H. R. Du Toit. He thinks the man on the right is Sarel but his surname remained blurry. Maybe some member can help with his surname.
Last week's photograph created a bit of differences on the man second from right. Anville van Wyk thought it was Algar (Ink) de Villiers but Vernon Els thought it was Ben Heunis.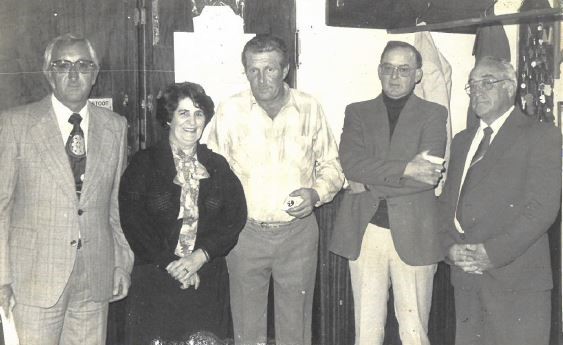 FLTR: Andy van Wyk , two terms Captain and President of PGC and also served on the committee for many years, June Els (Johnny's wife), late Rudi Lohbauer (Franz's father), either Dirk (Ink) de Villiers or Ben Heunis and on the right the late Johnny Els, apparently a character of note.
The photograph this week from the treasure chest is the one below. I sincerely hope that I would receive some feedback on who the people on the photograph are. Please email me at manager@paarlgc.co.za if you recognise the lady and gentlemen in the photo.
Know your birdies from your eagles
White Backed Duck (Witrug Eend)
Description
A smallish, tawny, bulbous-headed duck that sits low in the water, its tail often flush with the surface, giving it a distinctive appearance. When seen well, the white patch at the base of the bill is diagnostic. The namesake white back is usually visible only in flight. The White-backed blend in exceptionally well with the water lilies, on first glance at a suitable lake or dam they are invariably not noticed as they sit motionless among the lilly pads but if you scan the water with binoculars you will see them. Partially nomadic; small groups are found on pans and pools that have emergent aquatic vegetation, especially waterlilies. Mostly quiet; rarely gives a squeaky-toy-like "swit-swit" whistle. These birds are well adapted for diving. On occasions they have been observed to stay under water for up to half a minute. They search especially for the bulbs of waterlilies, but also seeds and leaves of waterlilies and other water plants and the young feed on lake flies larvae as well.[1] From danger, they also escape preferentially by diving; hence, the namesake white back is hardly visible in life.
Behaviour, feeding and breeding
Most bodies of water in tropical Africa are carpeted in various species of water lily Nymphaea, the leaves and seeds of these plants provide the White-backed with most of their dietary requirements.  They appear to make no attempt to hide or fly off relying on their ability to blend in with the Lilly pads while remaining motionless. They rarely venture on to land, even when nesting they normally construct their impressive nest in reeds and floating vegetation and they construct a dome shaped nest so that it is also concealed from aerial predators.
https://paarlgolfclub.co.za/wp-content/uploads/2021/05/Boschenmeer-Golf-Estate-Logo-2021-REPRO-PNG-300x167.png
0
0
admin
https://paarlgolfclub.co.za/wp-content/uploads/2021/05/Boschenmeer-Golf-Estate-Logo-2021-REPRO-PNG-300x167.png
admin
2020-07-09 10:12:50
2020-07-09 10:12:50
Rest peacefully, Malcolm Novos