Lockdown – If approved, what rules would be enforced to operate in level 4?
In anticipation of possible opening of the golf course under level 4 rules, I thought it wise to indicate those rules in order for all our members to familiarize themselves with that and prepare themselves mentally, as well as physically for that. At Paarl Golf Club, it will be our duty to ensure a safe environment that can be created and enforced.
The measures that were proposed to the Minister, follow the sequential levels as proposed by Government i.e. level 5 – level 1. The following table indicates level 4 golf operations and rules. As soon as we have clarity on other levels, I will give the detail through to our members.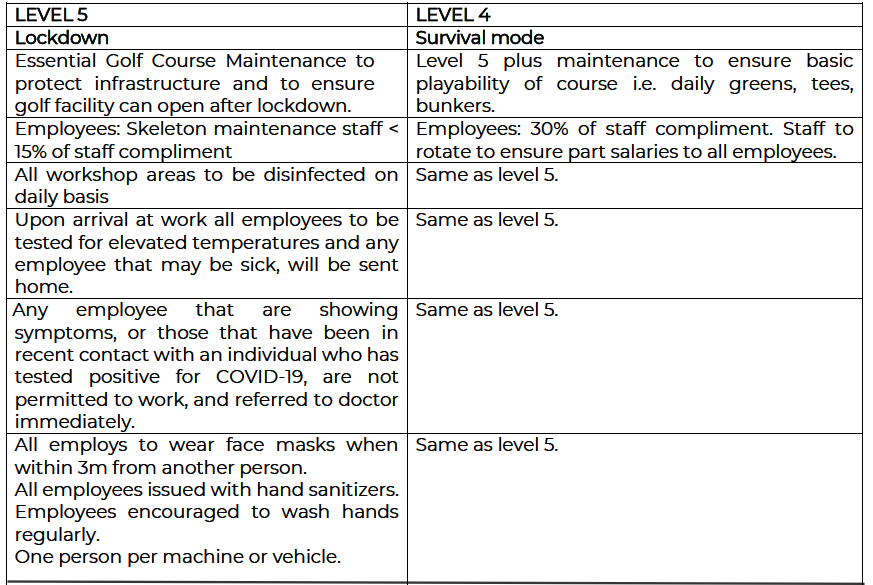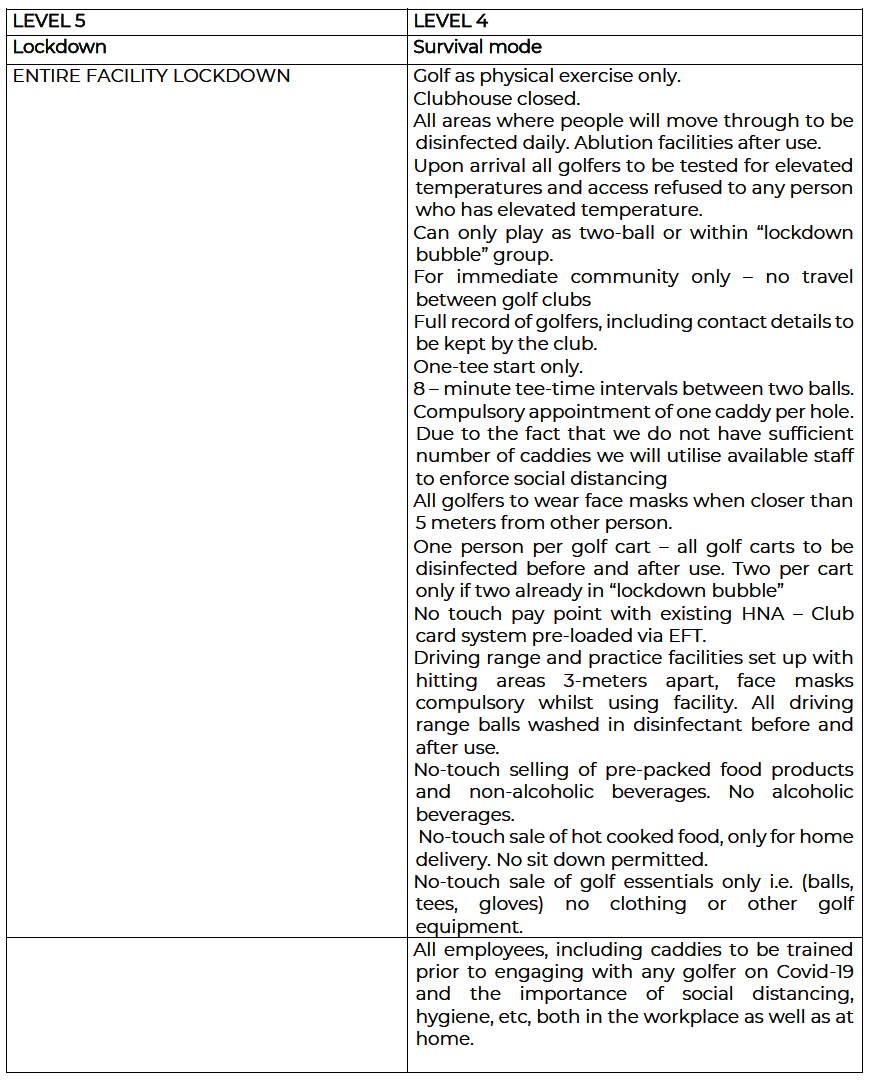 The socio-economic impact on communities and golf clubs should the lockdown continue will be devastating.
There are approximately 500 golf facilities situated in all 9 Provinces in South Africa (460, 18- and 9-hole golf courses) and 60 other facilities. Most of these facilities are operated as non-profit organisations and between 65% and 90% of the annual revenue of the average golf club in South Africa is derived from member subscriptions and playing fees.
Employment costs are one of the major expenses of golf clubs and approximately 40% of a golf club's annual expenditure is paid to permanent employees. During 2019 – more than 5million golf rounds were played in SA.
In 2008 the PGA of SA commissioned an independent survey of the economic impact of golf in South Africa. The research was undertaken and published by "IFM Sports Marketing Surveys SA", 2009. The gist of their research claimed – "Direct impact of golf, without multiplier effect estimated at R29,2bn creating more than 50 000 jobs" – IFM Sports Marketing Survey SA – 2009.
The total number of employees at golf facilities in South Africa are estimated at 22 000 permanent employees and between 15 000 and 18 000 temporary employees. Significant job losses have already occurred. An extension of the lockdown will have devastating effects on the Golf Club industry workforce.
We are therefore waiting very anxiously for the outcome of the decision of the minister on opening golf courses under these rules for level 4. We would need at least 24 hours to prepare the course for the opening of the golf course so depending on when they make the call and how much time they allow for preparation we will have to see. As soon as this decision is made, we will then re do the time sheets to reflect the two balls.
Please note that we will have to cancel all previous bookings in order to do that. We can not choose between a current 4 ball booked who should play and who not. Please keep watching the Golfscape app as well as the web site. Please further note that we would not take any cash payment for anything. You must be ready to pay electronically for everything to play golf. We are busy finalizing the arrangement to pay via Golfscape for you round so that you can only walk through the checkpoint to have your temperature measured and get confirmation that you are fit for play and your payment reflects on our system.
We anticipate another two weeks of lockdown before we would be able to play some restricted golf. This means that our Covid-19 Disaster fund will need some replenishment if we would like to continue our payment to our caddies and those personnel reliant on a fully functional golf course.
Should any member wish to further contribute to this fund please feel free to use the following bank account with the reference Covid-19 and your name. We will ensure that full transparency allows anybody insight into the eventual distribution of these funds.
Banking details
Bank: Nedbank
Branch code: 198765
Account number: 1470120097
Reference: Covid-19 and name
    Please respect the lockdown rules
on the golf course
We are still finding golf balls and divots on the fairways and even pitch marks on certain greens which indicate that there are still people hitting balls on the golf course.
Please realise that if we were to be seen as ignoring the lockdown rules, the police have the right to come and shut us down. Many police vehicles are driving past our estate daily and it only takes one of them seeing somebody playing golf or just even hitting a few balls that can end everything for all of us.
Please note that we have eyes and ears all over the course so if you are going to ignore this warning, we will find you and issue you with a fine of a non-affiliated visitor which amounts to R695 based on our approved cancellation policy.
Thanks again to Anville van Wyk for helping out to identify the three gentlemen below.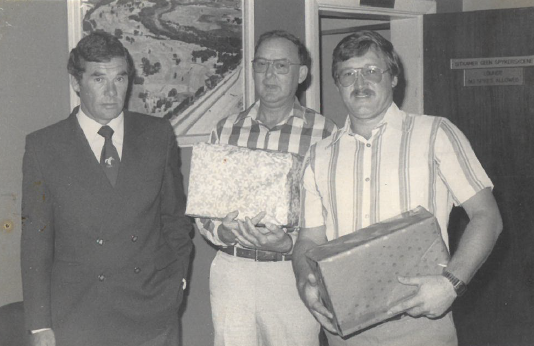 FLTR: Alan Hitcock (Manager of NBS Bank and sponsor of that particular day, the late Algar (Ink) de Villiers and then on the right, Giepie Brandt, a corner boy!
According to Anville, Ink was quite a character. He was called Ink because he produced industrial ink for the canning industry, big in Paarl those days Jones& Co.
This week's photograph from the treasure chest is the one below. I sincerely hope that I would receive some feedback on who the gentlemen in the photograph are. Please e-mail me at manager@paarlgc.co.za if you recognise the gentlemen on the photo.
Know your birdies from your eagles
Pied Crow (Witborskraai) 
Description
In southern Africa the range overlaps with the white-necked raven. The pied crow is slightly smaller (46–50 cm in length) and has a white chest and belly with a black, more delicate beak compared to the black chest and belly of the larger white-necked raven, which also has a white-tipped and weightier beak. It is larger than the black crow, but has a proportionately larger bill, slightly longer tail and wings, and longer legs. As its name suggests, its glossy black head and neck are interrupted by a large area of white feathering from the shoulders down to the lower breast. The tail, bill and wings are black too. The eyes are dark brown.
Behaviour, feeding and breeding
Pied crows are generally encountered in pairs or small groups, although an abundant source of food may bring large numbers of birds.
All of its food is obtained from the ground, trees, etc., including injured wildlife, such as insects and other small invertebrates, small reptiles, small mammals, young birds and eggs, grain, peanuts, carrion and any scraps of human food and fruit. It has been recorded killing and eating roosting Fruit Bats and is frequently seen (sometimes in huge numbers) scavenging around slaughterhouses.
The nest is usually built in tall, isolated trees, though sometimes smaller specimens are used, depending on availability. The cross supports of telephone poles are also frequently used, and both sexes build the nest. A clutch of 3–6 eggs is laid from September to November (depending on latitude) and are pale-green, spotted with various shades of brown. The eggs are normally covered when the incubating female leaves the nest. Incubation is 18–19 days and the young are usually fledged by around 45 days. Both sexes rear the young.
https://paarlgolfclub.co.za/wp-content/uploads/2021/05/Boschenmeer-Golf-Estate-Logo-2021-REPRO-PNG-300x167.png
0
0
admin
https://paarlgolfclub.co.za/wp-content/uploads/2021/05/Boschenmeer-Golf-Estate-Logo-2021-REPRO-PNG-300x167.png
admin
2020-05-08 09:12:55
2020-05-08 09:12:55
PGC is planning ahead