Paarl Golf Club is maintained during lockdown
By now we are all settled down in our lockdown state. Keep it up and make South Africa a safe place again.
We have successfully trained a number of volunteers on the estate to drive the different golf course maintenance vehicles in order to keep maintaining the golf course at a high level. We would like to ensure our members and visitors that we will be ready for business come the 17th of April 2020.
A big word of thanks go out to these individuals who give up their valuable lockdown time to make sure we have a fully functional golf course when we go out of lockdown again. Thanks also to all the residents and other members who keep on motivating the team as well as to give their names up for any additional tasks that might be needed during this time. Wynand Viljoen, our greenkeeper, is running this team like a well-oiled machine and ensures that when the team starts in the morning, everything is ready for them. Thanks Wynand, your efforts are well noted and respected.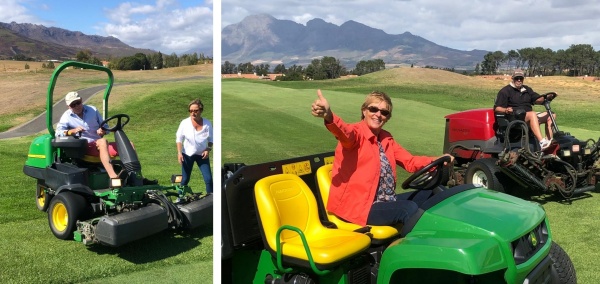 Should any member staying on the estate like to help please be in contact with me via
manager@paarlgc.co.za
or 082 373 4455.
Thank you to all who refrain from using the golf course during this period. Not only is it illegal to do that but we also need to give the course the rest it deserves.
Heroes off the course
A big word of thanks must also go to the Golfing Goat Halfway House Deli who really stepped up their offering during this lockdown period. Please support them in their endeavour to bring you a fully-fledged convenient store experience where you can buy anything you need to stay alive and happy during this period.
A big word of thanks needs to go out to quite a number of members who decided together to create a Covid-19 Disaster Fund for Paarl Golf Club. These funds will be used to ensure that people who were reliant on the golf club to be fully functional can have some "income" during the lockdown period. These are the caddies, the waiters and barmen at Golfing Goat. Should any other member wish to contribute to this fund, please feel free to donate to the following bank account with the reference Covid-19 and your name.
Banking details
Bank: Nedbank
Branch code: 198765
Account number: 1470120097
Reference: Covid-19 and name
Some feedback on this initiative is that we have secured close to R85 000 in this fund that will help a lot of people functioning at the club without an income during this period. Thank you to everyone who has contributed thus far!
We are going to celebrate Louis Oosthuizen's Open win from 10 years ago by auctioning some very special Louis Oosthuizen memorabilia. The best part is that you can bid for the auction electronically. The link to use is
https://forms.gle/zQs6sLXwWYoiAtzR9
There are three different auction items and they will also have a reserve price connected to them. The first item is The Duke Handmade in St. Andrews Scotland Hickory Putter all the way from the course where Louis won the 2010 Open.
The second item is a very special bottle of wine. The label is signed by Louis himself and has a picture of him kissing the famous Claret Jug.
This bottle, together with a photograph of Louis taken during that particular Open, is framed in a once-in-a-lifetime memory of this momentous occasion.
The third item is a magnum bottle of Roodeberg Collector's Edition wine. You may ask "What does that have to do with Louis who has his own brand of wine?" It is actually very simple. It is the one wine that has got two 'o's in its name, as in Oosthuizen.
Make a bid >
Thanks to Anton Bezuidenhout who identified the gentleman on the left as Dan du Plessis (long standing member at Durbanville and according to Anton always dressed in jacket and tie for the prizegiving ceremony). Now we just need the man to the right of Allistair.
Adrian Moon identified the golfer below as Johan Kruger who was a brilliant amateur in the 90s and also went on to play professional golf. He is also an old Gimmie. Now we need identification of the two gentlemen on either side.
The photograph this week from the treasure chest is the one below. I sincerely hope that I would receive some feedback on who the gentlemen on the photograph are. Please e-mail me at manager@paarlgc.co.za if you recognise the gentlemen on the photo.
Know your birdies from your eagles
    Speckled Mousebird (Gevlekte Muisvoel)
 
Description
This bird is about 35 cm (14 inches) long, with the tail comprising approximately half the length, and weighs about 57 grams (2 oz). It is well-named, because it is dull-mousy brown in overall colour on the back and on the head (including a prominent crest). The bill is black on the upper part and is a pinkish colour on the lower part. The rare white-headed mousebird can be confused with this species, but the differently coloured mandibles and the lack of a bare grey orbital patch render the Speckled species distinctive.
The speckled mousebird is not known for its voice, as songbirds are, although it is a noisy creature. They make a warbling tsu-tsu call while in flight, and are known for their tisk-tisk alarm call while in flight.
Behaviour and feeding
It is distributed from Cameroon east to Eritrea and Ethiopia, south through eastern Africa to southern South Africa. Most habitats are suitable for this species, except the rainforests and more arid areas. This mousebird prefers open bushveld habitats. It is widespread in savanna and open woodlands, as well as areas with tangled thickets. It is a common "backyard bird," often seen in urban areas that contain gardens and orchards.
The speckled mousebird is a frugivore which subsists on fruits, berries, leaves, seeds and nectar, and is fairly strict in its choice of food from area to area.
These are conspicuously social birds, feeding together and engaging in mutual preening. They also accompany each other when they go to ground to dust bathe (also to occasionally to swallow pebbles to assist in grinding up vegetation as they digest it). Upon nightfall, they roost in very tight groups of 20 or so birds and on cold nights they can become torpid. Being in a torpid state could make them easy prey, but the large groups are apparently effective enough to deter most nocturnal predators.[
Breeding
These creatures may breed at any time of the year. The nest is a large (for the bird) and untidy cup made of vegetable and animal material (sometimes including cloth and paper) and is constructed by both the male and female. Clutch size ranges from one to seven eggs (apparently based on latitude), but usually averages 3–4. Nestlings are fed by both parents and also by helpers, which usually are juveniles from previous clutches. The incubation period is fourteen days and the offspring will leave the nest for the first time at about seventeen or eighteen days. After a little over a month, the nestlings will begin foraging for themselves.
https://paarlgolfclub.co.za/wp-content/uploads/2021/05/Boschenmeer-Golf-Estate-Logo-2021-REPRO-PNG-300x167.png
0
0
admin
https://paarlgolfclub.co.za/wp-content/uploads/2021/05/Boschenmeer-Golf-Estate-Logo-2021-REPRO-PNG-300x167.png
admin
2020-04-02 08:41:19
2020-04-02 08:41:19
Paarl Golf Club is maintained during lockdown