Paarl Liga: Maak ons trots!
Die Paarl se Brodie 2 Span het die top agt in die Boland Voorgee Liga behaal en sal die 17de Augustus op die Paarl golfbaan teen Darling uitspeel. Dit, na 'n besonderse goeie vertoning teen die Wynlande Valleie Streek groep, waarvan hulle vier wedstryde gewen en twee verloor het, maar goed genoeg gedoen het om bo aan die tafel te geeindig het.
Die stand van sake na die groep uitspeel vir die Brodie Liga se vier streke:
1. De Hoek (10 punte)
2. Devonvale (9 punte)
3. Swellendam (8 punte 22,5 vir)
4. Paarl 2 (8 punte 22 vir)
5. Darling (10 punte)
6. Worcester (9 punte)
7. Kleinmond (7 punte)
8. Caledon (6 punte)
Hulle gaan uitspeel op 17 Augustus teen (die tuisbaan is in hakkies):
1. De Hoek teen Caledon (De Hoek)
2. Devonvale teen Kleinmond (Devonvale)
3. Swellendam teen Worcester (Swellendam)
4. Paarl teen Darling (Paarl)
Sterkte aan ons Brodie 2 span die komende naweek teen Darling!
Beware of the swimming golf cart
We all know that we had a lot of rain and that the dams on the course are all filled to the brim. However, with the rains arrived not only the otters at the irrigation dam but we had a very strange "specie" in the dam on the first hole. When we got the call that there is a new "specie" in the dam we did not expect to find "Nr 17" in the middle of the dam. The recovery of one of our rental golf carts (Nr 17) meant that some guys had to brave the cold water but as usual the team did not disappoint. Nr 17 had one day in intensive care but recovered well and is back on the payroll.
We should learn from this that you cannot trust the brakes of the golf carts if park against a steep incline, especially when the entire incline is wet grass.
Know your birdies from your eagles
African darter (Slanghalsvoël)
| | | |
| --- | --- | --- |
| | | |
The African Darter, also known as the snakebird or, "Slanghals" in Afrikaans, is a waterbird that is common throughout sub-Saharan African. It has earned the name snakebird for the way that it swims – it keeps its entire body very low in the water, with only the neck and the head sticking out, giving it the appearance of a swimming snake.
Did you know? When it flies, the African darter will thrust its head forward slightly and fan its tail. It will frequently soar high above its colony.
The male darter's body is almost completely glossy black with the exception of the white streaking on the face and body, and the colouration of the neck, which has a warm chestnut hue. The female (like the juvenile birds) is browner than the male with less noticeable white streaks. Both of them have gold-coloured eyes with brown bills. The male's bill is slightly larger than the female's. This bill is used to impale fish and is, as a result, strong and sharply pointed.
Size
Weight: 1 – 1.35 kg, Length: 81 – 97 cm, Wingspan: 115 – 128 cm.
Habitat
As a waterbird, the African Darter can be found around fresh and brackish waters that are surrounded by (or close to) fresh vegetation. They need trees or bushes for their roosting.
Behaviour
The African Darter is able to dive for long periods of time in search of a meal. It swims with its entire body under the water, which allows it a more surprising ambush, as it does not create a massive disturbance to the water when it dives or surfaces.
They are often found perched on stumps above the water, on jetties or on bare branches. If surprised or threatened, it dives vertically into the water for protection. On exiting the water, it will spread its wings to allow them to be dried by the sun and air. This is because it does not have the oil ducts of other birds and is, therefore, not waterproof.

Hi everyone
During the rainy season I receive a lot of queries involving temporary water. Last week I discussed temporary water in a bunker.
This week I was asked to clarify the following:
• After his approach shot the player's ball landed on the fringe just short of the green.
• He wanted to use his putter but there was temporary water in his line of play.
• The player wanted relief from the temporary water.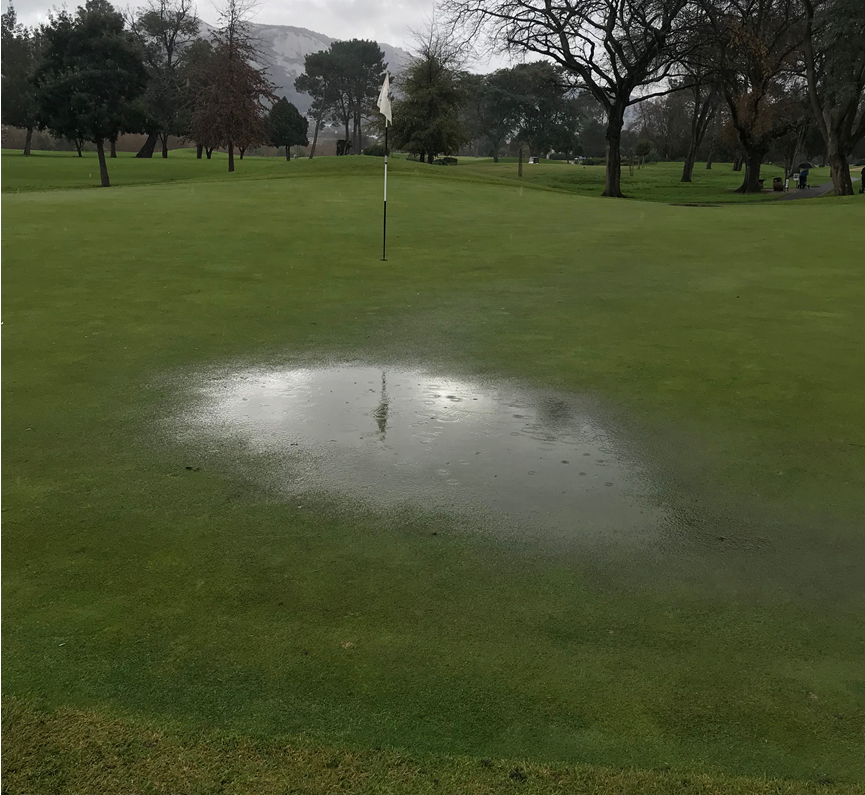 The player is not entitled to relief from temporary water on his line of play when his ball lies off the green.
The player is only entitled to relief from an abnormal course conditions (such as temporary water) that interferes on his line of play when his ball lies on the green. The interfering abnormal condition may be on or off the green. (Rule 16.1a)
If the player's ball is on the putting green and there is interference by an abnormal course condition on the course, the player may take relief by placing the ball on the spot of the nearest point of complete relief.  (Rule16.1d)
• The nearest point of complete relief must be either on the putting green or in the general area.
• If there is no such nearest point of complete relief, the player may still take this free relief by using the point of maximum available relief as the reference point, which must be either on the putting green or in the general area.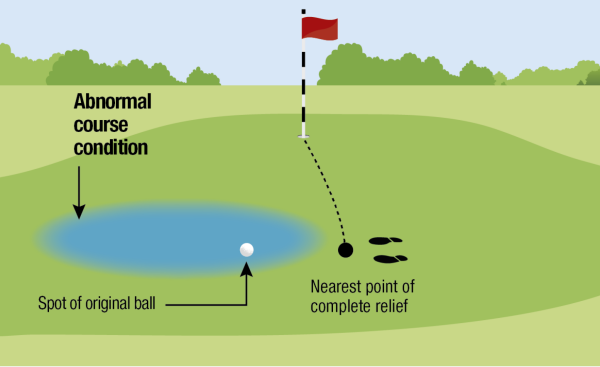 GolfRSA  Level 2 Rules Seminar
GolfRSA has been facilitating a series of two-day Level 2 Rules Seminars in order to educate everyone involved in golf administration about the latest changes to the Rules of Golf.
The next Seminar is scheduled to be held at King David Mowbray Golf Club in Cape Town in October 2019.
Date: 14 -15 October 2019
Venue: King David Mowbray Golf Club
Cost: R1000 per delegate (includes preparation material, rules books, lunches and teas)
For more information and entries, please click here.
Rainfall at PGC compared to last year
Many members asked how the rains this year compare with last year's rains. Here is a look at the first seven months of the year compared to last year. It is quite clear that we have had a very good rainy season so far. We sincerely hope that we can keep up the good rains to fill all the bigger dams but also get in the much-needed rounds of golf in between.
| | | | | | | | |
| --- | --- | --- | --- | --- | --- | --- | --- |
| Year | Jan | Feb | Mar | Apr | May | Jun | Jul |
| 2018 | 8 | 4 | 10 | 100 | 148 | 178 | 65 |
| 2019 | 12 | 8 | 20 | 200 | 296 | 338 | 97 |
Good day
As we are all aware, we had some good rainfall in the past weeks. The water table is starting to fill up and fairways takes longer to drain. There are currently a few fairways that are very wet. The Boschenmeer fairways are 19,26 and 27 floods very quickly as the Wateruintjiesvlei dam level rises.
We will do our outmost to allow golf carts on the course. This however requires every golfer to adhere to signs and instructions given by starters regarding the status of the course please.
We need to protect our course in order to have a great golfing experience every time we play.
Thank you for assisting us in this matter.
Golf Greetings
Wynand
https://paarlgolfclub.co.za/wp-content/uploads/2019/08/golf_quotes600.jpg
391
600
admin
https://paarlgolfclub.co.za/wp-content/uploads/2021/05/Boschenmeer-Golf-Estate-Logo-2021-REPRO-PNG-300x167.png
admin
2019-08-14 06:03:17
2019-08-14 06:03:17
Our PGC League team is making us proud!