Winelands 2019 – Done and Dusted
The Winelands Tournament came to a grand finale on Saturday 12 October 2019 with an evening filled with live music, wonderful food and lots of prizes handed out. Looking back at what happened during the week, I would think all members partaking in some of the days will agree that the Winelands was back on track with full fields for each of the individual days.From the Champagne Classic on Saturday 5th of October, through to the Members Day on Wednesday the 9th of October 2019, to the Winelands Classic held on Friday and Saturday 11 and 12 of October 2019, a very high standard of golf course presentation and entertainment was maintained. My thanks go out to my team, who made sure that each Member received the ultimate golfing experience.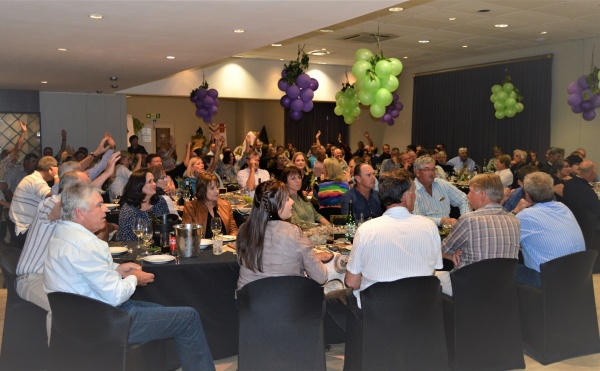 A very happy crowd enjoying the final evening of the Winelands Classic in a very fitting theme decorated venue, done under the leadership of Amanda Williams.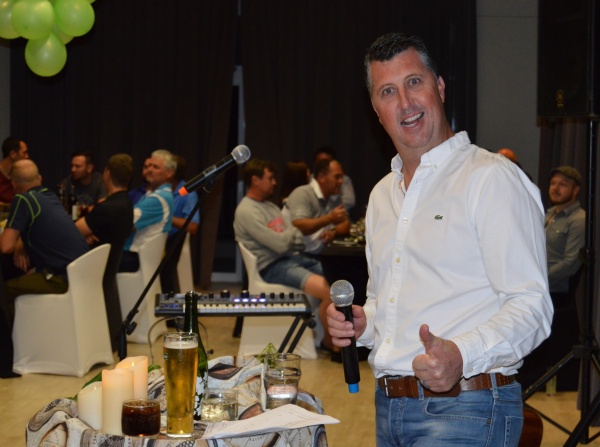 MC of the evening Captain Jacques Olivier- BOOM!
| | |
| --- | --- |
| | |
| First day winners as well as tournament winners, the Mercedes Benz team (FLTR): Estienne Cronje, Helaine Strijdom (Ladies captain handing out prizes), Jan Hanekom & Charl Ellis. Johan Bresler could not attend the prizegiving. | Runners-up for the tournament (FLTR): JP Hugo, Andre Strijdom, Renso Nel and our Club President, Christie Viviers. Ingrid Meter could not attend the function. |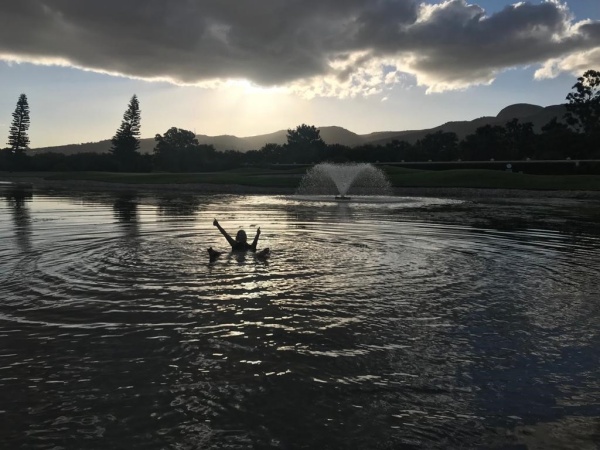 Helaine Strijdom (Our Ladies Captain) enjoying her hole-in-one celebration on the 17th hole during the Members Day, with the sun setting on a successful Winelands Tournament.
We surprisingly had no feedback from any of the members on last week's photo. Please members help us out on this one.
The photograph for this week from that treasure chest is the one below. I sincerely hope that I would receive some feedback on who the people on the photograph are. Please e-mail me at 
manager@paarlgc.co.za
 if you recognise any of the individuals on the photographs.
In conversation with Gideon-Hendrik Hugo
Know your birdies from your eagles
White-Breasted Cormorant (Witborsduiker)
Description
This is a very common and widespread bird species. It feeds on the sea, in estuaries, and on freshwater lakes and rivers. Northern birds migrate south and during winter along any coast that is well-supplied with fish.
Breeding
The great cormorant often nests in colonies near wetlands, rivers, and sheltered inshore waters. Pairs will use the same nest site to breed year after year. They build their nest, which is made from sticks, in trees, on the ledges of cliffs, and on the ground on rocky islands that are free of predators.
Feeding
The great cormorant feeds on fish caught through diving. This bird feeds primarily on wrasses, but they also feed on sand smelt, flathead and common soles. Cormorants consume all fish of appropriate size that they are able to catch in summer and noticeably go for larger, mostly torpedo-shaped fish in winter.
https://paarlgolfclub.co.za/wp-content/uploads/2021/05/Boschenmeer-Golf-Estate-Logo-2021-REPRO-PNG-300x167.png
0
0
admin
https://paarlgolfclub.co.za/wp-content/uploads/2021/05/Boschenmeer-Golf-Estate-Logo-2021-REPRO-PNG-300x167.png
admin
2019-10-15 15:13:30
2019-10-23 07:26:19
Our Ladies Captain started a new hole-in-one tradition