Action plan to "RECLAIM" our greens
Members might have seen that most of the intended work has been done during the last two weeks and now we just need to give mother nature and a dedicated Servest team some time for the recovery work to kick in fully. We are "sacrificing" the small practice green to get good sods for the very bad patches on some of the greens. Hopefully we will have all of them replaced with good sods by the end of next week. Next week I will photographically report on our two reference greens again.
Paarl Golf Club moves up in SA top 100 courses
Last week we reported that we have moved up 4 places to number 82 in South Africa. Please feel free to go to the SAtop100 website by
clicking here.
I also mentioned that part of our strategic plan is to end up in the top 10 golf courses within the Cape Metropolitan area. In order to achieve that we need to evaluate our current scoring and put action plans in place to pick up on the low scores and ensure that we remain high where we are currently fortunate to achieve good points.
This week I will spend time on our individual scores in the different categories that a golf course should go through to reach the top 100.
From the SA Top 100 website the following:
Judging a golf course on the quality of its Conditioning, Playability, Aesthetics, Design Variety, Shot Values and Memorability is a highly subjective process. A hole or course that fits one person's eye may not appeal to another. That is why we have a panel. This list is not one person's view. It is the combined outcome of a variety of passionate and knowledgeable golfers.
Our raters play and score courses on 6 criteria
Conditioning (73rd)

How would you rate the quality of tees, fairways, bunkers and greens, plus general presentation of the course? How firm yet receptive were the greens and how true were the roll of putts on the day you played the course. A great course is maintained in great playing shape, given the weather conditions it must deal with. The 20 points for conditioning are divided into 10 for greens, 4 for tees and fairways, 4 for bunkers, and 2 for general presentation. 20 points
The ranking criteria for conditioning consist of the following:
Greens (100th)

Good greens are firm yet receptive and roll true at reasonably fast speeds. Slow greens should be penalised. The green surrounds should be manicured and kept short. Greens recovering from hollowtining should not be rated.

Bunkers (57th)

How consistent is the sand for recovery shots, and is there an adequate covering of sand so that you don't hit hard dirt underneath with an explosion shot. Stones can be removed from bunkers under the new rules, yet too many stones in a bunker should be penalised. The surrounds of bunkers are preferably closely mown so that balls don't catch up in thick grass on a bunker's edge, making for an even more difficult shot.
Tees (82nd)

These should be level, closely mown with good grass cover, firm enough that a high tee peg can be inserted with an easy push into the turf, and not lean over. Tee markers should be frequently moved to avoid wear and tear, and divots repaired.
Fairways (31st)

Firm, fast and rolling, with generally playable lies so that placing is unnecessary at most times of the year. It is preferable to have one type of fairway grass, but a mixture is permissible at courses which have budget constraints, as long as they are all sustainable grasses in our climate. Good fairways are properly defined with a distinctive second cut. Fairways thick with thatch are tolerable but not good.
General presentation
A course should look neat and manicured throughout, and the rough adjoining fairways should be fair and consistent. Thick isolated pockets of rough in the playing area result in lost balls and slow play. Penalty areas should have attractive natural aesthetics and be free of litter and debris.
Playability (Will get points scored from SATop100)

How well does the course challenge low-handicaps while providing enjoyable options for high-handicaps? 20 points
Aesthetics (Will get points scored from SATop100)

How well do the scenic values of the course (including landscaping, vegetation, water features and backdrops) add to the pleasure of a round? 15 points
Design variety (Will get points scored from SATop100)
How varied are the golf course's holes in differing lengths, configurations, hazard placements, green shapes and green contours? 15 points

Memorability and consistency (Will get points scored from SATop100)

How well do the design features provide individuality to each hole yet a collective continuity to the entire 18? Is a consistent level of quality a course's strength, or is it let down by several poor holes? 15 points

Shot values (Will get points scored from SATop100)

How well does the course pose risks and rewards and equally test length, accuracy and finesse? 15 points
The ranking criteria for facilities consist of the following: (Paarl golf club's 2020 ranking in brackets)
Pace of play (80th)

If this is a course where you start on time, play moves at a brisk pace, and you're not waiting on every tee box, then give it a good mark. But if a round takes 5 hours or longer, there's not a marshal to be seen all day, and queues in the halfway house, vote accordingly.
Practice range (47th)

Ranges vary from course to course, mainly because of space restrictions. A top-class range should have bays with both mats and grass, space both long and wide to hit a driver, and quality range balls. Ranges should also be safe for not only those on the range but on neighbouring fairways. If balls keep straying on to the course then it's not perfect.
Halfway house (95th)

Appetising food served promptly is what a golfer wants. It doesn't have to be cordon bleu cooking, just a basic menu catering for a golfer's known preferences. Tasty pies, a healthy salad, sandwiches, and a hot breakfast
Pro Shop (94th)

On-course shops have improved markedly. What do you think of the quality of stock on display, service levels, and is there a club pro you can turn to for advice? How do prices compare with the big retailers?
Service (109th)

What was the level of service, friendliness and personal attention at the golf club on the day you visited? Evaluate your overall experience and how memorable it was, from the security entrance, the welcome in the club, pro shop or starter on the first tee, service on the course and in the locker room, to the round of drinks afterwards.
Locker rooms (45th)

Again, like the halfway house, basic requirements are all that are needed. Showers with hot water and good pressure. Plenty of towels, mirrors, benches to sit on, and lockers for members and visitors. Space is important. Cramped, steamy locker rooms which feel like being in a rugby scrum are the pits.

Course etiquette (99th)

Clubs rely on golfers to rake bunkers, repair divots, mend pitch marks, and generally keep the place pristine. If it's looking a mess in this regard, there's a problem. Are there enough rakes and are the flagsticks in good condition? Litter can damage a course's Aesthetics. Are there ample bins around the course, and is the war on litter working?

19th hole (117th)

A warm, friendly, inviting clubhouse or pub can soothe away the worst day on the golf course. What's the ambience like, the view, the service, the furniture, coldness of the beers, quality of the wine cellar? Pizza oven? Good menu? The 19th hole is all about matching or improving on the golf course experience.
It is therefore clear that there are certain areas that need more attention than others but the important thing is to ensure that all the criteria are covered in a professional way
Members discount on drinks not applicable in halfway house anymore
Please note that from the 15th of February 2021 the 20% discount on drinks to members will no longer apply in the halfway house. Before everybody take up their arms please note that there will be other discounts available not only to the members but to visitors and residents of the Boschenmeer Estate as well. It is very difficult to keep the prices competitive and in line with the price reference with the other reference golf courses as per the Golfing Goat Lease Contract.
An example of a special would be a six pack of beer offered at R90 which means a unit cost of R15 per beer. This price would make them stay within the reference table of drinks in the halfway house and still offer a good value to our members as well. I assume everybody would understand that Golfing Goat would not be able to give a further 20% discount on a special offer like that. I have requested them to communicate and advertise their variety of specials for everybody to see and choose from.
I sincerely hope that our members would see the "benefit" of that type of discount and specials available to our visitors and residents as well.
Next club draw – 19 February 2021
Please note that the February club draw will be done on Friday the 19th of February 2021. Please diarise this occasion and try to attend. There are very interesting attendance draws that also take place at each draw.
Entries still open and the 5th (Fifth) draw will be done on Friday 19 February 2021.
This week we get to know our marketing lady, Ester van der Merwe, who we jointly utilises between Paarl Golf Club, Golfing Goat and Caylix Sport. Members entering through the main entrance would have met Ester already. She occupies the "office" at the entrance to the Foyer. We wish her many happy and successful years here at Paarl Golf Club and hope that we together can succeed in marketing Paarl Golf Club to become a destination of choice.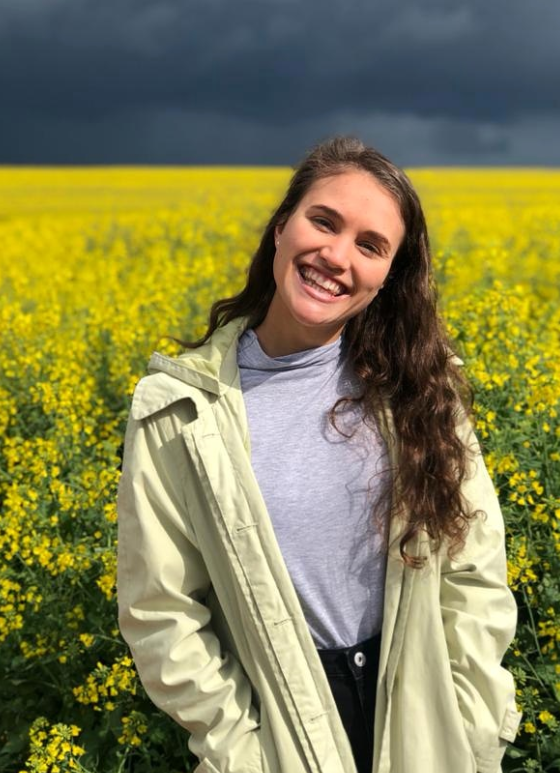 Ester Van der Merwe, our new marketing lady
Conditions affecting the stroke.
There are specific conditions affecting the stroke, which are:
• The lie of the players ball at rest
• Area of intended stance
• Area of intended swing
• The line of play, and
• The relief area where the player will drop or place a ball.
This week we will focus on two of the above, the lie and the area of intended swing.
The rules (8.1a) clearly states that a player is not allowed to move, bend, or break any growing or attached natural object.
However, if a player restores the condition by returning the object to its original position before his/ her next stroke, there is no penalty (Rule 8.1c).
In the video below you can clearly see Lexi Thompson push over a turf of grass but luckily for her it sprang straight back into place. If it had stayed where she pushed it, she would have been in breach of the rule and a get a 2-stroke penalty. But as it returned to its original position (or if she had moved it back herself) there was no breach.
This is a very delicate subject, so click on the video below, see if you agree with Ed or Robert.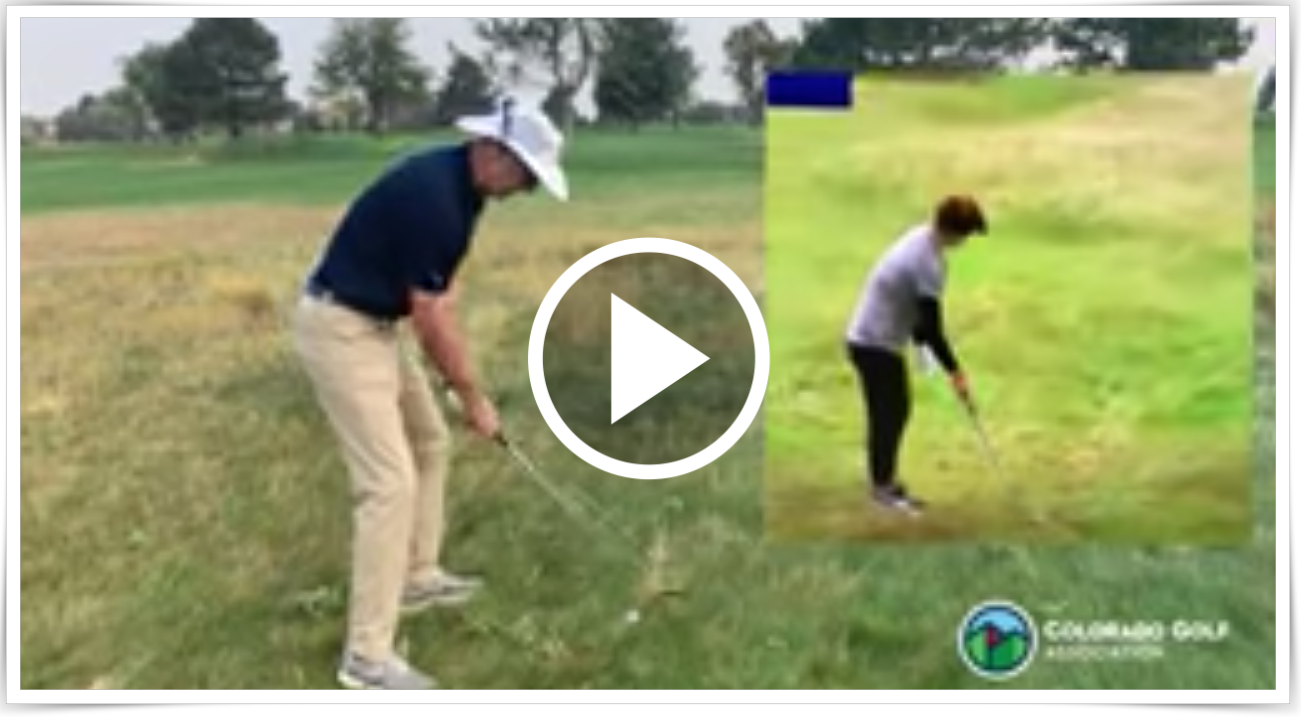 We would like to hear your views!
Enjoy your golf.
Mr R
What you still should remember when playing golf at PGC during the revised Level 3 Lockdown Rules
I know this might be boring by now, but please realise that we are still under Level 3 Lockdown Rules that did not change since inception. Thanks to those members (and visitors) who makes our work easier by adhering to the regulations and rules. We appreciate your continues support and help. It is not that difficult!
I did not get any takers for last week's "table" I will give it one more week. Please help me out!
The photograph this week from the treasure chest is the one below. After last week's 100% success I am trying my luck on this group as well. I sincerely hope that I would receive some feedback on who the people on the photograph are. Please e-mail me at manager@paarlgc.co.za if you recognise the people on the photo.
Know your birdies from your eagles
Little Swift (Klein-Windswael)
| | | |
| --- | --- | --- |
| | | If you have a favourite bird or would like to know more about a particular species flying around PGC, please let us know so that we can do some research and showcase it in next week's Gazette. |
https://paarlgolfclub.co.za/wp-content/uploads/2021/05/Boschenmeer-Golf-Estate-Logo-2021-REPRO-PNG-300x167.png
0
0
admin
https://paarlgolfclub.co.za/wp-content/uploads/2021/05/Boschenmeer-Golf-Estate-Logo-2021-REPRO-PNG-300x167.png
admin
2021-02-11 14:50:43
2021-02-11 14:50:43
Making our way up and onward with your help