Lockdown – Will we be able to play on
the 1st of May 2020?
By now all our golfers are asking this question and we await the President's address this evening.
What I can relay to our members is that behind the scenes, there is a lot of negotiating going on in order to make this dream a reality. The President will most likely tonight declare a limited reprieve of the lockdown rules that will be based on a risk adjustment strategy that was developed over the last few days. Unfortunately, this document does not differentiate golf from any other sporting code and all sporting events are currently seen under the same category. This will not help our cause to make golf a social distancing capable sport.
To counter that, the Club Managers Association of South Africa (CMASA), together with Golf RSA and the PGA, has documented a plea to government to look at golf as a possible social distancing sport that might be able to be played under strict rules. BUT at least we will be able to get on the course and play the game we love. This letter was handed to the minister earlier this week. We sincerely hope that this plea will not fall on deaf ears, but will be seen as a sporting code that is trying to make ends meet under these trying conditions.
The following best practice for golf clubs were "offered" in this plea to government:
•    Golf Clubs to offer a "one-tee" start only.
•    Tee time intervals between fourballs to be limited to a minimum of 10 minutes. Luckily Paarl did that a long time ago.
•    No congregation of people/golfers/staff at any given time of the day.
•    Upon arrival at the golf course, all staff/members/visitors/golfers to be tested for elevated temperatures through recommended non-invasive measures. Any person with an elevated temperature will be denied access to the golf club.
•    Walking during playing will be encouraged, rather than using a cart.
•    Golf clubs to facilitate minimum employment of caddies by golfers to ensure social distancing between golfers whilst on the golf course.
•    Golfers will be obliged to wear face masks when in 5 metre proximity of each other.
•    Basic toilet facilities will be provided and duly cleaned every few hours as required. Locker room facilities will be a no go area for golfers.
•    Flagsticks will be regularly sanitized and should be handled minimally. Removing of the ball from the cup will be aided by some measure to prevent golfers from sticking their hands too deep in the hole.
•    Frequent cleaning and sanitizing of high touch areas of golf carts and /or making hand sanitisers/wipes available in carts.
•    Spacing of golf carts in the applicable area an appropriate distance apart to encourage social distancing of 1,5m or more.
•    Only one person per cart.
•    All bunker rakes to be removed.
•    All water fountains and ball washers will be closed and covered.
Let us hope that we will get the green light on this. Should this be accepted by government we will be ready for business based on these above rules for opening on the 1st of May 2020. We will change the tee-times accordingly if we get the go ahead. Let us hold all our thumbs for this to be accepted.
A quick feedback on this initiative is that we have secured close to R100 000 in this fund that will help a lot of people working for PGC without an income during this period. We started with the second round of distribution of these funds to the intended recipients last week. We are trying to ensure that those people working at the club and are dependant on a fully functioning club such as the caddies, the waiters and barmen. This will help them to at least have some "income" during these challenging times.
Should any other member wish to contribute to this fund please feel free to use the following bank account with the reference Covid-19 and your name. We will ensure that full transparency allows anybody insight into the eventual distribution of these funds.
Banking details
Bank: Nedbank
Branch code: 198765
Account number: 1470120097
Reference: Covid-19 and name
    Please respect the lockdown rules
on the golf course
Members might think that I had too much to sample, making a headline like the above. But you will not believe what we see and experience while busy with the maintenance of the golf course. Remember it is illegal to play any sort of golf on the course during lockdown and we will have to do something to the culprits who keep on ignoring this basic rule.
For those of you who don't believe me, here are some photographs from yesterday's (Wednesday's) discoveries from some of the volunteers who are helping with the maintenance of the golf course during lockdown.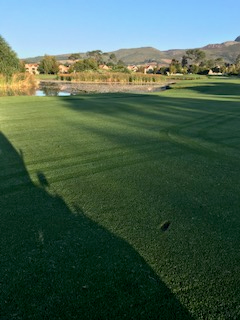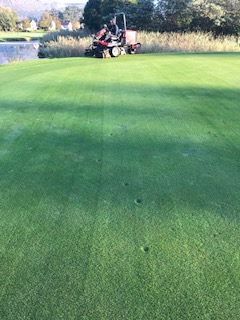 Far left fresh divots on the 26th fairway with fresh unrepaired pitchmarks on the 26th green (there were 15 pitch marks that weren't repaired). I do not understand the thinking behind something like this. It is illegal to be on the course and if we catch you or just positively identify you PGC will fine the culprit/s. Be warned!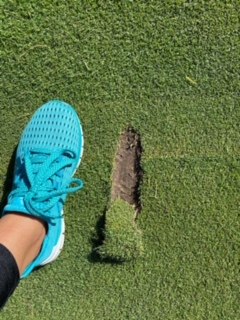 And if that was not shocking enough, here is proof of a divot on the 20th green. This person did not even have the audacity to repair this divot and just left it there for somebody else to try and fix. Again I say, be warned!
Thanks to Anville van Wyk who identified the man in the middle to be Edwin Grobbelaar who was a member at PGC for many years. Maybe lockdown is a good time for bringing back those memories. Please help with the two gentleman on both sides of Edwin.
The photograph this week from the treasure chest is the one below. There were no takers last week so we'll run this one again.
I sincerely hope that I would receive some feedback on who the gentlemen on the photograph are. Please e-mail me at manager@paarlgc.co.za if you recognise the gentlemen on the photo.
Know your birdies from your eagles
Forrest Buzzard (Bosjakkalsvoel)
Special thanks to Mike Ling who pointed out that we had this visitor around the last few days of lockdown.
Description
The forest buzzard is very similar to the abundant summer migrant steppe buzzard Buteo buteo vulpinus, the head, the back and upperwings are brown, marked out with rufous edges to the feathers the amount of which varies between individuals. The chin is whitish and unmarked, the breast and belly are whitish but marked with a variable amount of brown spots, and the undertail coverts are plain whitish. There is variation and some adults show brown barring along the breast sides and the belly while all but the palest birds show a distinctive white 'U' mark in the middle of the otherwise blotched abdomen. The underwings are white, with a reddish-brown tinge on the lesser underwing coverts and a dark comma shaped mark at the tip of primary coverts . The plumage on the thighs are uniformly reddish-brown, and the axillary feathers are white with brown barring. The upper tail is brown, washed with reddish-brown and the tail has some narrow dark brown bands with a broad dark brown subterminal band while the undertail bands can be indistinct. The body length is 41–48 cm and the wingspan is 102–117 cm.
Behaviour , feeding and breeding
The forest buzzard hunts along the edge of or in the forest, where it is a sit and wait predator which pounces on prey from a perch. It has been recorded as preying on small mammals, birds up to the size of a francolin, snakes, lizards, frogs, grasshoppers, wasps, beetles and scorpions and in our particular case squirrels.
Its breeding biology is little known but it is thought to be territorial and monogamous. The nest is a large structure of sticks with an interior cup, lined with green leaves and sometimes with beard lichen Usnea spp. It is typically situated in the fork or lower branch of a tree in the forest interior, especially pines or eucalyptus but also indigenous trees such as small-leaved yellowwood (Afrocarpus falcatus).
The two eggs are laid in the period from August–November, with most being laid in September–October. The eggs are laid asynchronously so the first laid hatches first and the older sibling is aggressive to its younger chick, preventing it from having food and if food is scarce the younger one will starve. They fledge at about 47 days old and become fully independent roughly four months.
https://paarlgolfclub.co.za/wp-content/uploads/2021/05/Boschenmeer-Golf-Estate-Logo-2021-REPRO-PNG-300x167.png
0
0
admin
https://paarlgolfclub.co.za/wp-content/uploads/2021/05/Boschenmeer-Golf-Estate-Logo-2021-REPRO-PNG-300x167.png
admin
2020-04-24 06:04:46
2020-04-24 06:04:46
Let's hope for the green light