Thank you so much for the emails received to identify the group photo from last week. With lots of memories and historical moments, it was great to be able to identify who was in the photo.
3rd from the left is Schalk Burger Sr and next to him is André de Villiers (former South African rugby captain Jean de Villiers' dad). Thank you for André de Villiers and Leon Serfontein for identifying members on the photo.
I sincerely hope that I will receive some feedback on who the other people on the group photograph are. Please e-mail me at
manager@paarlgc.co.za
if you recognise any of the individuals on the photographs.
In conversation with our Members
Arina van der Vyver
Past Ladies Captain
| | |
| --- | --- |
| QUESTIONS | ANSWERS |
| Name? | Arina |
| Surname? | Van Der Vyver |
| Nickname: Why? | None |
| Where were you born? | Worcester |
| School: Tertiary? | Matric |
| Favourite Food? | Pasta |
| Favourite Drink? | Gin & Tonic |
| Favourite Movie? | Notebook |
| Favourite Music? | 70's Music |
| Favourite holiday destination? | Stilbaai |
| Lowest handicap in golf? | 16 |
| Lowest score. Where? | 86 Jumeirah Earth Course Dubai |
| Most memorable round of golf? | Faure & Faure with Werner, our golf operations manager. |
| Favourite golf course? | Jumeirah |
| Have you played overseas and where? | Yes Dubai & Thailand |
| What's in your bag? | TalyorMade |
| What is your motto in life? | Live to the fullest every day |
| If you can give 1 hint on how to improve your golf what would that be? | Play more |
| Bucketlist: To play golf with which 4 ball and which course? | Augusta – Werner, Sakkie & Annike Sörenstam |
Do you want to see your picture on the wall?
Please hand in this form at registration or admin if you want to be featured in our next newsletter.
Email your photo to administration@paarlgc.co.za or we can take a photo.
Order of Merit Winner 2019
Congratulations to Jannie van Breda for winning the Mercedes Benz Paarl Order of Merit. The Order of Merit runs from January to November every year, and players can accumulate points based on the position they finish in the Individual Stableford competition played on the last Saturday of every month. Jannie finished on 24 points for the year and was crowned champion on Saturday 30 November 2019. We would like to thank Estienne Cronje and Mercedes Benz Paarl for their continued support.
See you in 2020!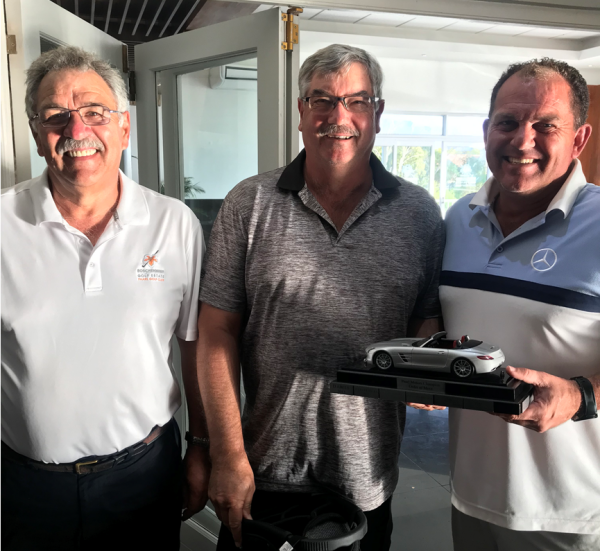 FLTR: Steph Lotz (Vice Captain PGC), Jannie van Breda (Order of merit winner 2019) and Estienne Cronje from Mercedes Benz Paarl
As in any other business, we at Paarl Golf Club also recognize our star performers on a monthly basis with an outright winner at the end of the calendar year. Some of you might be familiar with the fact that we have a good Samaritan in an overseas family, who for each of the last 5 years "sponsored" the funds to support the employee of the month as well as employee of the year competition.
This year Junaid Ahmed, our debtors' clerk, took the honours of being selected as the employee of the year. In second position was Carmen Baxter and third was Jaco Botha. We thank each and every member of the PGC for their continuous effort in making PGC a wonderful golfing experience.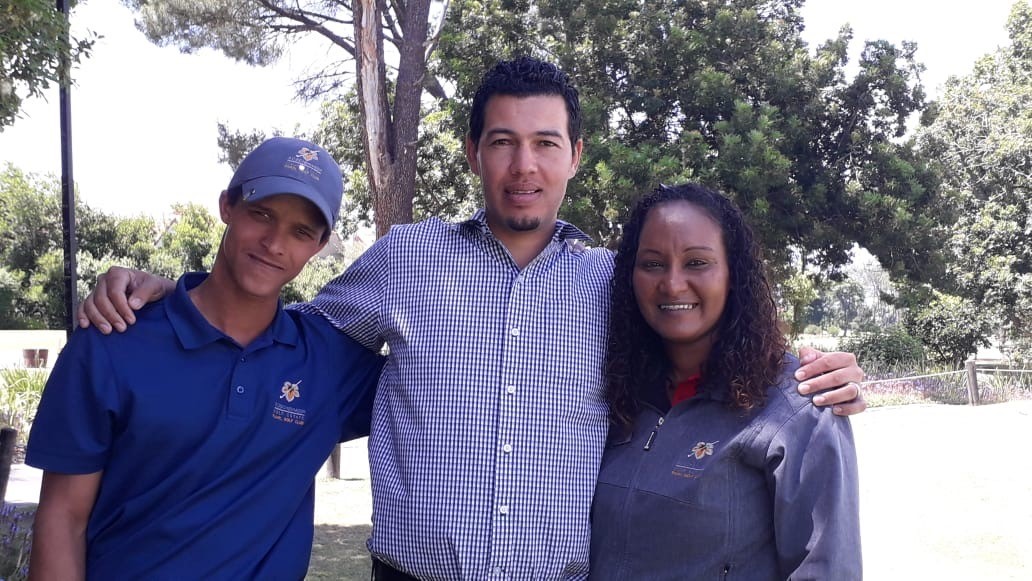 Paarl Golf Club employee of the year winners:
FLTR: Jaco Botha (3rd), Junaid Ahmed (winner) and Carmen Baxter (runner-up)
Sundowner competition revamped
We had various requests to try and regenerate the Sundowner competition on a Friday afternoon. We sat down with Ben and decided that PGC will take over the administration, running, scoring and prize giving of the Sundowner again. We also agreed on the following rules applicable to the Sundowner competition.
The Sundowner competition will be every Friday from 15:30 to 17:00. If you want to play in the Sundowner please book accordingly. Due to the limited tee times available we would not be able to accommodate walk-ins without bookings. The costs to play in the sundowner will be as follows:
R20 – Unlimited members
R120 – Full members
R110 – Junior (Under-28) members
R90 – Scholar members
R200 – Affiliated Visitor
(These costs include green fees and competition fees)
• Unfortunately, will we not be able to accommodate non affiliated visitors due to a restricted tee time availability for specifically the Sundowner competition.
• Bookings are essential – Players wishing to take part in the Sundowner MUST book their tee times in advance to avoid disappointment. If no bookings are made, players will not be able to participate and qualify for the Sundowner green fee special.
• Walk-ins will be accepted for social play ONLY and not form part of the Sundowner competition or qualify for the green fee special.
• Visitors MUST produce their handicap card at registration to be able to take part in the Sundowners.
• As this is an official competition, players MUST abide by the R&A rules of golf.
• Players MUST enter their scores after their round.
• Each player will be required to hand in a completed and signed scorecard as per the rules of golf.
Halfway house 15 minute time constraint
With the fantastic food offerings available in the halfway house, we increasingly experience situations where golfers "forget" that there are another 9 holes to be played. (Sometimes I also feel like just sitting to try get over the 9 holes that were just played. BUT the show must go on!) In order to ensure a 15-minute turnaround time in the halfway house, we would like to suggest the following:
If the chef has his "specials" on the fire in front of the halfway house, we would suggest that no further requests for preparation of food by the chef be done. What we mean by this is that golfers then either enjoy the chef's special or select something to eat from the ready food cabinet such as pies, pizzas, croissants, quiches, chocolate brownies and muffins. I know that the breakfast in between the two nines is probably the thing that most golfers play for, but hopefully we will have a system in place soon where you as golfer would be able to pre order your preference to be ready when you enter the halfway house. We are investigating a few options and will have something in place soon.
In the meantime, please help us to maintain a 15-minute turnaround time in the halfway house to ensure that the entire field can easily move through and that we do not create problems for the marshals who have to control this.
Another request is that you please hold on to your till slip if you felt that you were not helped quick enough in the halfway house. Through that invoice and our camera feed we would then be able to confirm if indeed there was time wasting going on. Thank you for your willingness to help us achieve this goal.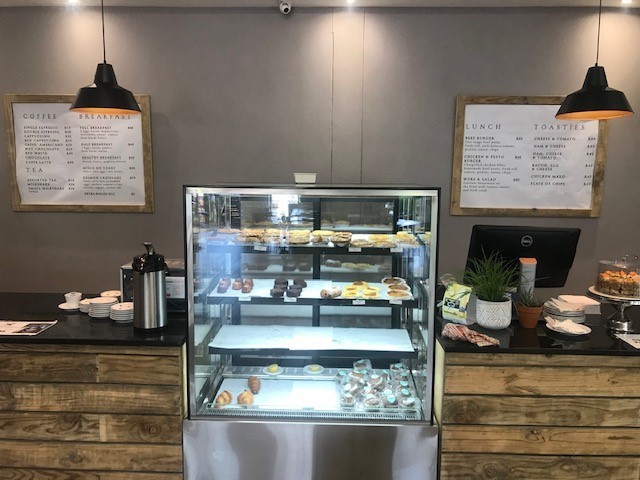 Drought relief support from PGC
We are all familiar with the drought conditions in various areas of our country. Some of these areas are "very close to home". PGC and Golfing Goat have decided to pull our resources together and do something that would help these areas during these harsh times. We will hold a special Drought Relief Golf Day on Friday the 31st of January 2020. Costs would be R2000 per fourball of which PGC will donate all our greenfee income to the drought relief kitty. Golfing Goat will also ensure a wonderful golfing experience food and beverage wise with their "income" also going to the drought relief kitty.
You will also see two small "JOJOs" in the clubhouse, one in the bar area and one at registration desk, where we would like you to clear you small change into (so that you don't have to carry that weight while playing golf). Also be very aware that the Club Captain might just dish out some fines for "infringements" that he may see fit for the JOJO. Please let us support this initiative because we all know too well where we were two years ago with availability of water at Paarl Golf Club as well.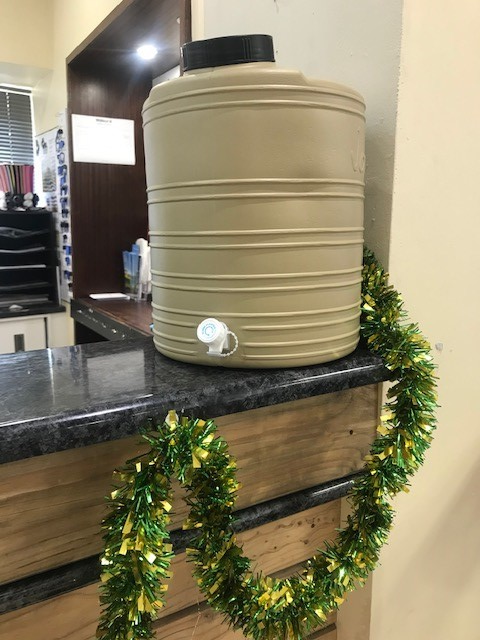 Pablo "Sore Feet" Larrazabal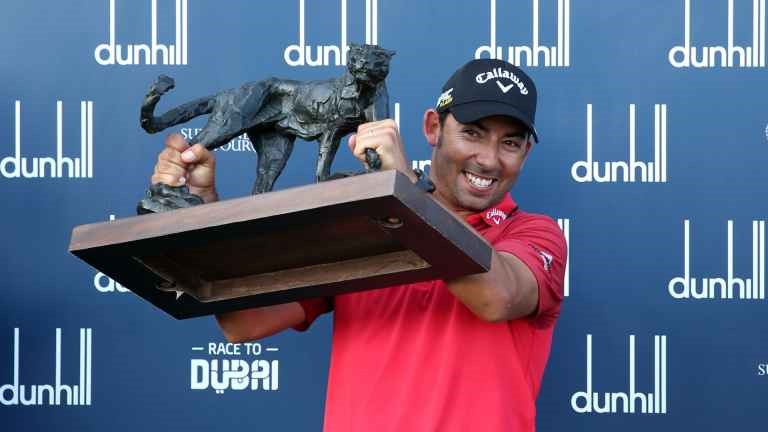 Click here to read more about Pablo's golfing career.
8 December 2019
https://paarlgolfclub.co.za/wp-content/uploads/2021/05/Boschenmeer-Golf-Estate-Logo-2021-REPRO-PNG-300x167.png
0
0
admin
https://paarlgolfclub.co.za/wp-content/uploads/2021/05/Boschenmeer-Golf-Estate-Logo-2021-REPRO-PNG-300x167.png
admin
2019-12-04 11:04:29
2019-12-04 11:04:29
Jannie van Breda takes the 2019 Mercedes Benz Paarl Order of Merit