September started with a very wet and rainy Spring Day. Three days later on the 3rd of September 2020 the Bergriver "invaded" the golf course on the 5th hole, reaching its highest flow for the last three years. Luckily there was no damage and we could continue play even with a very narrow fairway.
Yet another hole-in-one on the 17th
On the same day the Bergriver invaded the 5th, Janet Malan decided to invade the 17th and claimed her second hole-in-one in her career. As tradition now stands, especially amongst the ladies group, the inevitable swim in the clubhouse dam ended off a wonderful day for Janet.
Congratulations from our side and may there be many more swims in our clubhouse dam.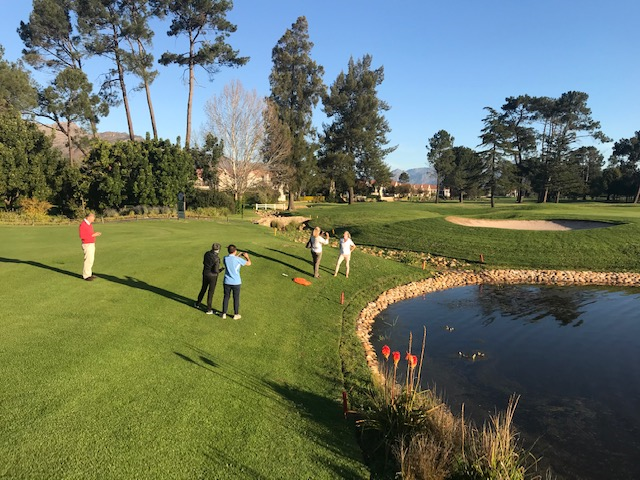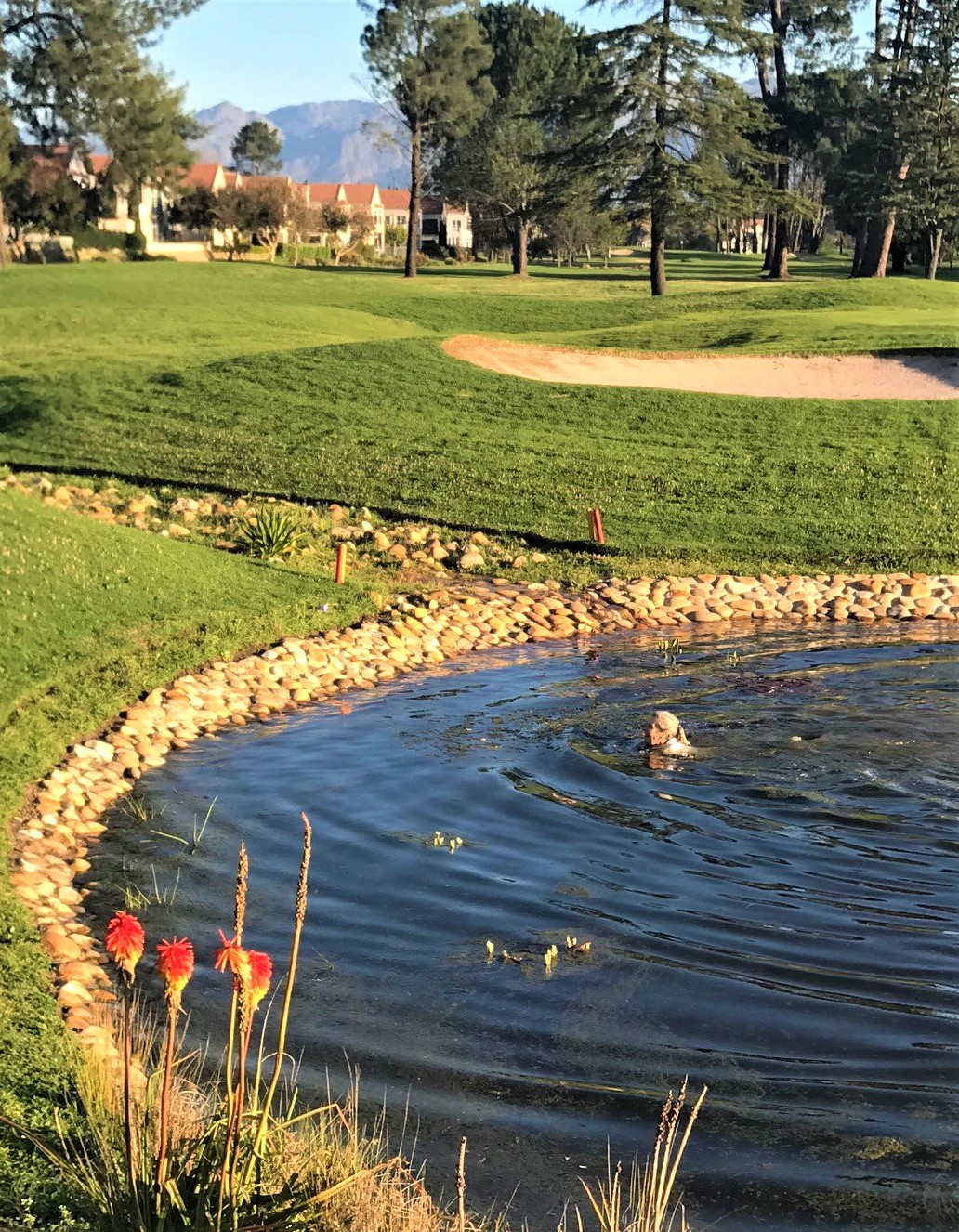 Interview time and the "swim".
Watch the video below and join Janet on her swim.
  Interim bar bringing back the social vibe
The interim bar started off slowly but it did not take long for the Paarl Golf Club vibe to get back in action. Thanks to Golfing Goat for making that happen again. Please note that we will still operate without waiters till more relaxed Covid regulations will allow us more contact between the bar and the members.
  Club Championships fully booked
Members please note that the Club Championships will be hosted on Saturday the 31st of October and Sunday the 1st of November 2020. Since we will have certain divisions playing 27 holes per day, we will only be able to accommodate 120 players in the field. We are FULLY BOOKED.
Please support and get your lucky number in the draw
The Club Draw, which will have its first draw on Friday 16 October 2020, is in full swing. Please make sure that you do not lose out on having a number in that draw. Remember you cannot enter after the closing date which is the 30th of September 2020.
The draw will be for members only and entries can be done through the poster below. Click on the poster to enter. The cost is R100 per month via debit order or R1200 once off for the year, and payment information will be sent through once the entry has been received. Members must commit to a one-year entry and cannot select which months they want to enter for.
Entries close 30 September 2020 and the first Draw will take place on Friday 16 October 2020.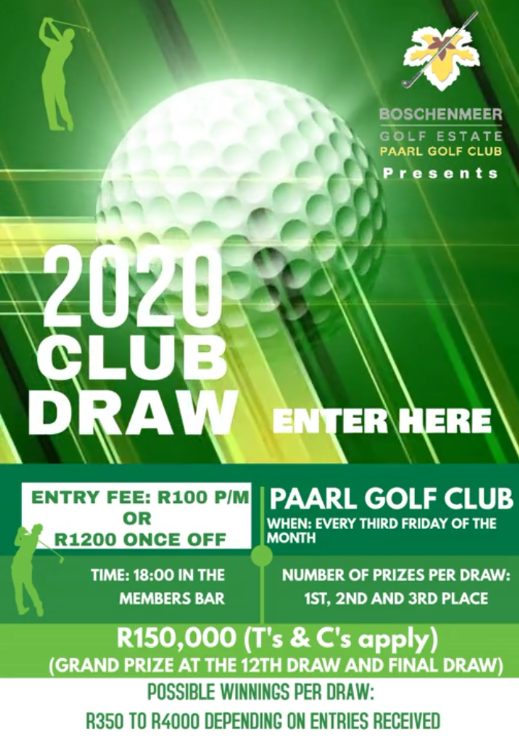 We have 33 entries already!
Spotlight Social registration
We are currently on 314 members so please register on the app.



We are now on 314!

How do you stand a chance to win a bottle of the wine?

The App needs to be loaded on to your smartphone or tablet. All you need to do is follow the instructions below:

1. Please click here or search for Spotlight Social in your App Store
2. You then download the App
3. You will be guided to create your profile using your [email address], as it is pre-linked to the Paarl Golf Club
4. Remember to insert your profile picture.

And that's it – you are good to go!
This week we get to know our lucky number 300 Spotlight Social winner Christo Lombard. Thanks Christo for being a sport and completing the questionnaire and from our side thanks for joining Spotlight Social. We wish you many years of happy golfing here in Paarl.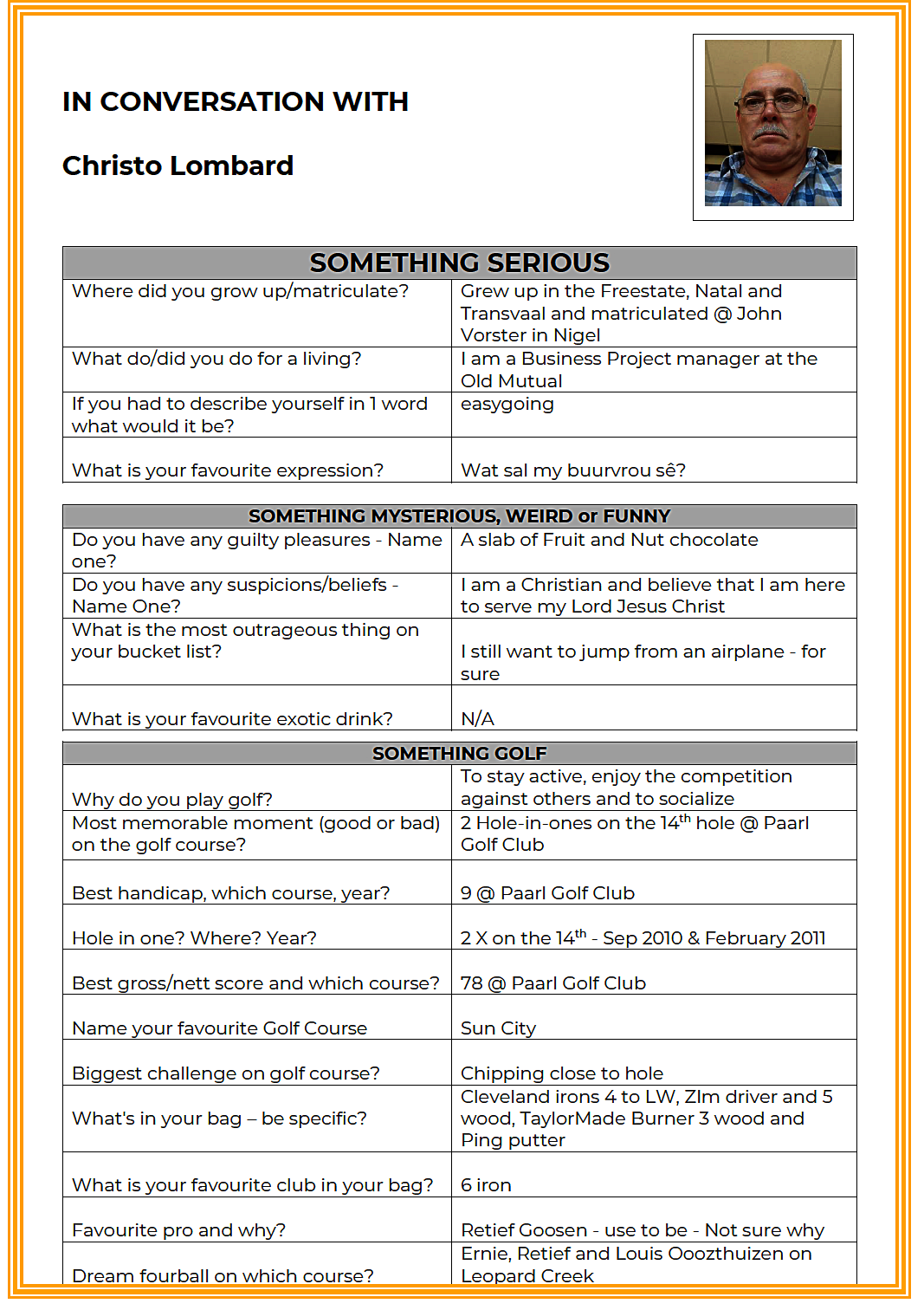 If you would like to be part of our wonderful PGC community, let us know so that we can get to know you a bit more. How will anyone know which exotic drink to buy you otherwise?
Hole-in-one
Holes-in-one are special because they are so rare. It comes at the least expected time!
Should you be lucky enough to get one, be reminded when it counts or not.
•    You cannot play a round of golf by yourself and claim to have shot a hole-in-one.
•    You need witnesses who are with you in your round to have an official hole-in-one.
•    Those witnesses must sign your scorecard to attest that the hole-in-one is legitimate.
•    If you are playing or practicing by yourself and you happen to hit a hole-in-one, it will not be recognized unless you have at least two witnesses.
•    Golfers must play a round of nine or eighteen holes for a hole-in-one to be official.
•    The golfer must start his/her hole from the official tee off area. The golf course has a recognized tee area for each hole.
Hole-in-one golfer's duty
•    You must ring the bell!
•    There is an "unofficial" rule which has become a tradition among golfers throughout the world. If a golfer is lucky enough to strike a hole in one, he/she will celebrate properly when the round is over, by buying a round of drinks for everyone at the bar at that time.
•    The latest trend is to also go for a swim in the clubhouse dam.
•    Take note that most insurances have a Hole in one cover. Check with your insurance company!
From a club perspective
•    To have your name on the Club's Hole-in-One board you must have completed an 18-hole round with a marker that can verify the result.
•    You will receive a Hole-in-One certificate.
•    The club also contributes a R1000 towards your drinks tab on official competition days.
If you have any questions, please contact me at paarlmrrules@gmail.com
Enjoy your golf,
Mr R
Golf carts on the driving range tee
We see more and more members staying on the estate driving on the tee box of the driving range with their golf carts.
May we please request that you refrain from that, seeing that it restricts movement of other golfers on the tee box as well as does damage the grass unnecessarily. We also see members driving from their estate homes to the clubhouse using the golf course. May we ask that you rather use the tarred roads on the estate for that driving. We sometimes do have fertilizer on the fairways and when a golf cart drives over that freshly fertilized fairway it creates tracks on the fairway that will take some time to grow out.
Thanks to Peter Herrmann who identified "Magnum" on the right to be Phillip Bredenhan, an attorney from Bellville.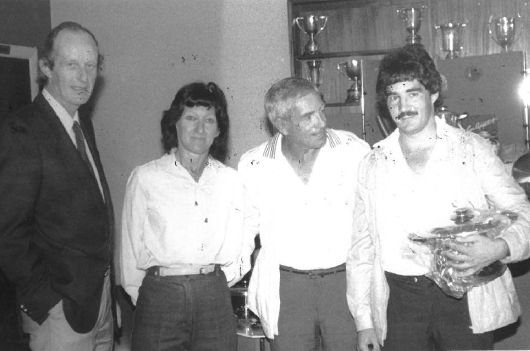 The photograph this week from the treasure chest is the one below. It did not get any reaction last week so just to be fair I will let it run another week. I sincerely hope that I will receive some feedback on who the people in the photograph are. Click here if you recognise the individuals in the photo.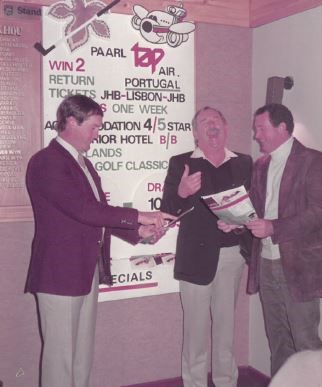 Know your birdies from your eagles
Brown-throated Martin (Afrikaanse Oewerswael)
Look out for these birds on the 8th where they fly over the river and nest against the wall of the river.
Description
The brown-throated martin or brown-throated sand martin (Riparia paludicola) is a small passerine bird in the swallow family.
It has a wide range in Africa. It is a partially migratory species, with some populations making seasonal movements. It is usually associated closely with water as its specific epithet paludicola suggest.
Behaviour, feeding and breeding
Its brown back, small size and quicker, jerkier flight separate brown-throated martins at once from most other members of the swallow family. It is most similar to the sand martin, Riparia riparia, which is its northern counterpart.
The 12 cm long brown-throated martin is brown above and white or pale brown below. It lacks the narrow brown band on the breast shown by the sand martin; the bill is black and the legs are brown. Sexes are similar, but the young have pale tips to the feathers on the rump and wings.
The brown-throated martin is colonial in its nesting habits, with many pairs breeding close together, according to available space. The nests are at the end of tunnels of 30 to 60 cm in length, bored in sandbanks. The actual nest is a litter of straw and feathers in a chamber at the end of the burrow. Two to four white eggs are the normal clutch, and are incubated by both parents.
If you have a favourite bird or would like to know more about a particular species flying around PGC, please let us know so that we can do some research and showcase it in next week's Gazette.
What you should remember when playing golf at PGC during Level 2 lockdown
I know this might be boring by now but please realise that we are still under Level 2 lockdown rules, which have not changed since inception. I see a lot of members and visitors who seem to forget that there are specific rules that we need to adhere to. Various golf courses have been visited by the police over the last three weeks and we don't want Paarl Golf Club to be the reason why golf was stopped in the Western Cape. So please stick to the rules and ensure that everybody can play the game we love.
https://paarlgolfclub.co.za/wp-content/uploads/2021/05/Boschenmeer-Golf-Estate-Logo-2021-REPRO-PNG-300x167.png
0
0
admin
https://paarlgolfclub.co.za/wp-content/uploads/2021/05/Boschenmeer-Golf-Estate-Logo-2021-REPRO-PNG-300x167.png
admin
2020-09-11 08:37:17
2020-09-11 08:37:17
Janet Malan takes a dip in the dam