Welcome back to all our members for the year 2021. We have survived 2020 with all it's interesting surprises and just when we thought 2021 might bring a new dawn, Cyril locked us up yet again. Luckily by now, we here at the Paarl Golf Club are ready for any challenges and due to the fact that we were in line with all the regulations, the "change" to the revised Covid Level 3 regulations did not affect us at all. Thanks once again to all our members and visitors who help us in adhering to the regulations by doing their part. We appreciate that.
The Irrigation Dam Project
By now members should have seen that we have cleared the irrigation dam of all the reeds, and in the process of desilting the dam, we also deepened it where possible. However, this exercise left us with a dam full of dirty water and mud and silt in suspension. This created other problems in the clogging up of our irrigation system that really tested the Servest team's ability to stay calm and do what needs to be done. Members would see that certain areas on the course suffered under the harsh temperatures and windy conditions and dried out more than we would have wanted. This happened purely because of the irrigation system struggling to feed the amount of water needed during this warm and windy period. I am happy to announce that we are starting to see the light and that we are getting the water where it is needed.
In order not to damage the course too much with heavy vehicles carting away the reeds and the mud, we opted for storing it next to the dam to dry out to be removed later. That process started this week and we hope to have the dam cleared by Friday the 15th of January 2021. We also decided to replace the old dilapidated wall with something more permanent and aesthetically pleasing. We also plan to finish the cladding of the wall by Friday the 15th of January 2021.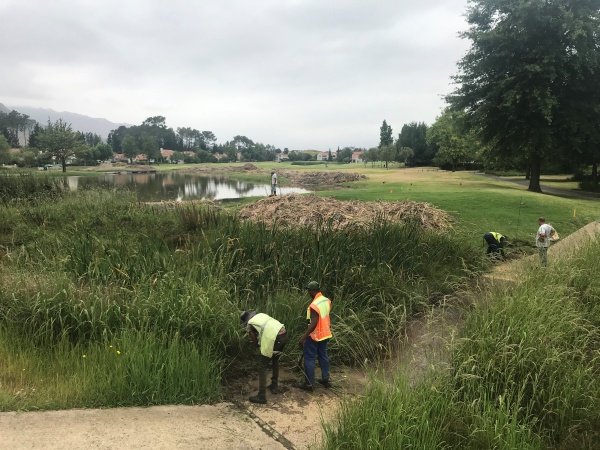 In December, I indicated to watch this space on the left and below the cladding of the new dam wall at the 11th tee is nearing completion. We now await the drying out of the portion between the two walls to clear the weeds and reeds and then we will remove the old wall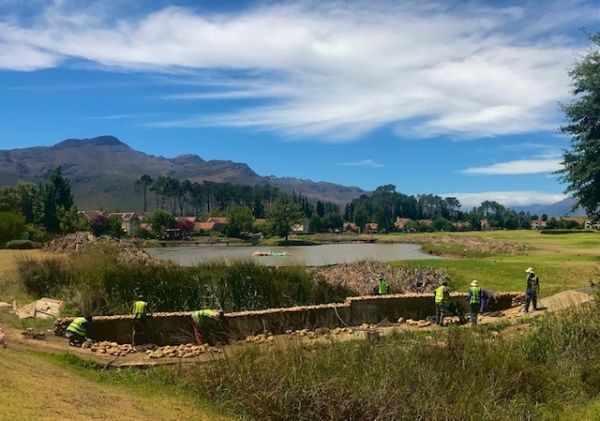 The new dam wall nearing completion
Hole-in-one "benefits" changed
After doing an investigation into what the norm is at different golf clubs in the Western Cape and careful consideration, the Captain's Committee has taken the decision as follows with regards to a hole-in-one contribution from Paarl Golf Club.
When a member or visitor scores a legitimate hole-in-one at Paarl Golf Club, he/she will be issued a personalised certificate as well as a letter for insurance purposes. It is the player's own prerogative whether he/she wants to buy a round of drinks at the bar after the round for the patrons, at his/her own cost. Paarl Golf Club will no longer contribute towards the bar bill anymore, seeing that this "tradition" has long been stopped at most of the clubs. If a player would like to buy a round of drinks at the bar, he/she will make the arrangements with Golfing Goat themselves and ring the bell accordingly.
Please remember that we have brought in the concept of the hole-in-one challenge, where you can bet on yourself for hitting the perfect shot and earn some good money if you have taken out the ticket for that. Please support this initiative. Our own Maria Kirton lipped the 23rd hole last Saturday and realised how close she was to a hole-in-one. In her own words, "I will never skip the hole-in-one challenge anymore, what is R20 if you can convert that into R20 000 by achieving a hole-in-one?" All the best Maria!
The new clubhouse restaurant and bar
Accolades keep on flowing in for the huge difference the incorporation of the veranda area into the old restaurant and bar area achieved.  It is just a pity that Covid keeps on coming in the way of this area really taking off. Please support them in all their weekday specials they offer.
   The Winelands venue preparing for 2021
Huge plans were made for the programme of The Winelands venue for 2021. Again, Cyril put a stop to all of that and various musicians had to be postponed until the regulations will allow them to host 150 people again. We will keep you informed as to the progress with that and as soon as they can function fully you as members will be notified.
  Next Club Draw – 22 January 2021
Please note that the January Club Draw will be done on Friday the 22nd of January 2021. Please diarise this occasion and try to attend. There are very interesting attendance draws that also take place.
Entries still open and the 4th (fourth) draw will be done on Friday 22 January 2021.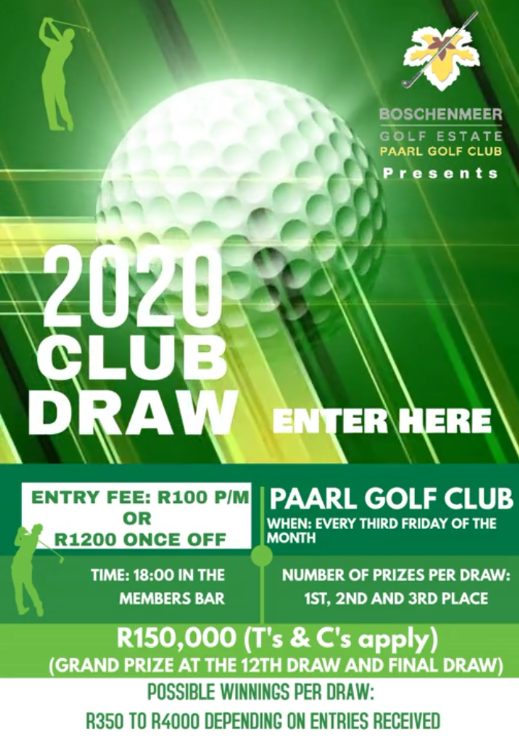 We have 83 entries!
Spotlight Social registration
Win the wine of the month!
We are currently on 367 members, so please put in some effort to register on the app. Number 400 will be next in line for a bottle of wine.
| | | | |
| --- | --- | --- | --- |
| | We are now on 363! | | For your efforts you can be next in line to win a bottle of wine with compliments from the "Wine of the Month". Thank you to the members that have registered so far. See how to win here. |
| | | |
| --- | --- | --- |
| | | |
| | | This week we get to know one of our new members, Prieur du Plessis. Thanks, Prieur for being a sport in completing the questionnaire. We sincerely hope that you enjoy your golf here at your favourite Paarl Golf Club and that you would enjoy your membership here to the full. |
If you would like to be part of our wonderful PGC community, let us know so that we can get to know you a bit more. How will anyone know what exotic drink to buy you otherwise?
Penalty Area
Hi everyone, happy New Year.
I was surprised when I played with a member and he was confused where to drop when his ball was in a red penalty area. The confusion many players have is the back on the line relief when in a red penalty area.
Yellow and red penalty areas give you the same option except with a red penalty area, you have an additional option of lateral relief.
In the case that I mentioned, the player drove his ball into the penalty area on the left of hole no 27. He was surprised when I told him that he could drop his ball on the fairway.
Rule 17.1d states that a player may drop a ball in a relief area that is based on a reference line going straight back from the hole through the estimated point where the original ball last crossed the edge of the penalty area. See pictures below.
Enjoy your golf,
Mr R
What you still should remember when playing golf at PGC during the revised Level 3 Lockdown Rules
I know this might be boring by now, but please realise that we are still under Level 3 Lockdown Rules that did not change since inception. Thanks to those members (and visitors) who makes our work easier by adhering to the regulations and rules. We appreciate your continues support and help. It is not that difficult!
Know your birdies from your eagles
        Lesser Swamp Wabler (Kaapse Rietsanger)
| | | | |
| --- | --- | --- | --- |
| | | | If you have a favourite bird or would like to know more about a particular species flying around PGC, please let us know so that we can do some research and showcase it in next week's Gazette. |
| | | | |
https://paarlgolfclub.co.za/wp-content/uploads/2021/05/Boschenmeer-Golf-Estate-Logo-2021-REPRO-PNG-300x167.png
0
0
admin
https://paarlgolfclub.co.za/wp-content/uploads/2021/05/Boschenmeer-Golf-Estate-Logo-2021-REPRO-PNG-300x167.png
admin
2021-01-15 09:22:16
2021-01-15 09:22:16
Get your golf on – it's 2021!