What's happening on the catering front?
So the wait is finally over and they have moved in!We welcome Blijdskap at Paarl Golf Club and sincerely hope that we will have a brilliant relationship going forward.
| | | |
| --- | --- | --- |
| I must admit that the smells that come out of the top kitchen are not doing my diet good at all. When we worked through the interim menu that will be available in the halfway house, as well as the restaurant section, I really had to concentrate not drooling all over the menu. Philip Pretorius (no relation to me), head chef, is ready to cook up a storm. We hope he gets time to work on that single figure handicap as well. | | |
| Another member of the team is front of house manager, Phillip Vosloo, also a single figure handicapper who will ensure that all members and visitors will have a memorable experience at Paarl Golf Club. A core group of previous personnel from the old Wiesenhof has been retained so there will be familiar faces in the team. | | |
| Another friendly face that you will see is that of events co-ordinator, Nelia Jacobs. She will be in charge of the Winelands venue and conference facility bookings and preparations. Should any body need to book this venue please feel free to contact Nelia on 072 601 2253 or e-mail at info@blijdskap.co.za | | |
We wish the entire team a wonderful 5 years at PGC!

When playing a hole, a player's ball was accidentally deflected after hitting a moving maintenance vehicle. The player's ball ended in a thick bush resulting in an unplayable lie.
The player was not sure what to do and eventually played two balls and clarified the rule after the round.Rule 11.1b states that if a player's ball in motion accidentally hits any person our outside influence, the ball must be played as it lies (remember this does not apply if the ball was played from the putting green). This is true even if the ball hits the player, the opponent or any other player or any of their caddies.
The definition of an outside influence is:
Any person (including another player), any natural or artificial object or anything else (including another ball in motion) except natural forces.
If you have any questions, please contact me at paarlmrrules@gmail.com
Enjoy your golf.
Mr R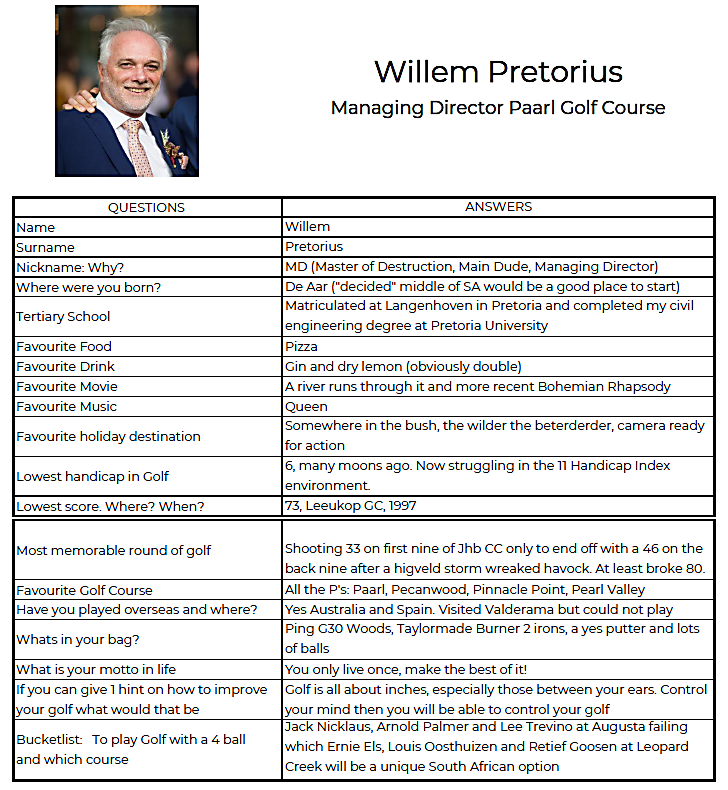 Know your birdies from your eagles
Spotted Eagle-Owl (Gevlekte Ooruil)
Currently breeding in the tree next to the 14th Tee
How to recognise a Spotted Eagle-Owl
A large grey owl, 43–50 cm tall, barred in front and blotched on the head, back and wings. Their wingspan is about 1 m. The distinguishing features of the Spotted Eagle-Owl are the prominent tufts of feathers on either side of its head, which it erects into 'ears' or 'horns', and its bright yellow eyes. The ear tufts are for show and have nothing to do with their ears or hearing. The sexes are alike in colour and size, and the juveniles resemble the adult.
Distribution
The Spotted Eagle-Owl is resident throughout southern Africa, where it is the most common large owl. Its range extends across sub-Equatorial Africa to southern Arabia.
Habitat
The Spotted Eagle-Owl is found in a variety of habitats, including open scrub, grassland, savanna woodland, forest patches and forest edges, but not in evergreen forest or sandy deserts. An owl pair has a territory. Their nesting site will be about 0.5–2.5 km away from the nesting site of any other owls, in a suitable habitat. The male claims the territory with his hooting call. They are adaptable and not fussy about where they nest or what they eat, which has made them a successful, widespread species. Watch out for them in the tree on the left of the 14th tee box.Please send us your photographs of birds that you find on the course.
https://paarlgolfclub.co.za/wp-content/uploads/2021/05/Boschenmeer-Golf-Estate-Logo-2021-REPRO-PNG-300x167.png
0
0
admin
https://paarlgolfclub.co.za/wp-content/uploads/2021/05/Boschenmeer-Golf-Estate-Logo-2021-REPRO-PNG-300x167.png
admin
2019-08-28 06:35:36
2019-08-28 06:35:36
Get to know your MD a bit better