Join us for a day that promises to be fun for the whole family! Putt for Dough will take place on Friday 11 December.
Golfing Goat Restaurant Launch
Make sure you book for the official launch of the new Golfing Goat Restaurant on the 4th December.
Check out the Annelize Lucas Physiotherapy Facebook and Instagram pages for more information.
Next Club Draw – 27 November 2020
Please note that the November Club Draw was shifted to Friday 27th of November 2020 due to the Burger Kersfonds Golf Day which took place on Friday the 20th of November.
You can still get your entry into the Cub Draw! A decision was made that those who did not have a ticket for the draw can still get one but the buy-in remains the same at R1200. If you want to do it by debit order you now will have to arrange with our financial department to determine the correct amount according to the date that you want to start. This means everybody can still buy in so please let us do that because it is for a good cause helping the Captain's Committee to create funds for projects on the course.
Entries are still open and the 2nd Draw takes place on Friday the 27th of November.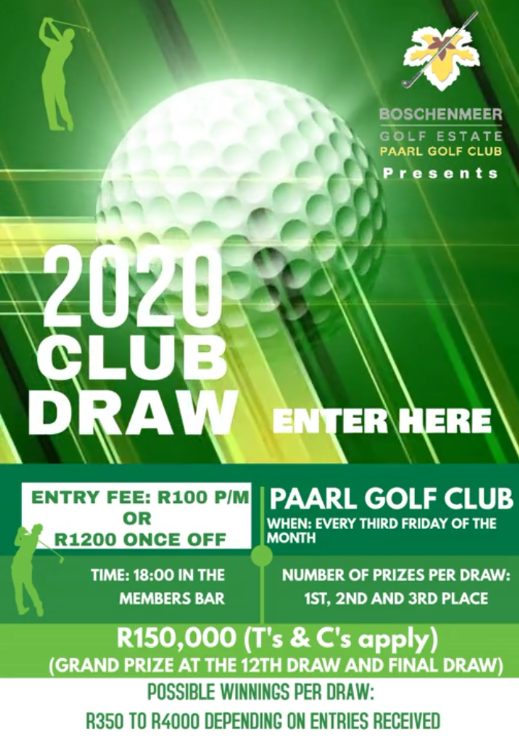 We have 83 entries!
Spotlight Social registration
Win the wine of the month!
We are currently on 348 members so please put in some effort to register on the app. Number 400 is next in line for a bottle of wine.
| | | | |
| --- | --- | --- | --- |
| | We are now on 348! | | For your efforts you can be next in line to win a bottle of wine with compliments from the "Wine of the Month". Thank you to the members that have registered so far. See how to win here. |
| | | |
| --- | --- | --- |
| | | |
| | | This week we get to know our men's C-Division Champion, Robert Adriaanse. Thanks Robert. We all dream about that scratch round of golf. One day! |
If you would like to be part of our wonderful PGC community, let us know so that we can get to know you a bit more. How will anyone know what exotic drink to buy you otherwise?
Is the percentage of handicap to be used in betterball and alliance competitions really going to make a difference?
We pulled the names of 170 players that were in the winnings since the start of the year. The table below summarises the percentages that the different categories of handicaps were in the winnings. I think this table speaks for itself.
Playing golf at PGC during Level 1 lockdown
I know this might be boring by now but please realise that we are still under Level 1 lockdown rules, which have not changed since their inception.
Thanks to those members (and visitors) who makes our work easier by adhering to the regulations and rules. We appreciate your continues support and help. To the few that alway need to push the boundaries please realise that your actions might cause the club to close, and many other golf courses for that matter. It is not that difficult…
| | | |
| --- | --- | --- |
| | | |
| | | Here is the photograph from this week's treasure chest. Please e-mail me at manager@paarlgc.co.za if you recognise anyone. |
Know your birdies from your eagles
Yellow Bishop (Kaapse flap)
| | | | |
| --- | --- | --- | --- |
| | | | If you have a favourite bird or would like to know more about a particular species flying around PGC, please let us know so that we can do some research and showcase it in next week's Gazette. |
| | | | |
https://paarlgolfclub.co.za/wp-content/uploads/2021/05/Boschenmeer-Golf-Estate-Logo-2021-REPRO-PNG-300x167.png
0
0
admin
https://paarlgolfclub.co.za/wp-content/uploads/2021/05/Boschenmeer-Golf-Estate-Logo-2021-REPRO-PNG-300x167.png
admin
2020-11-26 07:01:44
2020-11-26 07:01:44
Feeling lucky? See you at Club Draw tomorrow