I am running out of words…
When I did this write up last week, I really thought that it would be my last "positive" attempt to relay to you as members what we are going through in the golfing industry. But nothing has happened except for two golfing entities seeking legal opinion and challenging the government as to firstly, the legality of the golf ban. Secondly, that in the regulations there are no details prohibiting golf from being practiced on a golf course under the exercise clause.
Then both Dainfern and Kayalami Golf Clubs were raided by police during the weekend and we as golfing industry were tapped on the fingers by the Director General of Sports, Arts and Culture, Mr. Mkhize, through a letter already dated on the Friday prior to the raids stating: "It has, however been brought to the attention of the Department that some of the Golf estates have resumed play despite the fact that there has been clear communication about due processes regarding the return to play".
Sorry I again lost the way and in order to deter me from doing that again I thought it appropriate to leave you with a piece from the columnist John Cockayne entitled "Fawlty logic is keeping golf courses closed".
"I have been following the increasingly bizarre story of the continued lockdown of golf. Judging by the four telephone calls I had on Wednesday morning, I am not alone. The consensus from these calls and others is that what is going on with golf and the decisions being made about it are not only nonsensical, but also make dear old Fawlty Towers look like a well-oiled machine.
Rarely do common sense and a legal opinion align. However, in terms of playing golf this rarity has occurred, not once but on several occasions, in which senior legal opinion has been that not only should we be playing golf, but that the legal right to do so is covered by any rational interpretation within the current regulations. This means that no special permission or edicts should be required. However, the government has, not for the first time and not only in relation to golf, flipped-flopped within versions and qualifications of its own statements and wording, sowing even more confusion, both for the golf community and itself.
A central player in this mix has been GolfRSA (GRSA), which was formed six years ago to be the overarching body for amateur golf in SA. This is the first real test that this body has faced, and when asked the consensus is that it has failed to make an effective case with government for golf to be reopened. Other strands to this disappointment are emerging.
A key challenge for a number of golf club managers is that they are being pressured by GRSA members who see the body as an irrelevance. The bottom line for members is that they have paid their subs and dues and are being prevented from using their private facility as members. They contend that this refusal is based on some arcane and constantly changing interpretation of its own resolutions by a government which seems increasingly to be losing touch with the reality of the situation and the facts on the ground. It is also felt that GRSA is being "too polite" and even "pandering" to the government over this issue and that the federation needs to push back. This push back is being seen as especially important in areas such as the government's apparent misunderstanding over the use of the term "public" in "public places" and people congregating together, when they are being so clearly misapplied to the circumstances around golf.
We need to find balance in this mess, and it should not be forgotten that the original discussions and document presented to the NCCC, was tabled by various golf bodies including GRSA. What also gets lost in the mist of feeling is that all noncontact sports have been equally affected by the continued closure. The scenario is not unlike the rules of "house arrest", under level 4, where the government was forced by the serious discrepancies in social, economic and housing issues, across SA's population, to adopt a one-size-fits-all solution. This was reprised with sport, which meant that no sport could be played, irrespective of the individual and structural circumstances surrounding that particular code. With such a protracted process, all that this writer is seeing at this point is a requiem being prepared for those parts of the golf sector and jobs, which will be laid to rest forever, if the status does not change immediately. In all these maneuverings and deliberations by departments and official bodies, the human tragedy that is unfolding is in danger of being lost from view.
If we stop for a moment to look past the wrangling over the golfers wanting to play and the closed courses, we can see those who have been out of work for weeks and whose livelihoods are threatened by permanent extinction.
This extinction is a done deal, unless common sense finally prevails and the golf courses reopen, without any further prevarication.
I had a very open and frank telephone discussion with GRSA CEO Grant Hepburn who confirmed that the original solutions, the proposed reopening, had been accepted and were still in place. However, he said unforeseen issues with the wording of the government's draft regulations and court challenges to the validity of the level 3 and 4 lockdowns has caused a delay in the confirmation processes. He wants to assure SA's amateur golfers, that no stone has been left unturned to ensure the reopening of the golf courses and he believes that with just a little more forbearance, there will be a positive outcome in the very near future.
We have previously seen the government make 180-degree turns on its own public statements, so we hope this doesn't prove to be the case with golf. In a time of social distancing, perhaps any dancing analogy is not the best fit, but be that as it may GRSA cannot dance alone. It takes two to tango, so let's hope the government does its bit and the golf courses are reopened without any further delay."
| | |
| --- | --- |
| | |
| Beauty | Beast |
I just couldn't say it any better. In the meantime, stay positive but more importantly stay healthy.
Covid-19 Disaster Fund feedback
Thank you very much to all those members that helped with payments into the Covid-19 Disaster fund. We appreciate every cent that is donated.
A small amount was paid into the Covid-19 Disaster Fund leaving us with a balance in the fund of just over R17 000 to allow us to pay each caddie R1 000 on the 15th of June 2020. Should we not open we will then still have one "payment" available to the 17 caddies on the 15th of June 2020.
Should any member wish to further contribute to this fund please feel free to use the following bank account with the reference Covid-19 and your name. We will ensure that full transparency allows anybody insight into the eventual distribution of these funds.
Banking details:
Bank: Nedbank
Branch code: 198765
Account number: 1470120097
Reference: Covid-19 and name.
Thank you to the Poise Cup
A word of thanks must also go out to the Poise Cup group under the energetic leadership of Solly Rajah who donated food parcels to our 17 caddies. These food parcels will be handed over to the caddies on Friday 12th of June.
Paarl Golf Club launches Spotlight Social!
PGC launched its first Mobile communication App last week, and we have been astounded by the positive response. We have already downloaded and connected more than 130 members and growing daily.
To give you an idea of what the Application looks like on your smart phone or tablet, below are a few screenshots to whet your appetite:
How do you join the rest?
The App needs to be loaded on to your smart phone or tablet. All you need to do is follow the instructions below:
1. Please click here or search for Spotlight Social in your App Store
2. You then download the app
3. You will be guided to create your profile using your [email address], as it is pre-linked to the Paarl Golf Club
4. Remember to insert your profile picture.
And that's it – you are good to go!
Members survey – Please help us!
We would like to test the waters through a questionnaire with the idea behind it to determine what you as member of Paarl Golf would like to "see" when we open again. Just maybe we will be able to surprise each and every one of you if we know in advance what your thoughts are on golf in general as well. Thank you to everyone that will spend some time on the few questions.
It will make Paarl Gold Club a better place to be.
Please click here to take the quick survey here.
What you should know if we open
Please find herewith some guiding details of playing golf under Covid-19 restrictions and what we as a club would expect from you when we open the golf course. Please spend some time in going through in order to arrive at the club with the knowledge and making our task easier to control the situation to the benefit of all our members.
Before the round
Bookings
• Clubs to organise a system of booking and allocation of tee times that ensures the safety of staff and golfers.
• The maximum number of golfers in a group per tee time to be confirmed by the club and must be in accordance any government requirements.
Arrival and waiting to play
• The clubhouse and locker room facilities will be closed. Limited essential access (for example to use the toilets) may be allowed by the club.
• Clubs to communicate in advance with golfers to advise on social distancing requirements that are being applied on arrival at the club, for example not leaving cars until a certain time before their tee time.
• Clubs to have procedures in place to ensure social distancing requirements in the area of the professional's shop or starter's building in advance of golfers teeing off.
• Trolleys, carts or other items available for hire, on condition of using safe sanitising practices.
• Clubs/facilities to have procedures in place for the practice putting green, for example giving priority of use to the players in the next group due to tee off, remove cups, or using a method of inserting the hole liner to be used that means that all of the ball does not fall below the surface of the putting green and can be easily retrieved by handling the ball only.
• Good practice for golfers to always carry hand sanitizers with them and refrain from touching their faces.
On-course items
1. All rakes and ball retrievers to be removed.
2. Ball washers and drinking fountains to be covered up.
3. It is recommended that clubs position hand sanitizers at strategic places on the course.
4. Benches and bins to be removed, covered or sign-posted in such a way that players do not touch them.
5. All other removable items to be removed. Stakes defining areas of the course can be treated as immovable obstructions.
Hole and flagstick
1. Flagsticks can be retained, but it is strongly recommended that a sign is put on the flagstick stating that it is not to be touched. There are various options in order to do this . We have opted to cut a pool noodle to the right height and wrap it around the bottom of the flagstick.
2. The cup of the golf hole should be inserted in such a way that the entire ball does not fall below the surface of the putting green and can be easily retrieved by handling the ball only.
Practice areas
1. Practice areas, including practice nets, to be closed unless safe sanitizing practices can be guaranteed.
2. The following practices will be a necessity: wash range balls regularly, remove benches/seating and club cleaning facilities, control availability on the range, ensure three- to five-metres spaces between bays, sanitize range buckets after every use and use own towel.
During the round
Guidance and reminders should be provided by clubs/facilities to golfers is to ensure that they keep at least five metres apart during the round.
Teeing areas
• Inform golfers that they should only make their way to the tee once the group in front is leaving the teeing area.
• Remind golfers to keep two metres apart at teeing areas due the normal close proximity of golfers to one another when tee shots are being played.
General
• Remind golfers to stay more than two metres apart when walking, searching for a ball or playing shots.
• Remind golfers not to touch stray balls.
• Each group to carry sanitizers. It is recommended that sanitizer is applied after each hole played.
• Golfers may not share scorecards and electronic scoring is preferred.
Bunkers
• With no rakes allowed on the course, remind golfers to make their very best efforts to smooth the sand using their club and/or their feet.
Putting green
• Remind golfers to keep two metres apart on the putting greens and not to touch the flagstick, not to share pitch mark repairers and always only handle their own equipment such as clubs and balls.
After the round
Score entry by the golfer using their HNA App and not done at the club. Remind golfers that social distancing is as important after a round as it is during the round, so when the round is completed they must leave the course and the club/facility immediately so that there are no gatherings around the clubhouse area.
Sanitize or return rental equipment for sanitizing in accordance with guidelines at the club.
Rules of golf related matters
Until further notice, the following provisions are considered acceptable on a temporary basis:
Forms of play and scoring
1. It is recommended that non-competition play is used during the initial period of golf being played, and that stroke play competitions involving players in different groups are avoided.
2. If competitive stroke play or match play is played, a method of scoring needs to be used that does not require any handling or exchanging of scorecards.
3. For competitive rounds, committees may choose to allow methods of scoring in stroke play and match play that do not strictly comply with Rule 3.3b, or do not comply with the normal methods used under Rule 3.3b. For example:
• Players may enter their own hole scores on the scorecard (it is not necessary for a marker to do it).
• It is not necessary to have a marker physically certify the player's hole scores, but some form of verbal certification should take place.
• It is not necessary to physically return a scorecard to the club.
Bunkers
• Should clubs not assign an individual to rake bunkers, they can declare bunkers "waste areas" that are raked each morning during standard maintenance procedures and encourage members to smooth with their foot/club upon exiting.
Flagstick
• Golfers are always required to leave the flagstick in the hole and not to touch it. It is a matter for the committee to decide whether it establishes this policy by way of a Code of Conduct or Local Rule, and whether it provides a penalty under the Code of Conduct or for a breach of the Local Rule.
• As a temporary provision, flagsticks that do not meet the specifications in Part 8 of the Equipment Rules, can be used.
Hole and 'holed'
• The hole liner (sometimes referred to as the hole 'cup') is to be set in a way that means that all of the ball cannot be below the surface of the putting green, so the ball is considered holed if any part of it is below the surface of the putting green.
• To minimise the need to lift the ball from the hole, it is recommended that the Most Likely Score (MLS) Rule, Rule 3.3 of the Rules of Handicapping, be applied. This does not prevent a player in match play conceding a stroke that is outside this length or allowing a player to putt out should they elect to do so.
Please note that modifications to the Rules of Golf during Covid-19 are for handicapping purposes only and should not be used for formal competitions, of which we expect very little of at the present time
Thanks to Franz Lohbauer who identified the gentleman on the right to be Werner Mayer.

FLTR: Johan Swart (aka JL), Argenor (Archie) Lureman, Peter Dreyer, Jaco Visagie, Johan Visser and Werner Mayer
I did not receive any help on the three gentlemen below. I will therefore give it another week for our members to come through and help me out. Please e-mail me at manager@paarlgc.co.za if you recognise the gentlemen in the photo.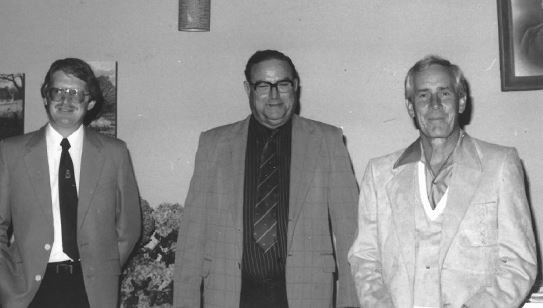 Know your birdies from your eagles
Cape Whiteye (Glasogie)
Description
This species is about 12 cm long with rounded wings, strong legs, and a conspicuous ring of white feathers round the eyes. The upperparts are green, and the throat and vent are bright yellow.
They are very vocal, and constantly keep in touch with soft trilled pee, pree or pirreee callnotes. The song consists of repeated long jerky phrases of sweet reedy notes, varying in pitch, volume and temp, usually starting off with teee teee or pirrup pirrup notes, then becoming a fast rambled jumble of notes, which may incorporate mimicked phrases of other birdcalls.
Behaviour, feeding and breeding
This is a sociable species forming large flocks outside the breeding season. It builds a cup nest in a tree and lays 2-3 unspotted pale blue eggs. The eggs hatch in 11–12 days, and fledging occurs in another 12–13 days. The peak breeding season is September to December.
The Cape white-eye feeds mainly on insects, but also soft fleshy flowers, nectar, fruit and small grains. It readily comes to bird feeders.
https://paarlgolfclub.co.za/wp-content/uploads/2021/05/Boschenmeer-Golf-Estate-Logo-2021-REPRO-PNG-300x167.png
0
0
admin
https://paarlgolfclub.co.za/wp-content/uploads/2021/05/Boschenmeer-Golf-Estate-Logo-2021-REPRO-PNG-300x167.png
admin
2020-06-11 14:38:16
2020-06-11 14:38:16
Everything you need to know for when you return to the course