I recently had to clear an old container from all the old documentation inside. Between the stuff I discovered a box full of old photographs. Most of the photographs were unfortunately not "identified" so that made me think to call in the help of our older senior members. I will weekly place one photograph out of that treasure chest with the hope that I would receive some feedback on who the people on the photograph are. We will then also start building up an electronic photographic history of Paarl Golf Club. Please e-mail me at
manager@paarlgc.co.za
if you recognise any of the individuals on the photographs.
The first photograph features a visit by John Vorster to Paarl Golf Club. Extrapolating from the honours board behind them (last year indicated 1965) I would think that this visit took place in 1966. I would love to know who the two gentlemen are that stands next to Mr Vorster. Thanks in advance, MD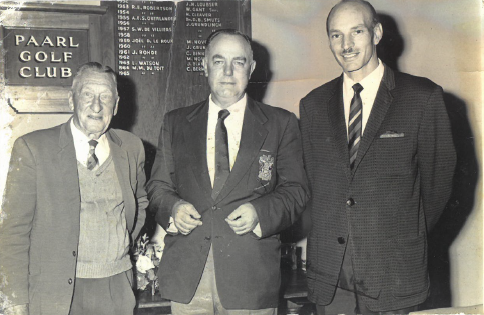 I received a lot of e-mails and whatsapps regarding the video clip where Hudson Swafford moves his ball with a divot after taking a practice swing.
Coincidentally the same happened to Justin Rose the day before.
See the videos below to see the incidents
Rule 9.4 is applicable:
If a player lifts or deliberately touches his or her ball at rest or causes it to move the player get a one-stroke penalty. If the ball is not replaced the player get a two-stroke penalty.
Remember this rule is not applicable on the putting green. If a player accidentally moves his/her ball on the putting green, there is no penalty, but they must replace the ball.
If you have any questions or queries, please contact me at paarlmrrules@gmail.com.
Mr R
Know your birdies from your eagles
Blacksmith Lapwing (Plover) (Bontkiewiet)
Description
The Blacksmith Lapwing or Blacksmith Plover (Vanellus armatus) occurs commonly from Kenya through central Tanzania to Southern and Southwestern Africa. The vernacular name derives from the repeated metallic "tink, tink, tink" alarm call, which suggests a blacksmith's hammer striking an anvil.
Behaviour
Crowned Lapwings and the more localized black-winged Lapwings sometimes associate and do not show mutual aggression, even within breeding territories. Different crowned Lapwing males do however posture aggressively when nesting territories are established. The loser in an encounter assumes a special posture to signal his defeat.
Have you ever wondered how, or why, the term "par" became a part of the golf vernacular?
It was something I wondered recently when looking back at scores from Open Championships and U.S. Opens in the 1800s and early 1900s. In those championships, a player's total score was tallied by the number of strokes they took – obviously – but there was no designation explaining where that total stood in relation to par.
For example, Horace Rawlins won the first U.S. Open in 1895 at Newport Country Club – just 36 holes; four loops around the course's nine holes at the time – with a score of 173. His scores were 91-82. Based on Newport's par-70 layout today, that would have been a 34-over 173.
Be honest. How many of you are thinking now: I could be a U.S. Open Champion?
The word "par," officially entered the golf lexicon in 1911 when the USGA put it in play. But the word itself was around long before that. Generally, "par" was used when talking about stocks, as in, "a stock may be above or below its normal or par figure," according to the USGA.
For golf purposes, the USGA defined "par" as, "the score that an expert player would be expected to make for a given hole. Par means expert play under ordinary weather conditions, allowing two strokes on the putting green."
Prior to the 1900s, "par" was actually a term used interchangeably with "bogey," but "bogey" was the term more universally used. Eventually, it was decided that "par" should be used to identify the "ideal score" on a given hole, while "bogey" would be the term used to describe a score that recreational golfers would be happy with.
Here are the yardage variables that were used to determine a holes "par" in 1911:
Par 3 – Up to 225 yards
Par 4 – 225 to 425 yards
Par 5 – 426 to 600 yards
Par 6 – 601 yards or more
Wouldn't touring pros love it if those specific yardages were used to identify a hole's par today?
Those numbers changed in 1917:
Par 3 – Up to 250 yards
Par 4 – 251 to 445 yards
Par 5 – 446 to 600 yards
Par 6 – 601 yards or more
And, finally, they were last updated in 1956, which is incredible when you consider the innovations in golf technology since then and especially in the last 20 years:
Par 3 – Up to 250 yards
Par 4 – 251 to 470 yards
Par 5 – 471 yards or more
So, if you ever look at scores from golf tournaments from way back and wonder why you can't find a total in relation to par, all of this is the reason why.
Article written by TJ Auclair (T.J. Auclair is a Senior Interactive Producer for PGA.com and has covered professional golf since 1998, traveling to over 60 major championships. You can follow him on Twitter, @tjauclair.)
 Small beginnings but big dreams
Our golf operations manager, Werner Bernhardt, held a very successful Target 36 Opening Day at the club on Sunday 25th of August. 18 very eager youngsters attended their first Target 36 session, with most of them stepping off the golf course ready to take on the game of golf. The Target 36 concept is based on different distances from 25m to 150m where the youngster must achieve a par 36 over 9 holes of the first distance before they can move to the next distance. When they reach the level of shooting par over 9 holes from 150m they qualify for their final distance marker as well as to be declared competent to take on a full golf course.
Next date for round 2 is 29 September 2019 at Paarl Golf Club.
Come see the new Spa at Boschenmeer B-Spa as of September 2019 will be open to public and we have a 20% sale on all our treatments!
Wednesday- Gel manicure at  R150
Two Basic pedicures at R250
Thursday- 30 Min Express facial at R150
Friday- Two 30min back, neck and shoulder massage at R250
Find us in the Boschenmeer Golf Estate inside the clubhouse. For bookings contact us at 066 289 0122.
https://paarlgolfclub.co.za/wp-content/uploads/2019/09/golden_oldie484.png
315
484
admin
https://paarlgolfclub.co.za/wp-content/uploads/2021/05/Boschenmeer-Golf-Estate-Logo-2021-REPRO-PNG-300x167.png
admin
2019-04-17 10:50:52
2019-09-17 11:08:33
A trip down memory lane