Tallest trees catch the most wind
Members would have seen that we had quite a few – five to be exact – trees that were blown over during the last two weeks. Luckily, no serious damage was done to any property or even to the golf course, but the fallen trees have created other problems.
Firstly, to get a tree feller in during this time is quite a challenge due to them being busy felling trees all over the region because of the high winds. Secondly, "new" hazards have been created on the course (see Mr Rules' input this week).
Hopefully by next week the evidence of the fallen trees will be removed and we will have the full course to ourselves again.

Some new obstacles on the course.
Restaurant and bar upgrading project progresses
Members would by now know about the construction work that is going on in the old bistro and bar area. For those who are still not in the loop, know that we are creating a wonderful entertainment area incorporating the veranda in the process as well.
Construction is progressing well and will we have the shell ready for the interior designers by end of October. If everything goes according to plan we will try and "open" this new area by the beginning of December 2020.
The upgrades are coming along nicely.
Club Draw closing date extended – 14 October 2020
The Club Draw closing date of 30th of September 2020 was extended to the 14th of October 2020 after a number of members "missed" the date and pleaded for an extension. We currently have 78 entries and would like to try and reach the 100 mark to make the winnings bigger.
A decision was also made that should "late entries" want to come into the draw they can do so, but will have to pay the full amount of R1200 as if they were in the draw from the first draw. Come on members, we need to get to 100 entries to make the draw worth something to the club and to those that entered.
The first Draw will take place on Friday 16 October 2020.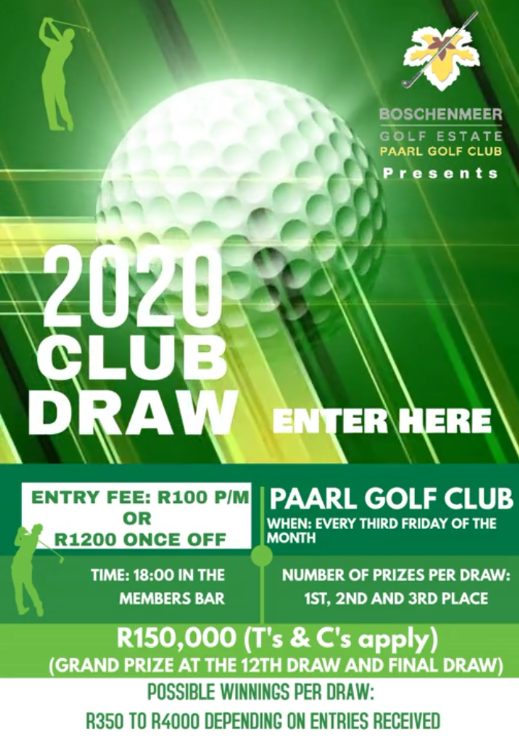 We have 78 entries!
Spotlight Social registration
Win the wine of the month!
| | | | |
| --- | --- | --- | --- |
| | We are now on 331! | | We are currently on 331 members so please put in some effort to register on the app. Number 400 will be next in line for a bottle of wine. See how to win here. |
| | | |
| --- | --- | --- |
| | | |
| | | This week we get to know Kirston Morgan. Thank you for completing the questionnaire. Making an eagle with no official handicap is a great memory to hang onto. |
If you would like to be part of our wonderful PGC community, let us know so that we can get to know you a bit more. How will anyone know what exotic drink to buy you otherwise?
Abnormal course conditions
The tree that was blown over on hole no 18 raised a few questions!

Players were not sure what to do if their ball landed in the tree. The tree and surrounds are marked as Ground Under Repair.
Playing golf at PGC during Level 1 lockdown
I know this might be boring by now but please realise that we are still under Level 1 lockdown rules, which have not changed since their inception.
Thanks to those members (and visitors) who makes our work easier by adhering to the regulations and rules. We appreciate your continues support and help. To the few that alway need to push the boundaries please realise that your actions might cause the club to close, and many other golf courses for that matter. It is not that difficult…
Thanks to Leon Cronje who helped in identifying most of the people on the photo below with Anville van Wyk supplying the rest of the names.
| | | |
| --- | --- | --- |
| | | |
| If you would like to find out who the mystery people in the picture are, click the link below. | | |
| | | |
| --- | --- | --- |
| | | Here is the photograph from this week's treasure chest. Please e-mail me at manager@paarlgc.co.za if you recognise anyone. |
Know your birdies from your eagles
Hamerkop (Hamerkop)
| | | |
| --- | --- | --- |
| | | If you have a favourite bird or would like to know more about a particular species flying around PGC, please let us knowso that we can do some research and showcase it in next week's Gazette. |
https://paarlgolfclub.co.za/wp-content/uploads/2021/05/Boschenmeer-Golf-Estate-Logo-2021-REPRO-PNG-300x167.png
0
0
admin
https://paarlgolfclub.co.za/wp-content/uploads/2021/05/Boschenmeer-Golf-Estate-Logo-2021-REPRO-PNG-300x167.png
admin
2020-10-15 14:50:32
2020-10-15 14:50:32