Paarl Golf Club needs its members to stand together
We are all going through a very uncertain period in the world's day to day existence. Covid-19 will always have a place in history and not because of its mortality rate, but more about the devastating effect it had on the world economy. We are all battling with the idea of survival and just reaching the end of this pandemic alive.
Why this negative approach to a weekly golf club newsletter? We receive daily requests from members to stop their payments for a period or even cancelling membership immediately. We fully understand that there are situations more dire than ours, but please allow me to just say that we as a club will not be able to maintain the golf course in the condition that it is currently, if we do not spend money on a daily basis. We cannot afford to let the course go unmaintained seeing that it would cost us far more to get it back to its former glory.
In order to achieve that, we are spending close to R1 million per month to maintain the course and all its amenities. This is done so that when we get the green light from government to operate again, we would be able to entertain our members immediately. Remember that at level 4 and 3 it is only members at a club that may play golf. We will not have the luxury of local and overseas visitors that always makes a huge portion of our yearly income. It is therefore clear that we need every member to stand with us in this fight for survival. Please try and maintain your subs and debit orders for us all to have a good golf course ready for play when we can.
We are doing a lot behind the scenes to make electronic payment of all your golfing costs easily and effortlessly. Please realize that electronic payment will become the norm from now on and it is also a regulation for the opening up of golf courses under levels higher than level 1.
Booking a round on our website as well as through the Golfscape App will also allow you now to pay for the round there and then. This will ensure that when you get to the golf course to play you just need to go through our temperature scan and sanitation stations to start playing. We are also getting ourselves ready for all other ways and means of electronic payment including the ability to pay with your topped-up membership card.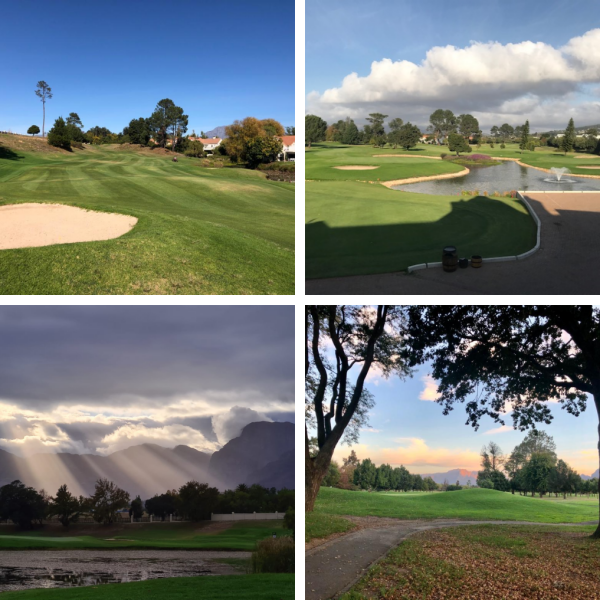 See what is waiting for you when they allow us to play the game we love. The course is looking magnificent and it will be a tough test for you all when we start again
In the meantime, stay positive but more importantly stay healthy.
Covid-19 Disaster Fund feedback
We were hoping that by now we would have been able to get the golf course open and playable but to no avail. Now we hope for some good news for the beginning of June 2020. Let us hope that the decision makers are serious about opening up golf courses and not using Covid for other reasons as well. Our Covid-19 Disaster Fund has been helping a lot of needy people to have some income during this lockdown period. Through this fund we paid R93 250 to the Golfing Goat personnel that were reliant on tips and a fully functional restaurant and bar. Due to the fact that this will probably not be possible till November/December, the Golfing Goat had no other choice than to retrench 30 of their 41 personnel. It was a very tough decision but they had no other choice.
Closer to home our caddies (not part of the PGC personnel) were given a R1000 Shoprite voucher each at the beginning of lockdown as well as R500 per week in order to sustain their "normal" income. These contributions amounted to R34 000 and was funded via the Caddy Foundation fund created by PGC. A further R34 000 was also paid to the caddies from the Covid – 19 Disaster Fund which would help them till end of May 2020.
A total amount of R133 800 was paid into the Covid-19 Disaster fund and to date R127 250 has been paid out leaving us with a balance in the fund of R6 550. We once again thank everybody that contributed to this fund and assure you that those that were helped through this would have liked to convey their thanks to each and everyone of you. If we want to continue the help to the caddies we would need more funds to be deposited into the Covid-19 Disaster Fund.
Should any member wish to further contribute to this fund please feel free to use the following bank account with the reference Covid-19 and your name. We will ensure that full transparency allows anybody insight into the eventual distribution of these funds.
Banking details:
Bank: Nedbank
Branch code: 198765
Account number 1470120097
Reference: Covid-19 and name.
    Visitors ignore lockdown rules
We have been trying to keep people off the course during this lock down period and I must admit that at a point in time I was worried that we would not succeed in that. However, all the residents on Boschenmeer are really trying hard not to walk the course without a golf club in hand. Thank you very much for understanding and making my policing work so much easier. I also don't like to stop a person just trying to keep his game in tact during these testing times.
But you always get those that will misuse a vulnerable situation. Luckily they were caught red handed playing on the golf course. Their "membership" is currently reviewed and they might end up giving our fish back. I am talking about the two ball otters that now frequents our fairways and made the irrigation dam one of their "fresh fish" take away spots. Please be on the watch out for them and forgive them for "fishing" without permission.
Thanks to Michael Palframan and Alida Kotzee for capturing these two on video for all to enjoy.
| | |
| --- | --- |
| | |
I was informed by David Maughan that we made an error with identifying a person as Percy Muggeridge. It was Brian Porter, the managing Director of the Porter Group, who according to David was a formidable motor businessman and he also confirmed this identification with a family member. Thanks for  that David. If I am correct the man on the left is Brian Porter and next to him is David Muggeridge. Hopefully I have got this correct now.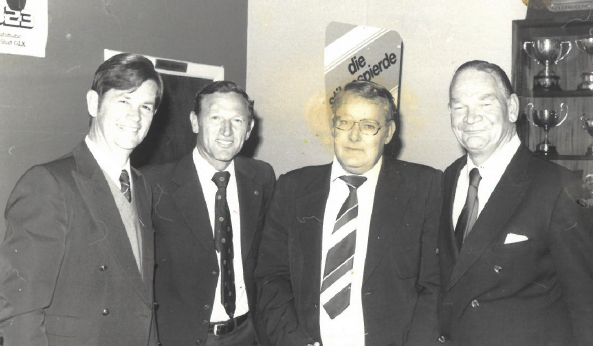 Then again a big thanks to Anville van Wyk who identified the two gentlemen below.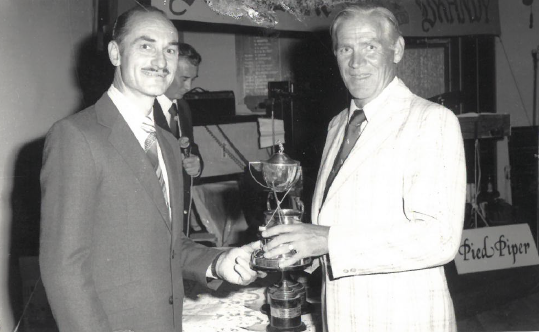 On the left probably a sponsor of the day. Hidden behind him is Johan Loubser, captain who also served as Boland President. Photo taken 1978/79. On the right, the late Sarel du Plessis. Nicknamed "Silwer Sluiper". Soft spoken gentleman, loved by all but a cunning golfer. Played Brodie league for Paarl and rarely lost his game. Sarel's golfing trick was if you are equidistant from the pin to take a wood or too long iron from his bag where a 6 or 7 iron would have done the job. Obvioulsy the opponent would watch him and reclub. When the opponent's ball dissapeared over the green. Sarel would put the wood back and take out the correct club. Those days there were no distance markers or fancy GPS support.
This week's photograph from the treasure chest is the one below. I sincerely hope that I would receive some feedback on who the gentlemen in the photograph are. Please e-mail me at manager@paarlgc.co.za if you recognise the gentlemen on the photo.
Know your birdies from your eagles
Cape Bulbul (Kaapse Tiptol)
Description
The Cape bulbul (Pycnonotus capensis) is a member of the bulbul family of passerine birds. It is an endemic resident breeder in coastal bush, open forest, gardens and fynbos in western and southern South Africa.
The Cape bulbul is 19–21 cm (7.5–8.3 in) long, mainly dull, blackish brown with a diagnostic white eye-ring, and yellow undertail coverts. The head has a small crest. The short, straight bill, legs and feet are black and the iris is dark brown. The sexes are similar in plumage.
This species is much darker than the other South African bulbuls, and differs in the eye ring colour and brown lower belly, whereas the other dark bulbuls have a pale lower belly. The dark belly helps to identify juveniles, which lack the distinctive eye ring of the adult.
The most typical call of this species is a liquid whistle of two or more varied notes pit-peet-pitmajol, piet-piet-patata.
Behaviour, feeding and breeding
The Cape bulbul is a common and conspicuous bird, which tends to perch at the top of a bush. It is active and noisy, usually seen in pairs or small groups foraging for fruit, nectar and insects.
This species nests mainly in the southern spring from September to November. The nest is thick walled cup concealed by foliage in a small tree or shrub.
https://paarlgolfclub.co.za/wp-content/uploads/2021/05/Boschenmeer-Golf-Estate-Logo-2021-REPRO-PNG-300x167.png
0
0
admin
https://paarlgolfclub.co.za/wp-content/uploads/2021/05/Boschenmeer-Golf-Estate-Logo-2021-REPRO-PNG-300x167.png
admin
2020-05-21 13:15:23
2020-05-21 13:15:23