Caddies to be paid directly by the golfer after the game
Members might be familiar with the current practice whereby a golfer would pay at the registration for a Caddie, which would then later after the game hand in his slip to receive his R200 for the work done. We therefore, need to keep a cash kitty handy at all times. This has become a risk for the registration personnel, and so we decided that we would rather ask the golfers to pay their Caddie, directly after the game. In order to make this happen, we have upgraded our Auto bank which now have R100 and R200 notes, and we are also in the process of installing a R50 holder.
We hope that this will also enable the Caddie to negotiate a better reward in the case where he has excelled during his golfer's round. We will monitor the outcome of this decision to ensure that the Caddies get what they deserve.
We thank every golfer for their understanding in this matter.
Reminder of the PGC Annual General Meeting
We would like to remind members that the PGC Annual General Meeting will be held on Wednesday the 26th of February 2020 at 18:30, in the Winelands hall. We please ask that members attend this important meeting, and should you like to nominate anyone for a position on the Board or the Captains Committee, please note that you need to hand in a completed nomination form at the PGC Administration office by 12:00 on the 20th of February 2020.
We look forward to sharing some interesting opportunities coming your way in 2020.
Early morning and late afternoon play
We have seen a recent increase in people playing golf in the early mornings, as well as late afternoons, while the course is closed. May I please request that you refrain from doing so, seeing that we have made an arrangement with the Boschenmeer Home Owners allowing them to walk their dogs or jog around the course, in a safe manner. Early morning golf also interferes with our Maintenance Teams who need to prepare the golf course for the day's play.
With the new Cancellation Policy approved, we will also be able to charge any player that fails to register, or plays without an officially booked round.
Your co-operation and understanding is appreciated.
Cancellation and no-show policy for members and visitors of Paarl Golf Club approved
At the Board Meeting held on the 27th of January 2020, the Cancellation Policy was once again confirmed and approved. From the 1st of February 2020, this policy will be put in place.
We would therefore like to remind our members, yet again, so that there is no confusion in the future. Cancellation of a golf booking is all about timing. The longer time you, as an individual, can give the Golf Club to re-fill your empty spot, the less impact it will have on the Golf Club's financial stability. Remember a golf course is a business, that relies on a budgeted number of rounds, at an anticipated rate, in order to achieve the income needed to cover all the expenses.
PGC therefore would like to emphasize the following cancellation (no-show) policy principles:
• In the case of a cancellation more than 48 hours before the scheduled tee time, the cancellation is free of charge.
• In the case of a cancellation less than 24 hours before the scheduled tee time, you will be held liable for 50% of the applicable fee.
• No show will be charged the full amount with no refunds. Unlimited members will be billed at member rates on their club account for either a no-show or failing to check in for their round of golf. This rule will also be applicable for member's guests, where the member will be held responsible and liable for their guest's no-show or failing to check in for golf. Paarl Golf Club reserves the right to charge 100% of the applicable fee.
• Cancellations must be done during office hours 08h00 – 17h00 and you will be furnished with a cancellation number via e-mail. It is the members responsibility to ensure the cancellation e-mail is received.
• If your booking is for less than 4 players, PGC reserves the right to fill the remaining open slots within that tee time at their discretion.
Your cooperation and understanding of this matter will be greatly appreciated. 
Thank you so much for the emails received identifying the photo of 2019. Thank you, Jan Hanekom and Erik Troost, for identifying the gentleman on the right, Oom Hennie. The gentleman on the left and the lady still needs identification.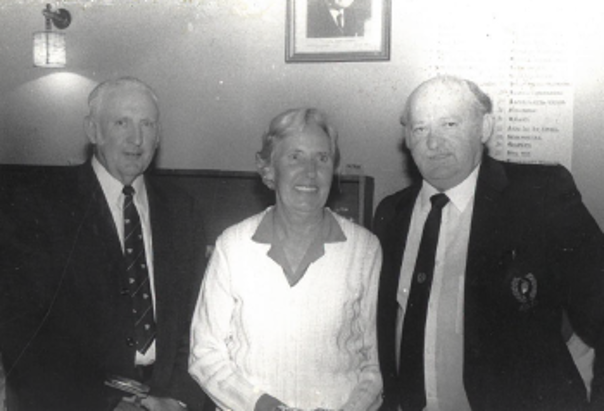 On the right, Oom Hennie Liebenberg (Paula Bester's father)
who was the City Clerk of Paarl Municipality during that period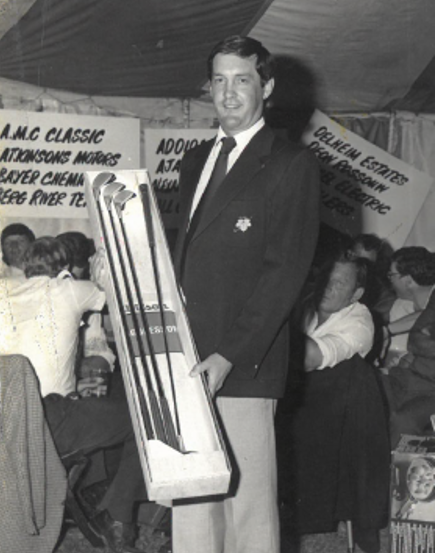 I sincerely hope that I would receive some feedback on who the gentleman in the photograph above is.
Please e-mail me at manager@paarlgc.co.za if you recognise any of the individuals on the photographs.
Know your Birdies from your Eagles
Steppe Buzzard (Bruinjakkalsvoel)
Description
The steppe buzzard (Buteo vulpinus) is a migratory bird of prey and one of the most common species of raptor in southern Africa during the summer months. It is often considered a subspecies of the common or Eurasian buzzard (Buteo buteo), but it differs somewhat physiologically.
It is smaller than the common buzzard with a length between 45-50 cm (18-20 in), but with longer wings and tail. Coloration is similar to that of the common buzzard with an overall brownish appearance, yellow legs, and darker upperparts. Like the common buzzard, the steppe buzzard also shows great variation in colour with varying degrees of rufous to grey in its plumage.
The tail feathers of the steppe buzzard is often slightly rufous in appearance whereas tail feathers of the common buzzard is generally whitish. It shares some of its African range with the similar and less common resident forest buzzard (Buteo trizonatus), but forest buzzards are generally whiter on the chest and underparts and are without the barred flanks seen on the steppe buzzard.
Diet and Habitat
The steppe buzzard prefers open habitats, such as grasslands, savanna, farmlands, and open woodlands. It can also be found in denser forest regions. It is very common to find them perched on wooden poles, fences, and dead trees. Diet consists of insects, small mammals, birds, amphibians, reptiles, and occasionally carrion. It spots its prey when perched in the open and will swoop down to the ground to catch it. Smaller birds and insects can be caught mid-air.
When is a player allowed to clean a golf ball?
Most clubs do not play preferred lies (placing). I am often asked the question "may I clean my ball if it is on the fairway?".
Unfortunately, the answer is no.
RULE 14.1c states:
Only when a ball is lifted to obtain relief (free or penalty), it may be cleaned. Remember you may always lift and clean a ball on the putting green.
There are 4 exception where a player is not allowed to clean his/her golf ball:
1. To see if it is cut or cracked.
2. To identify it (cleaning is allowed only as needed to identify it).
3. If it interferes with play.
4. To see if it lies in a condition where relief is allowed (embedded ball etc.)
If you have any queries, please contact me at paarlmrrules@gmail.com.
Enjoy your golf and mind the bugs,
Mr R
https://paarlgolfclub.co.za/wp-content/uploads/2021/05/Boschenmeer-Golf-Estate-Logo-2021-REPRO-PNG-300x167.png
0
0
admin
https://paarlgolfclub.co.za/wp-content/uploads/2021/05/Boschenmeer-Golf-Estate-Logo-2021-REPRO-PNG-300x167.png
admin
2020-01-29 08:18:42
2020-02-12 08:20:48
19 questions with PGC Chairman, Christian van Schalkwyk